Financial Wellness that works
Wages On-Demand and Financial Education for happier, healthier, and more productive employees
ZayZoon allows employees to instantly access their earned wages on-demand. It's a voluntary benefit that reduces financial stress related to cash flow shortfall between pay checks. Improve retention, increase productivity and benefit from a more engaged workforce.
In a perfect world, you could pay your employees every day. Spoiler alert, it's not a perfect world. Let us do it for you.
Thousands of businesses offer ZayZoon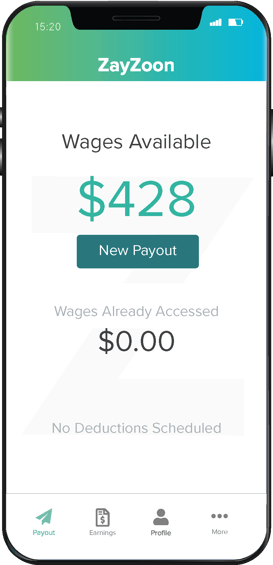 How it works
Integration
Data is exchanged with corporate payroll/HCM systems to allow employees to securely create an account. Get started here.
Funding
ZayZoon funds all early wage requests. There is no risk or liability to the employer. Funds are automatically recovered on the next pay run.
Support
ZayZoon handles all employee support. There is no additional overhead for the employer to manage the program.
Pricing
The service is employee paid, or employers can choose to help subsidize the benefit.

Powering financial health, beyond wage access
Every employee, not just Wages On-Demand customers, receives access to our financial wellness platform, ZayU.
Smart insights
Link your bank account and let us show you where you're spending and how you can save.
Education that's enjoyable
Take a financial health check-up and receive courses custom to your situation. Flex your financial know-how with a certificate of completion, provided with every course.
Alerts that save money
No one likes overdraft fees or minimum account balance fees. Let us alert you when you're at risk.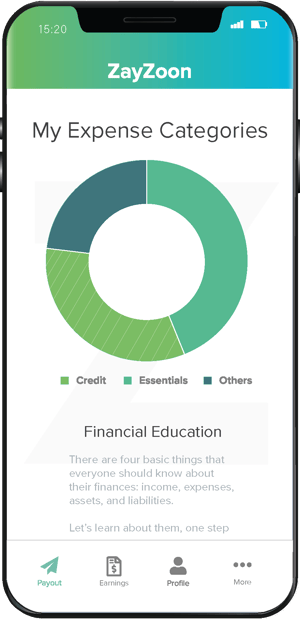 I'm an employer and I would like to
activate ZayZoon for my employees.
I'm an employee and I'd like to
access my ZayZoon account.
Featured client testimonial: See how Senior Helpers uses On-Demand Pay to differentiate themselves in the At-Home Care Market.
"It seemed like it's just that one benefit that should be standard across the board. Everyone should be offering it so that caregivers, whether they're mine or someone else's have access to funds that are reasonable and what they're being charged, I think that's important they shouldn't be taken advantage of."
- Jorge Giraldo, Senior Helpers CEO, Polk County, Florida.
We are proud of the work that we are doing to help employees with their financial stress, but honestly we are more impressed with them and the work they are doing under difficult circumstances. Check out some of their stories:
As an employee, you can only access ZayZoon to avoid overdraft, predatory loans and high fees if your employer has signed up. To sign-in to your account, or to see if your employer offers Wages On-Demand, go to zayzoon.com/employees.
$700+
saved every year versus overdraft, late payment fees and loans
I'm an employer and I would like to
activate ZayZoon for my employees.
I'm an employee and I'd like to
access my ZayZoon account.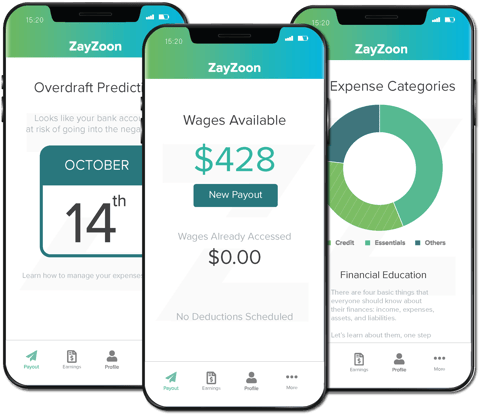 Learn more about Wages On-Demand