This is Earned Wage Access (EWA) 🫴 💸
Thinking about launching an Earned Wage Access program? Learn about one of today's most popular financial perks, find out if it's right for your team and get up and running in as little as thirty minutes.
Why is Earned Wage Access so popular right now?
If you're here, it's because you want to learn more about the trend that's revolutionizing how employees get paid—Earned Wage Access.
Earned Wage Access, or on-demand pay as it's sometimes called, has been around since at least the early 2010s when vendors like ZayZoon first hit the scene. It only recently gained traction, as a result of three important market trends:
CONVENIENCE CULTURE: Today, everything is on demand—except for payday. Employees receive their paychecks weekly, biweekly, semimonthly or monthly, just as they have been for nearly 100 years. Unfortunately, they can't afford to wait any longer. They want access to their earned wages anytime, anywhere.
FINANCIAL DISEMPOWERMENT: 63% of Americans live paycheck to paycheck. 40% can't afford basic needs like groceries and rent. The cost of living is too high and cash isn't flowing fast enough to meet the needs of today's employees.
PREDATORY LENDERS: Some employees are turning to their employers for cash advances or family and friends for loans. But many are taking out high-interest loans or getting dinged with everything from bank fees to late fees, and it's taking a toll.
Thankfully, there's a better way. And it makes you, the employer, the hero.
Whether you're here to understand what Earned Wage Access is all about or shopping for a solution, it doesn't matter—either way, you're looking at proactively supporting your workforce, and that's the kind of mindset that makes your company a place where people want to work, so kudos to you.
With all that said, let's get started. First up, we're going to break down everything you need to know about on-demand pay.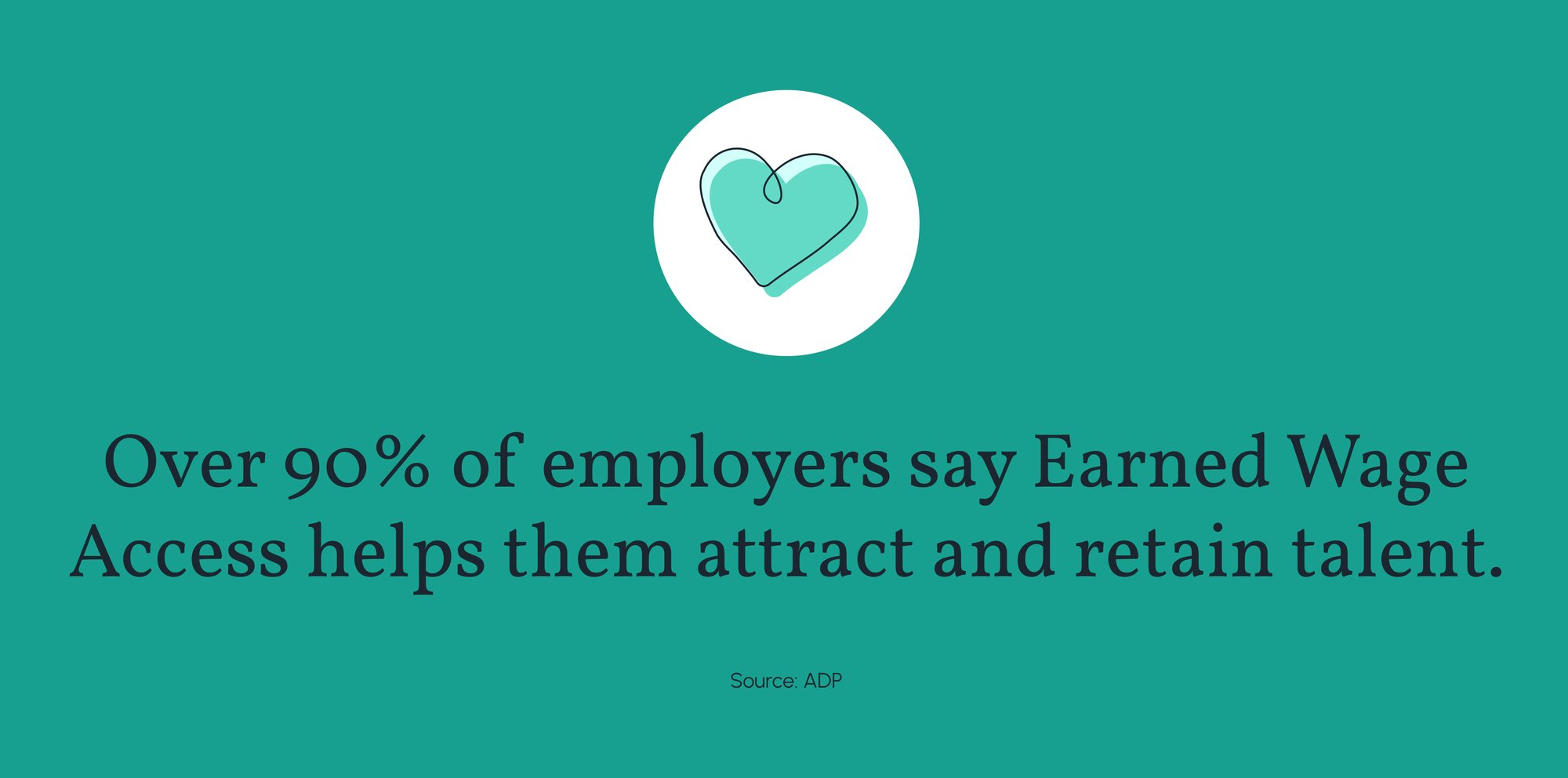 What is Earned Wage Access?
Earned Wage Access is revolutionizing payroll infrastructure. Employees are no longer bound by weekly, bi-weekly, semimonthly or monthly pay periods. With EWA, they're free to access a percentage of the wages they've already earned whenever they want.
To put it another way, you can think of on-demand pay as an interest-free advance on your employees' wages. Companies typically add on-demand pay to their benefits to help workers who might be dealing with cash flow issues. And it's quickly becoming an established business practice.
Now that we've unpacked what Earned Wage Access is all about, let's determine whether or not it makes sense for your business.
Should I offer Earned Wage Access?
The short answer?
Definitely.
If you're skeptical, consider this:
EWA cuts absenteeism by one day per employee per month
Not only is EWA a competitive differentiator in the war for talent—it's an effective tool to help you keep that talent over the long term.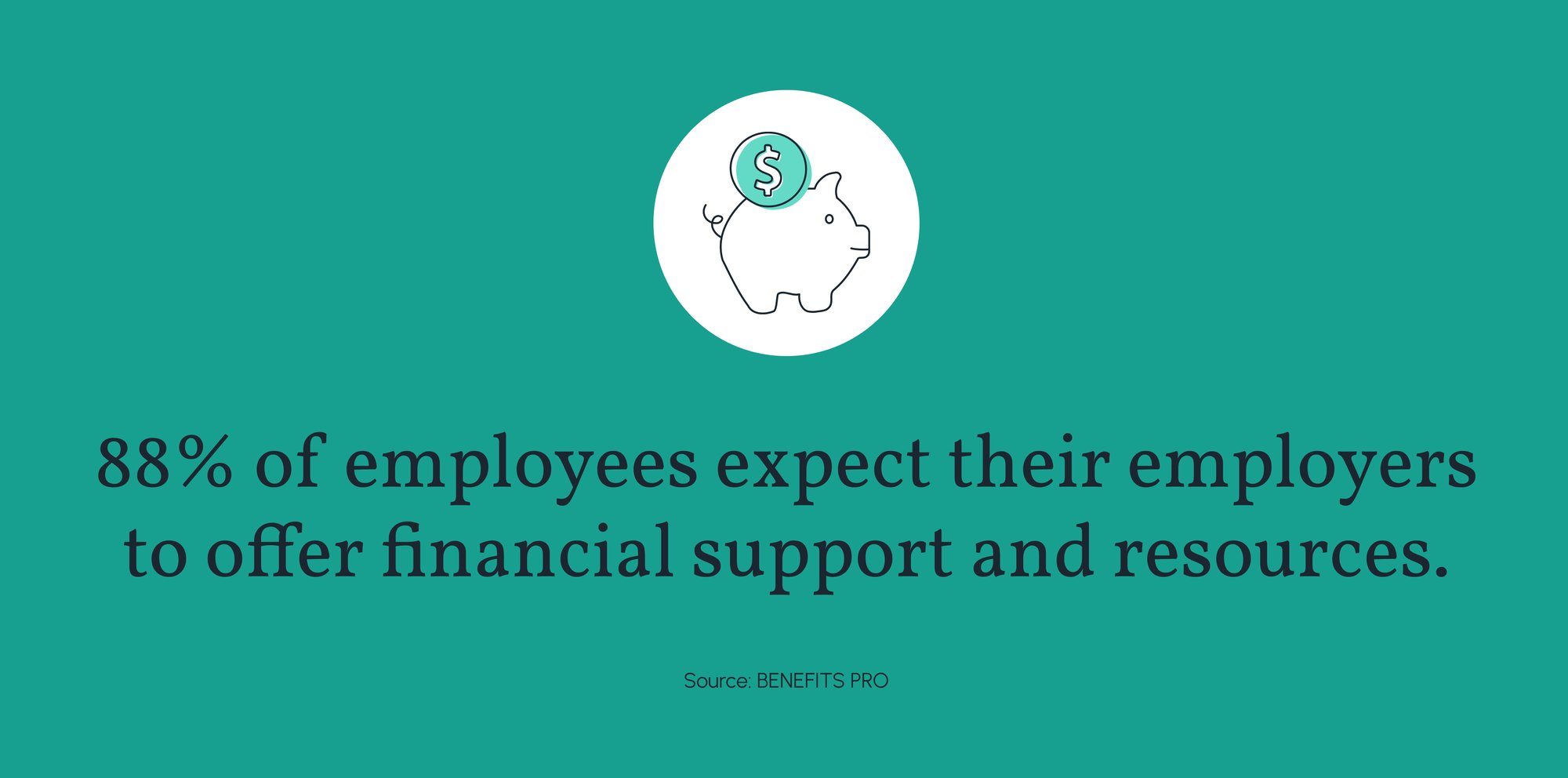 Signs employees need on-demand pay
You don't want to offer another voluntary benefit that employees won't use. So before you jump on the EWA bandwagon, here are telltale signs your team will actually use it:
You already have an employee loan program
Employees routinely ask you for paycheck advances
Employees are taking out payday loans or other predatory loans
You're changing pay cycles (from weekly to biweekly, for example)
You employ hourly workers
How much does on-demand pay cost?
Nothing. Nada. Nil. Zilch.
That's right, EWA doesn't cost employers a cent. Most solutions provision and fund accounts, manage the app and provide customer care. That way, you can focus on what matters most—your employees.
Employees pay a transaction fee of up to $5 for payouts directly to their bank accounts, depending on the provider. That said, many EWA tools also offer fee-free payout options, so keep your eyes peeled for those.
The benefits of Earned Wage Access for employers
It's easy to see how on-demand pay might benefit your employees but wait until you see how it can also benefit you and your business.


Employers who provide on-demand access to earned wages experience up to 29% reduction in turnover
They also receive 2X more job applicants
Through research conducted by ZayZoon, employers who offer access to earned wages, see a 5% reduction in hiring costs, representing savings of about $19,000/year for a business of 200 FTE on average
ZayZoon businesses offering loan programs to employees have saved up to $8,000/year by providing access to earned wages instead
The benefits of Earned Wage Access for employees
Instant pay can have a profound impact on your workers.
First off, it gives employees much-needed flexibility. With early access to their earned wages before payday, they can meet unexpected expenses without having to resort to predatory lenders (not to mention avoid overdraft fees).
But, like they say, the proof is in the pudding. That's why our team of data scientists crunched some numbers. Turns out:
ZayZoon can save workers up to $727 per year.
That's the real impact of Earned Wage Access. But that's not all. We conduct an annual survey of 5000+ employees who use ZayZoon to understand the state of employee financial health. According to this year's survey:
89% of workers who use ZayZoon report less financial stress.
So, there you have it. EWA programs work.
How to offer Earned Wage Access
If you're seriously considering EWA, there are a couple options available to you, which we'll discuss in this section.
They are:
Do-it-yourself (DIY) EWA
Implementing EWA through your payroll provider, professional employer organization (PEO) or HCM solution
Implementing EWA by working directly with a service provider
DIY Earned Wage Access
DIY EWA is a bit of a misnomer since there's no such thing.
Instead, we're referring to the salary advance loan programs thousands of employers offer to their employees.
In case you aren't familiar with the concept, an employee can receive a loan from their employer for a portion of their future earnings, which they then pay back through payroll deductions.
That said, operating a salary advance loan program can eat up your time, so much so that it might not be cost effective for your business.
Gray America Corp. had that very issue. They were losing 150 labor hours and $5,000 - $8,000 a year. At any given time, Courtney Carlisle, VP of Human Resources, used to process over 20 loans. Now, thanks to EWA, Gray America doesn't have to waste much-needed resources because employees can access money they've already earned when they need it.
In Courtney Carlisle's words:
It's been a sea change. They're not paying for cash advances. They feel economically safer.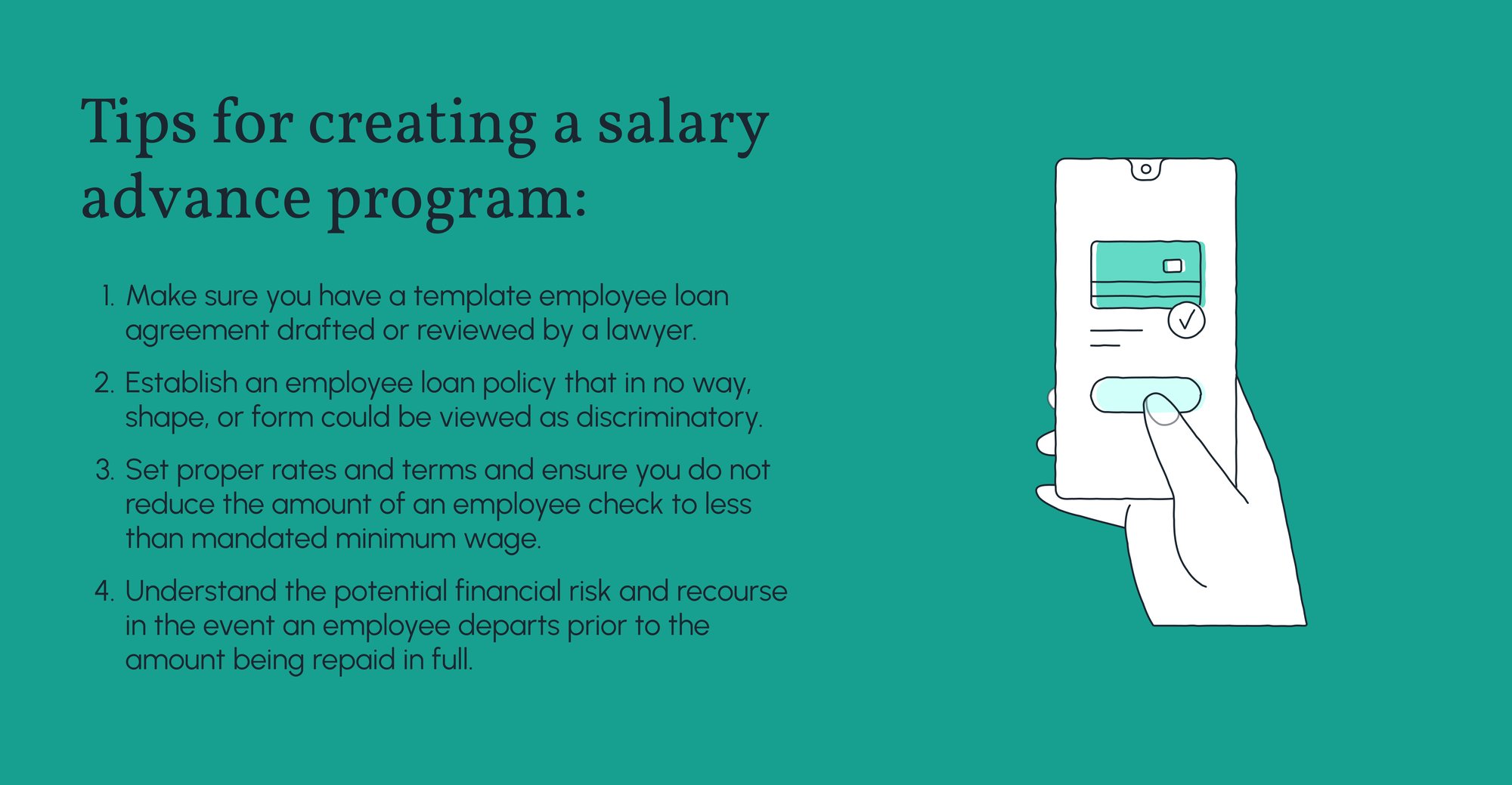 Through a payroll provider, human capital management (HCM) solution or professional employer organization (PEO)
Some of the world's biggest payroll providers are already offering Earned Wage Access. In fact, you might be just one-click away from enabling this wonderful benefit to your employees.
While by no means exhaustive, here's a list of payroll providers that offer on-demand pay:
ADP
Paycom
Paylocity
Paychex
Ceridian
And many more…
Many of these brands have marketplaces where you can easily activate EWA in minutes, without any lift. Also, these EWA tools are almost unanimously free for you to offer.
If you are using a human capital management (HCM) solution, you may also have access to EWA without even knowing it. UKG, for instance, one of the biggest HCM solutions on the planet, has a marketplace chockfull of Earned Wage Access options.
Finally, if you outsource some or all of your HR to a PEO, be sure to check in and see if they are partnered with an EWA provider. Many, like VensureHR, are, which means you can get EWA up and running with about as much effort as it takes to flick a switch.
Working directly with an Earned Wage Access provider
By now, you've learned about all the ways you can deliver EWA to your employees.
You can offer EWA-like programs that give your team more flexibility than they're accustomed to. You can even leverage your payroll provider, HCM solution or PEO (if you have one) to tap into marketplaces that offer a wide selection of EWA solutions.
Finally, if you can't deliver EWA to your workforce via the channels listed above, you can always work directly with an EWA provider.
Typically, they'll establish a relationship with your payroll partner, HCM solution or PEO, so that you can access their service. The integration takes very little time to process which means you can be up and running in no time. That said, if the EWA provider isn't working with your payroll partner, HCM solution or PEO, implementation is likely to be very slow and resource intensive.
Get your Earned Wage Access program up and running in less time than it takes to grab lunch and start reaping the benefits of a better employee experience today.
What to look for in an on-demand pay provider
Okay, now that you have a good understanding of what Earned Wage Access is all about, let's dig into some of the capabilities and features you should keep top of mind as you explore different vendors.
1. Platform or point solution?
First things first, think about the kind of solution you're looking for. Are you just looking for a tool that delivers EWA? Or are you looking for something that more holistically addresses your employees' financial health?
There are plenty of point solutions out there that deliver on-demand pay, and that's it. There are plenty others who have taken a platform approach, with an EWA product that has flexible payout options, and then some. Some vendors might include employee perks, personal finance tools, even educational programs.
Whether EWA is delivered as a point solution or as part of a larger platform, it will likely be free. Ultimately, see what would most benefit your employees. In many cases, the more feature rich the solution, the higher the workplace adoption.
2. Market segment
There are a lot of Earned Wage Access providers out there. One easy selection criterion is to find out which segment a certain provider serves. For example, DailyPay works exclusively with enterprises. We, on the other hand, are the EWA platform for SMBs. There are also vendors with expertise in specific verticals, like healthcare, hospitality and quick service restaurants (QSR), among others.
3. Cost and risk
There are some employer-paid EWA programs. For the most part, however, they're free for employers. Yup, you read that correctly. Free. Providers should also take on all the risks associated with your EWA program. Typically, they will fund accounts, which will then be recovered on the next pay run. They'll also manage your program for you. In case you're wondering exactly how EWA providers stay in business, here's the scoop. For the most part, they make money on transaction fees charged to your employees.
4. Ease of use
Employees should be able to access and use an EWA solution—anytime, anywhere. Additionally, it should be available for desktop and mobile on all iOS and Android devices. Finally, while many EWA solutions are strictly employee facing, some include features for employers, including data analytics and promotional resources to drive adoption. Employer functionality should offer an equally easy experience.
5. Payout flexibility
Simply put, payout flexibility refers to the different ways employees can receive their earned wages. Some providers include some or all of the options listed below:
Payout directly to a bank account (this will include a transaction fee paid by your employee, typically $5)
Payout directly to a prepaid card (this does not incur a fee)
Payout directly to an instant gift card or gas card (this does not incur a fee and will often include an added bonus, depending on the vendor)
NOTE: The majority of vendors only allow employees to receive their earned wages early on a card from the provider. More on that in our section comparing different providers in the space.
Ideally, you want a provider who works the way employees are already handling their finances, which likely means being able to disburse to their existing bank account. Fee-free options can also better support employees who are price sensitive. Be sure to get clarity on any fees and who they'll be charged to.
6. Activation timeframe
How long does it take to get a tool up and running? Furthermore, does it require ongoing maintenance? Any provider worth their salt will be able to guarantee quick activation—both for you and your employees—without interfering in any way with your payroll.
7. Customer support
We can't overstress the importance of exceptional support. Ideally, you'll want to work with a business that is as invested in your success as you are. Some indicators that a vendor has the right stuff: you and your employees can always get in touch with a real person for support, you have a dedicated account manager and they help you drive program adoption and engagement with promotional tools.
8. A good security posture
This one's non-negotiable. Whichever vendor you work with should at least have SOC 2 Type II or ISO 27001 if you're in Europe.
9. And a list of nice-to-haves
This guide focuses exclusively on Earned Wage Access solutions, but as mentioned above, many EWA solutions come fully loaded with a host of other perks that can benefit your employees. We won't mention them all here, but here are a couple to be on the lookout for:
Employee perks and discounts (insurance, healthcare, gift cards, gas cards, etc.)
Financial wellness (education, personal finance tools, spending analytics, overdraft notifications, counseling, etc.)
Tip payouts (instant access to tips)
Ultimately, how you prioritize the features and capabilities in this section will depend on your own needs and the needs of your workforce. Driving adoption for voluntary benefits can be difficult. If you don't have the bandwidth, you'll want to partner with a provider who can lend a helping hand. And if your employees don't collect tips, that's one evaluation criterion you can cross off your list.
The big players in Earned Wage Access
Before we break down the top performers in today's EWA landscape, let's talk methodology.
To gather this data in one place we conducted hours of exhaustive market research. Beyond speaking with dozens of actual employers and employees who have experience with EWA, we consulted with industry analysts and experts, product reviews, demos, and the latest promoted product releases. We combed through websites, social media accounts and press.
So, without further ado…. Here it is.
NOTE: EWA providers are constantly updating their market offerings. As such, this guide may not accurately reflect the current market. For clarity and transparency, the contents of this guide are accurate as of April 2023.
What makes ZayZoon different
Right now, the market is jam-packed with EWA tools. Some serve specific market segments, like small to midsize businesses. Others focus on specific industries, like fast food or hospitality.
Whatever the case, there are a lot. And figuring out what makes one vendor different from another can be difficult. Sometimes even impossible. That's why we're going to let you in on our three key differentiators.
1. We proudly serve small to midsize businesses
This should come as no surprise. We are big supporters of the underdog. But how exactly does this translate to our EWA offering? For one, it means we provide a hands-off experience. All you have to do is flip on a switch and you're ready to go. You don't have to route all your payroll through us, just payroll for employees who are using the service. You don't need to upload or download any cumbersome files or manually import data into payroll for each cycle. By design, our EWA offering is low maintenance because you don't have time to waste.
We also make it easy for you to invite your workforce, access marketing materials and address frequent employee questions in our Employer Connect app. You can also track employee usage to better understand how well this benefit offering is serving your employees.
2. We have ALL the payout options
If you want Earned Wage Access to be truly accessible, you need to offer payout options that suit ALL your employees' needs. That's where ZayZoon comes in. The platform boasts payout flexibility above and beyond market standards, and we're constantly adding new payout options to delight our customers.
Now, you might be wondering: Well, isn't a direct deposit into their bank account good enough
Sadly, no. No, it isn't.
Because it turns out that 5% of Americans DON'T have a bank account. Yes, you read that right. Sure, some employees may want their pay deposited directly into their bank account and are happy to pay the bank's transaction fee, while others aren't. That's why it's so important to offer Earned Wage Access in the way your employees want to receive it.
Getting paid with ZayZoon
Direct deposit
Employees can get their pay directly into their bank accounts in an instant with the click of a button. Employees are capped at $200/day with a transaction fee of $5. If you're wondering how we are able to offer our tool to employees for free, this is why.
Venmo
We also let employees send earned wages directly to their Venmo account for easy peer-to-peer payments and online or in-store shopping.
The VISA® Prepaid Card
With the VISA® PrePaid Card, employees gain access to their earned wages instantly, minus the standard transaction fee.
No admin required
Unlike a payroll card, which you own and administer, the ZayZoon VISA® Prepaid Card requires zero administration. We take care of everything so you don't have to.
Zero fees
No monthly maintenance fees attached. Employees have access to their earned wages without having to pay a cent in transaction fees.
Easy to access
Prepaid cards don't require a credit check, making them easier to access than traditional bank cards. To enroll, all employees have to do is sign up for ZayZoon.
Flexible
No employer offboarding required. Employees can use their ZayZoon VISA® Prepaid Card as direct deposit if they have a second job or reload funds themselves.
Secure
The ZayZoon VISA® Prepaid Card is offered by ZayZoon in partnership with our FDIC insured bank partner, so all funds are safe.
Instant Gift Cards
Through partnerships with some of the nation's top merchants (think: Amazon, Instacart, Walmart, etc.), your employees can receive their pay via gift cards with an added bonus.
Typically, these bonuses include up to an additional 25% savings. So, if your employee decides to take out their pay in the form of an Instacart gift card to cover groceries, they could receive up to $50 more. In other words, you're effectively giving your employees a bonus and it isn't costing you a cent.
Instant Gift Cards are sent directly to your employee's email where they can access them, you guessed it, instantly.
The Gas Card
When employees withdraw their pay to the Gas Card, they get a 5% bonus.
Say they take out $100 in earned wages. With the Gas Card, they'll get a spending power of $105, thanks to our 5% bonus. And remember, they won't have to pay a fee to access their wages, either.
Employees get $5 extra the first time they use the card, no matter how much money they withdraw. Each time after, they get the 5% bonus.
The Gas Card must be added to a customer's mobile wallet and can be used at all major gas stations. Plus, employees can use it forever. We'll instantly send it to their email so they can redeem it whenever they want.
3. No time and attendance data required
Yup, you read that correctly. ZayZoon is the only EWA provider that does not require time and attendance data—so that's one more thing you don't have to worry about.
You're probably wondering how we're able to calculate wages. Simple. We have a proprietary algorithm that analyzes historical earnings, employment tenure, industry, position, and a host of other data points to predict what an employee is likely to earn at any given time.
Naturally, predictions aren't 100% accurate. So, in instances where the draw is not repaid in full, the deduction will stay in the system until your employee's next payroll run, when it will be repaid. If the employee is no longer with your business, we'll reach out to them with a link to repay their draw via a different method. If there is any loss at all, ZayZoon absorbs it. It's not a hit to the employer or payroll partner.
Finally, we do not report employees to credit or send them to collections. We have our initial recovery process of offering the employee the option to repay their draw in a different fashion, but if there is never a repayment, that amount is written off by ZayZoon.
While we don't require time and attendance data, we certainly can receive it either through a file upload or any one of our many integrations.
Get Earned Wage Access now
By now, you should have everything you need to make an informed decision about your EWA provider of choice. If you're still stumped or have any questions about the information we provided here, please feel free to get in touch with us, and we'll do what we can to help.
We would love to support you and your team, even if it means passing you along to another EWA provider who would be more suitable to your business.
With all that said, good luck finding the right fit—and, again, kudos to you for kickstarting this journey to implementing EWA and putting your employees first.
Get your Earned Wage Access program up and running in less time than it takes to grab lunch and start reaping the benefits of a better employee experience today.