Employees at these companies trust ZayZoon
Engage
8 hours
the average reduction in absenteeism per employee using ZayZoon per month
Retain
29%
reduction in turnover for businesses that offer ZayZoon
Recruit
2X
more job applicants for businesses that offer ZayZoon
PRODUCT
Earned Wage Access
Employees don't like asking for a cash advance but sometimes they don't have a choice. And it can take hours of time to customize payroll runs. With ZayZoon Earned Wage Access, employees get their wages when they need them and you don't need to lift a finger.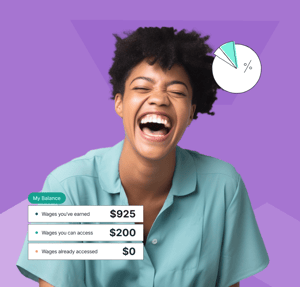 PRODUCT
Perks
The cost-of-living crisis is impacting everyone, even your employees. Maybe they're frustrated about the price of gas or they've asked for an advance to cover medicine costs for a loved one. Whatever the case, now you can help. Perks was designed to make essentials more accessible and to improve your team's financial wellbeing.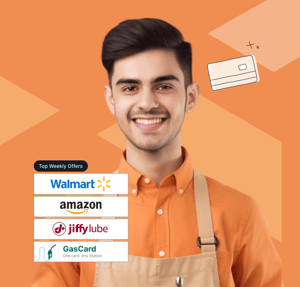 PRODUCT
Financial Wellness
ZayZoon Financial Wellness offers beginner, intermediate and advanced educational courses and articles covering everything from opening your first bank account to building credit. It also includes an easy-to-use budgeting and home affordability tool, a retirement analyzer and more.
As employees engage with the platform, their financial literacy score increases—and so does their financial wellbeing.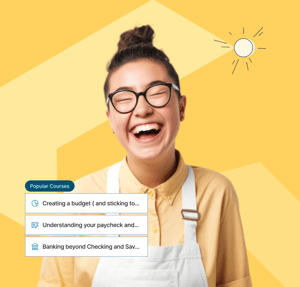 This is The Iceberg Principle
An invite-only virtual event for friends and members of the ZayZoon community. Limited availability. An opportunity to connect and learn from some of the biggest success stories today, including artists, athletes, and entrepreneurs.
Employee financial empowerment has never been easier
The easiest, most effective way to offer on-demand pay, employee perks and financial education.
We integrate with 130+ payroll providers, so there's a good chance we already work with yours. That's why we can have you up and running in less than 30 minutes.
Tired of talking to bots? Us too. At ZayZoon, you get real human support when you need it.


ZayZoon doesn't cost you a cent. We take on all the risk, so you can relax and take all the credit.
Employees can use ZayZoon—anytime, anywhere. It's available for desktop and mobile on all IOS and Android devices. You can even use ZayZoon to track usage, access promotional resources and drive adoption.
No change to your payroll process
Getting up and running with ZayZoon requires no changes to your existing payroll processes. Since we integrate with all major payroll processors, it's as easy as flicking a switch.
We provide a safe and trustworthy place for your data and have the SOC 2 Type II certification to prove it.
ZayZoon payouts now on Venmo
Introducing a new standard in payout flexibility. Employees can send earned wages directly to their Venmo accounts for easy peer-to-peer payments and in-store or online shopping.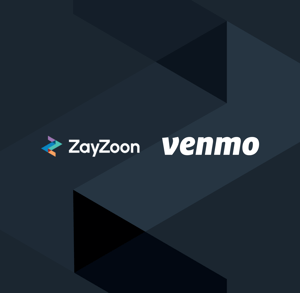 Business leaders trust ZayZoon
"Implementing ZayZoon was seamless. I think I might have been the first paycheck advance requested. It was great. I got my hundred dollars right away and it showed me where it would come off my next paycheck. I didn't have any hiccups at all."
"ZayZoon ensures our caregivers are financially taken care of, so that they can focus on taking care of our seniors."
"When you have a great culture, you don't have to invest as much in hiring because people know you have a great place to work. Offering benefits like ZayZoon can be the difference between hiring a talented employee or not. I would absolutely recommend ZayZoon to another business. From our perspective, it's been seamless."
The definitive guide to selecting the right EWA provider
In this guide, you'll find everything you need to know about on-demand pay, from a comparison of the top providers in the space to questions you should ask prospective vendors.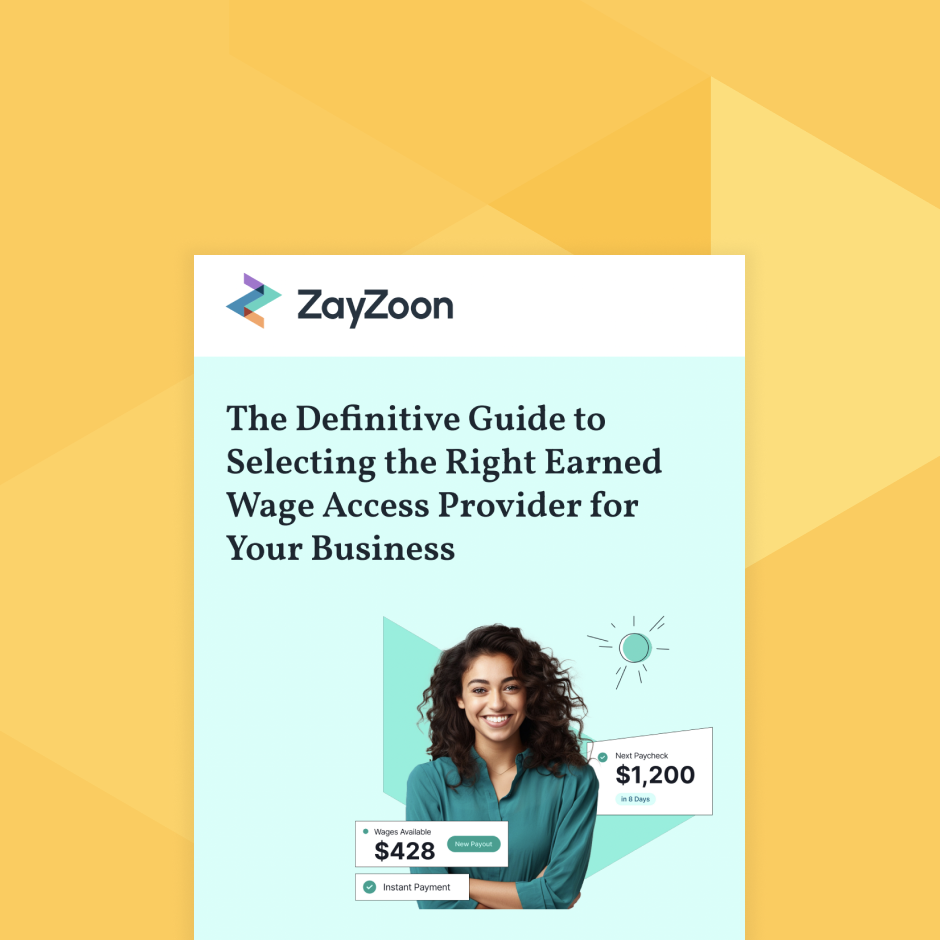 BLOGS
Insights for people professionals
Hot tips to help you attract, retain and engage employees.
What employees say about ZayZoon
A part of my ceiling had collapsed and I needed to fix it without cutting into my mortgage. Luckily, I was able to use ZayZoon to handle the cost of the repairs.
My husband was furloughed as a result of the pandemic. ZayZoon helped us put food on the table and pay our bills. We were able to stay afloat until he was back to work.
ZayZoon is convenient when the unexpected expense of everyday life happens. It makes life a whole lot easier.


My life has changed completely. I don't have to depend on others. I can afford to get food, gas, medicine, and pay my bills.