ZayZoon is the easiest earned wage access solution for your business.
Wages On-Demand and Financial Education for employees. A voluntary benefit that is free for you to offer. Set up takes minutes and is no work for you and your team.
ZayZoon allows employees to instantly access their earned wages on-demand. It's a voluntary benefit that reduces financial stress related to cash flow shortfall between pay checks. Improve retention, increase productivity and benefit from a more engaged workforce.
89%
of employees report lower stress
29%
reduction in employee turnover
$19,200
saved for a 200 person company
Thousands of businesses offer ZayZoon






Integration
Data is exchanged with payroll/HRIS to allow employees to securely create an account and access earned pay. How can we activate ZayZoon so quickly? We've already completed the integration with dozens of platforms, making ZayZoon the easiest and fastest EWA solution
for employers

.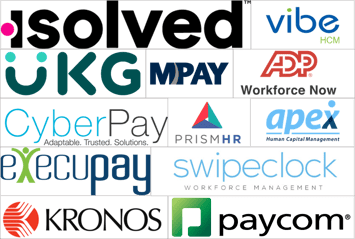 Don't see your platform here? Ask us about ZayZoon Connect powered by flatfile.io.
Funding
ZayZoon funds all early wage requests. There is no risk or liability to the employer. Funds are recovered automatically on the next pay run.
Support
ZayZoon does all employee support. There is no additional overhead for the employer to manage the program.
Pricing
The service is employee paid, or employers can choose to help subsidize the benefit.

Improve Financial Wellness
Every employee, not just Wages On-Demand customers, gets access to ZayU, our financial wellness platform that includes financial education and predictive financial tools.
"If you don't take care of your employees, they can't take care of our residents" - Michelle Tolbert, Administrator at Americare. See the Americare story.

For employees, sign-up is easy. There's no credit checks and amounts available are calculated instantly, and funds are available immediately. Employees save big over overdraft fees, payday loans and late bill payments.
We are proud of the work that we are doing to help employees with their financial stress, but honestly we are more impressed with them and the work they are doing under difficult circumstances. Check out some of their stories: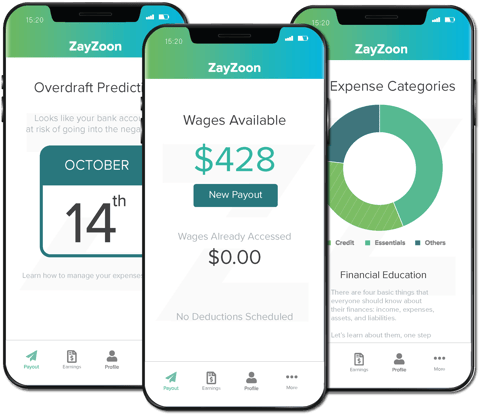 Have a questions? In 2021 book 21 minutes with a ZayZoon expert.