Employees at these companies trust ZayZoon
8
hours
the average reduction in absenteeism per employee using ZayZoon per month
29
%
reduction in turnover for businesses that offer ZayZoon
2
X
more job applicants for businesses that offer ZayZoon
Instant access to earned wages
63% of Americans live paycheck to paycheck. With ZayZoon, you can break the cycle by giving employees access to money they've already earned when they need it.
ZayZoon on-demand pay offers enough flexibility to accommodate all your employees. That way, they can customize where they receive their funds: to a bank account, the ZayZoon VISA® PrePaid Card or Instant Gift Cards with up to a 25% bonus.
Employees can access and use ZayZoon—anytime, anywhere. It's available for desktop and mobile on all iOS and Android devices. You can use ZayZoon to track employee usage, access promotional resources and drive adoption.
ZayZoon doesn't cost you a cent. We worry about everything so you don't have to.
ZayZoon integrates with 130+ payroll providers, which means we can have you up and running in less than 30 minutes. Activation is as easy as flicking on a switch.


Tired of talking to bots? Us too. At ZayZoon, you get real human support when you need it.
When it comes to security, we provide a safe and trustworthy place for your data. We maintain SOC 2 Type II compliance and are regularly evaluated by auditors with the American Institute of Certified Public Accountants (AICPA).


Business leaders trust ZayZoon.
"Implementing ZayZoon was seamless. I think I might have been the first paycheck advance requested. It was great. I got my hundred dollars right away and it showed me where it would come off my next paycheck. I didn't have any hiccups at all."
"ZayZoon ensures our caregivers are financially taken care of, so that they can focus on taking care of our seniors."
"When you have a great culture, you don't have to invest as much in hiring because people know you have a great place to work. Offering benefits like ZayZoon can be the difference between hiring a talented employee or not. I would absolutely recommend ZayZoon to another business. From our perspective, it's been seamless."
The definitive guide to selecting the right EWA provider
In this guide, you'll find everything you need to know about on-demand pay, from a comparison of the top providers in the space to questions you should ask prospective vendors.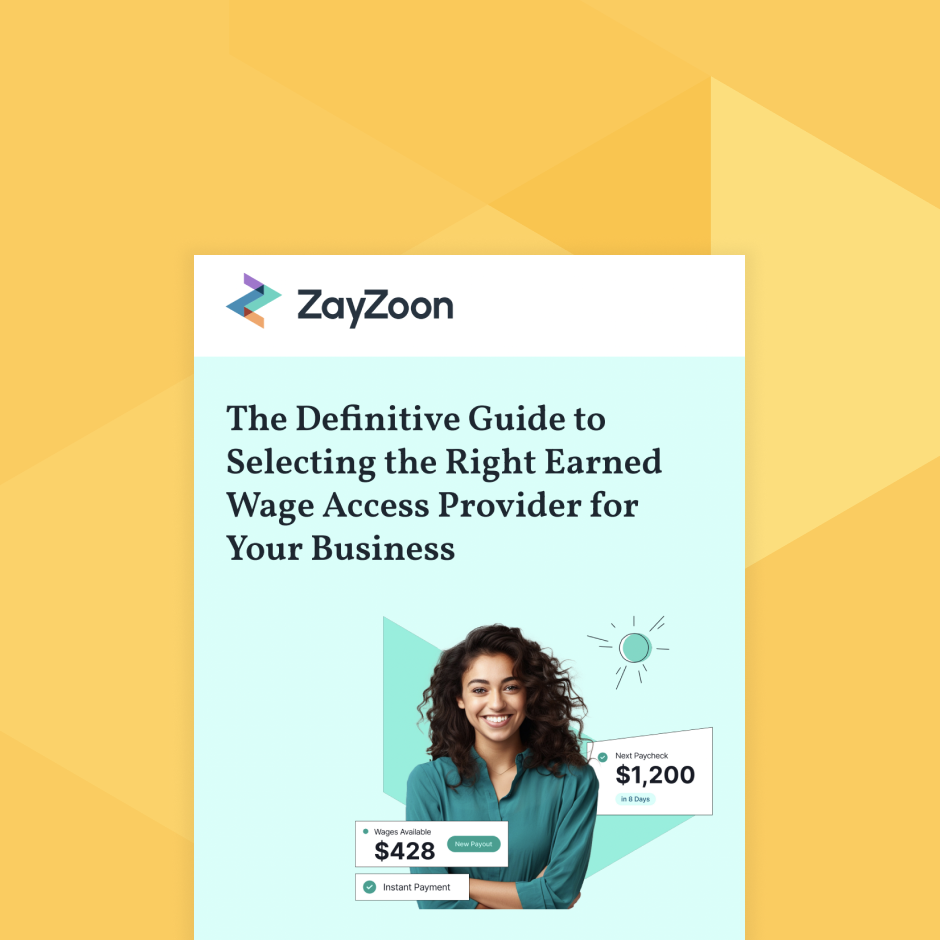 BLOGS
Insights for people professionals
Hot tips to help you attract, retain and engage employees.
What employees say about ZayZoon
My life has changed completely. I don't have to depend on others. I can afford to get food, gas, medicine, and pay my bills.


ZayZoon is convenient when the unexpected expense of everyday life happens. It makes life a whole lot easier.


My husband was furloughed as a result of the pandemic. ZayZoon helped us put food on the table and pay our bills. We were able to stay afloat until he was back to work.
A part of my ceiling had collapsed and I needed to fix it without cutting into my mortgage. Luckily, I was able to use ZayZoon to handle the cost of the repairs.