I once met a couple that had never fought in relationship and, once married, were at each others' necks over which way the toilet paper roll should go. The girl felt like this was it, they'd never fought before and now they were at an impasse. Surely this was a sign that they shouldn't be married.
Now, obviously, this is a silly challenge and they eventually got over it (also, there's a proper way for the roll to go, according to its patent). Yet I think at one point or another we all have had a relationship that has gone awry because of something that might seem insignificant, but is a symptom of much bigger issues that could've been managed if only you'd talked about it before things went too far.
As people leaders, you'll know the feeling of finding yourself wondering why a certain employee leaves your organization. Too often, though, the time for those conversations happens way too late in the process to make a difference, in an exit interview once the unhappy employee has already made their decision.
Stay interviews are the perfect way to gather information on what is important for your employees, what needs to be improved upon, and to get a pulse on what your company culture is really like.
Not only this, they are the best way to ensure that you can retain top performers and grow the kind of workplace that helps you stay competitive in an ever-changing market.
What is a stay interview?
"Stay interviews are there for a company to gather greater insights and understanding of what's actually happening across the business." - Jocelyn Meyer, People & Culture Lead at ZayZoon.
A stay interview is a one-on-one conversation between a manager and their employee where people leaders can gain employee feedback on what's working and what can be improved upon in the business to help with employee engagement and retention.
Unlike exit interviews, where a departing employee has already made a choice to leave the organization, stay interviews help people leaders gain a better understanding of what's really working in the business and what needs to be done to improve employee retention.
Companies should conduct stay interviews periodically (this can be annually or quarterly based on your strategy) and have an action plan on what to do afterward with the information gathered (more on that later).
Why are stay interviews important?
Effective stay interviews (or retention interviews) are an essential way to get a realistic pulse on what's happening in your business, as well as an excellent way to show your employees that their opinions are valued. Plus, they help inform what happens in the business.
When done correctly, stay interviews will help you:
Understand what an employee likes about their workplace
Identify common themes to work on for employee retention
Show your employees that their opinions are valuable to their managers
Establish trust between different layers of the business
Retain top talent
Routinely gathering information about what is and isn't working and making the necessary changes will ensure people want to stick around your place of work.
The key to retaining top talent
There's a lot of talk in the people management and HR world right now about employee retention and the different tactics to improve it at your company. It's no wonder, employers are struggling to fill open roles and keep their top talent. That's why making an effort to keep your top-performing employees just makes sense.
Yet employee retention starts with understanding what employees want, what they'd like to change, and what they'd want more of.
It's essential to establish trust with your employee base and be able to build the kind of work environment that promotes growth and keeps you competitive.
This is why stay interviews are so important. With them, you'll be able to stay ahead of the curve and identify top pains, find solutions, and implement them before getting to the dreaded exit interviews when it's too late to do anything about an employee's pain points.

Not just another survey
I interviewed Jocelyn Meyer, head of people and culture at ZayZoon to get a better understanding of why stay interviews are so important, and how to conduct them in a meaningful way that aligns with your company's values. One thing that stood out was the importance of having a one-on-one opportunity for employees to connect with their managers.
"We know that a deeper conversation will always pull out more understanding, insights, and awareness than a survey can. You can ask follow-up questions on comments said or even talk to those that rarely fill out engagement surveys. In stay interviews, you can have a really enriched conversation in a way a form just cannot replace," said Jocelyn.
She also mentioned how important it is to include this as part of your overall engagement and pulse check strategy. Although a stay interview will provide more in-depth content, supporting it with efforts like a quarterly survey and open channels for constant feedback to really have a solid strategy.
"Don't do a thing just to do the thing, consider how this might connect to any pulse check surveys that you're running, and how these calls will add value both to the employees and to the leadership team members," she said.
As with all efforts in HR and people management, a stay interview must be a part of a holistic effort to understand what's happening in your workplace and how you can take actionable steps to improve upon that feedback.

How to conduct a stay interview
Who should run stay interviews
A LendingTree survey determined that 82% of employees would consider leaving their jobs because of bad management, so showing employees that their manager and leadership team members care about them makes a massive difference in their outlook
This leads us to who should be running stay interviews. Depending on the size of the organization, you may choose one of two ways to go about this:
Direct reports talking with their managers
Higher leadership team alternating with employees throughout the company
There are pros and cons to both approaches and a lot of it has to do with the existing company culture and the size of your company.
In larger organizations, it might feel intimidating for an employee to receive stay interviews from a higher level executive they perhaps rarely or never engage with.
This is why a meeting with their manager, who they already know and hopefully trust will allow them to provide more honest answers and voice concerns that they probably wouldn't with someone they don't know as well.
The flip side of that is in smaller companies where stay interviews can help build trust and encourage an environment of transparency between people leaders and employees. In growing SMBs, it's also an opportunity to bridge the gap that often organically builds between leadership and employees.
At ZayZoon, we conduct stay interviews on a quarterly basis between the C-suite and employees in all sectors of the business. They're a great opportunity to collect insights and focus on determining common topics that come up from these stay interview questions. They're also a great time for our leaders to have a quick chat with employees, something that they may not be able to do as often as they did when we were a smaller team.
Whichever way you go about it, it's important that you have a set guideline for those who conduct stay interviews to gather feedback and make sure this tactic is successful.
Get the top HR insights straight to your inbox every month
Identifying who to interview
While I was researching stay interviews, there seemed to be a common trend stating that the way to go was to interview your top performers within your workforce in order to get some honest feedback on their current position.
Yet, upon thinking about it, it kind of feels like when I ask my husband if he thinks I'm pretty -- it's really good to feel valued, but it doesn't really showcase an objective opinion.
Although it's true that it's not going to be as efficient to interview new hires on their pain points as they may not be aware of them yet, there's something to be said about taking the time to interview all employees in order to make sure you're getting varied feedback from all areas of the business.
As a business grows, the layers between an individual contributor and the executive team members can also get wider, so stay interviews are also a great way to bridge that gap. This is essential to show that you care and for people leaders to make sure that employees' perspectives are being heard so they can remain happy and high-performing individuals.
Although it's true that depending on company size interviewing all employees just isn't in the cards, it's essential to get a good sample across the board of employees in different sectors of the company. Remember that different jobs will have different challenges, so getting as wide a base as you can will always benefit you when gathering the data to make informed decisions on how to move forward.
Asking the right questions
At ZayZoon, we've conducted start/stop/keep interviews where all team members meet with a member of the C-suite and answer questions on what is missing (start), what is not working (stop), and what is working (keep). This is one format of stay interview questions that gives the person being interviewed a clear example of how to organize their answers (if they're the kind of employee who likes to do that, I showed up with broken down notes for each section, but I know that's not the norm).
The agenda for these meetings was broken down into five sections:
Recent highlights
Start/Stop/Keep
Future goals
Determining support needs
It looked something like this: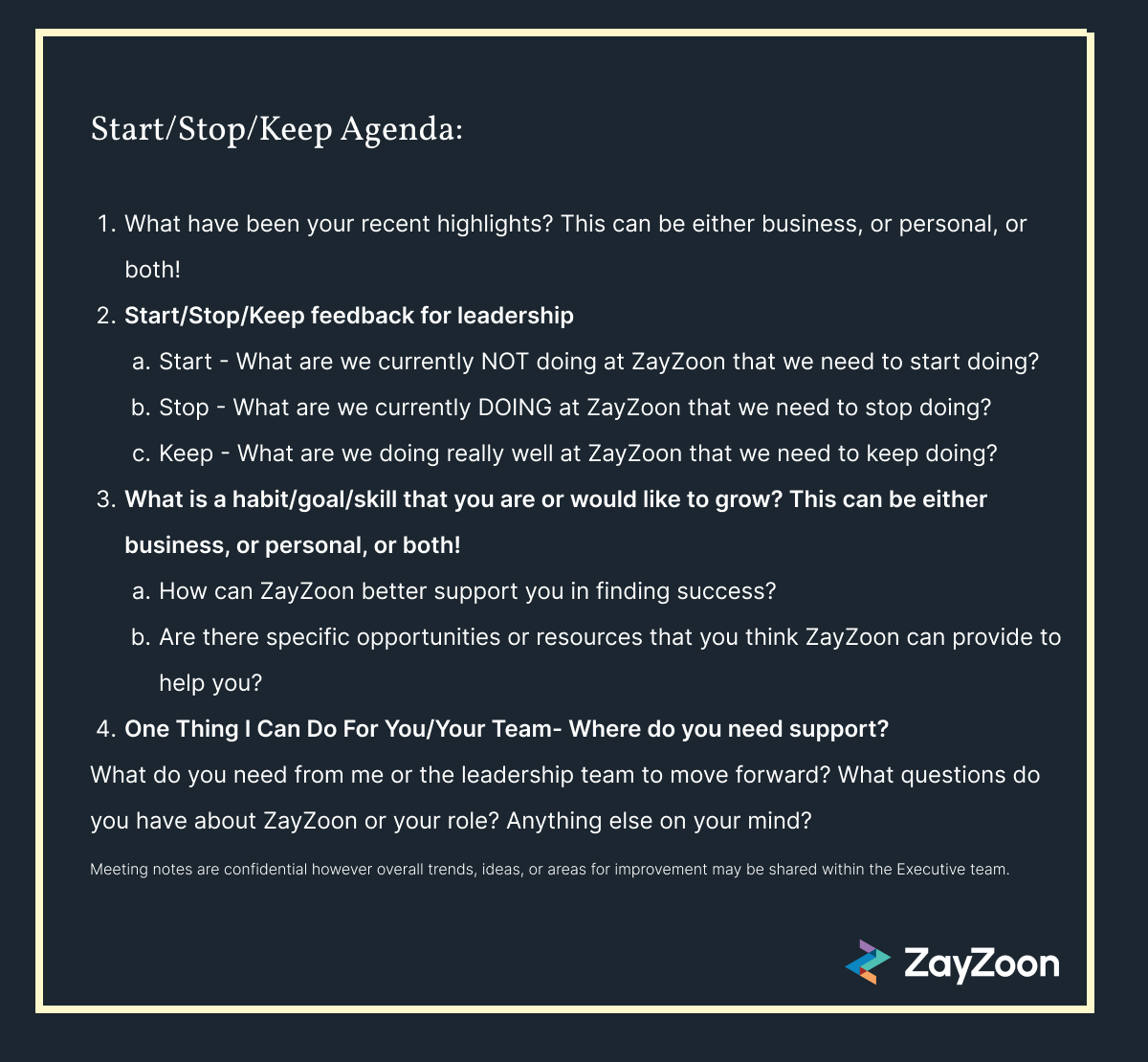 Overall, it's essential that employees get the interview questions ahead of time so they know what to expect and understand what the benefits of these interviews will be. It's also important to schedule them ahead of time so employees know what to expect and not to do them at the same time as performance evaluations are happening.
Remember that it's not mandatory to go through all questions, but to have these as a guideline for where to take the conversation.
Stay interviews are a listening exercise
Although this is a one-on-one conversation, it is important that those who run stay interviews understand that these are a listening exercise first and foremost. This isn't the time to get into solutioning mode or promise changes that may not happen, but should be conducted as an exploratory conversation where supervisors can give their employees a chance to voice their concerns and ideas without judgment in a safe space.

Following up and implementing solutions
"If you're going to do these interviews, then having periodic check-ins with the team where you share what the themes we've been hearing are, what are we choosing to prioritize as a business going forward, are there critical things that need to be addressed and how are we doing that -- all of that is essential to show that the founders really care and it builds connection," says Jocelyn
As with everything in HR, it's essential to have a strategy behind it and a plan on how you will gather insights from the conversations you had during stay interviews. It's then essential to gather managers around and share the data compiled and determine what is important and feasible to act upon based on this feedback.
A final element is to then compile this information and share it back with the team, so they can really see that their voice is heard and action is being taken -- albeit not on all fronts that come up, but those that match company priorities or have been marked as evidently important.
Big results regardless of company size
As an employer, getting honest and consistent employee feedback is one of the most important things you can invest your time and money into. Creating a sense of empowerment and a transparent workplace will be a top contributor when it comes to retaining top talent, recruiting the best employees, and ensuring that your business is growing in the right direction.
You don't have to be the biggest organization with the most expensive benefits package to be an exceptional place to work, and stay interviews might just be the key to ensuring that you're on the right path.
At ZayZoon we want to work with you to deliver the best employee experience, regardless of your size. Subscribe to our monthly newsletter to get the top HR content delivered straight to your inbox.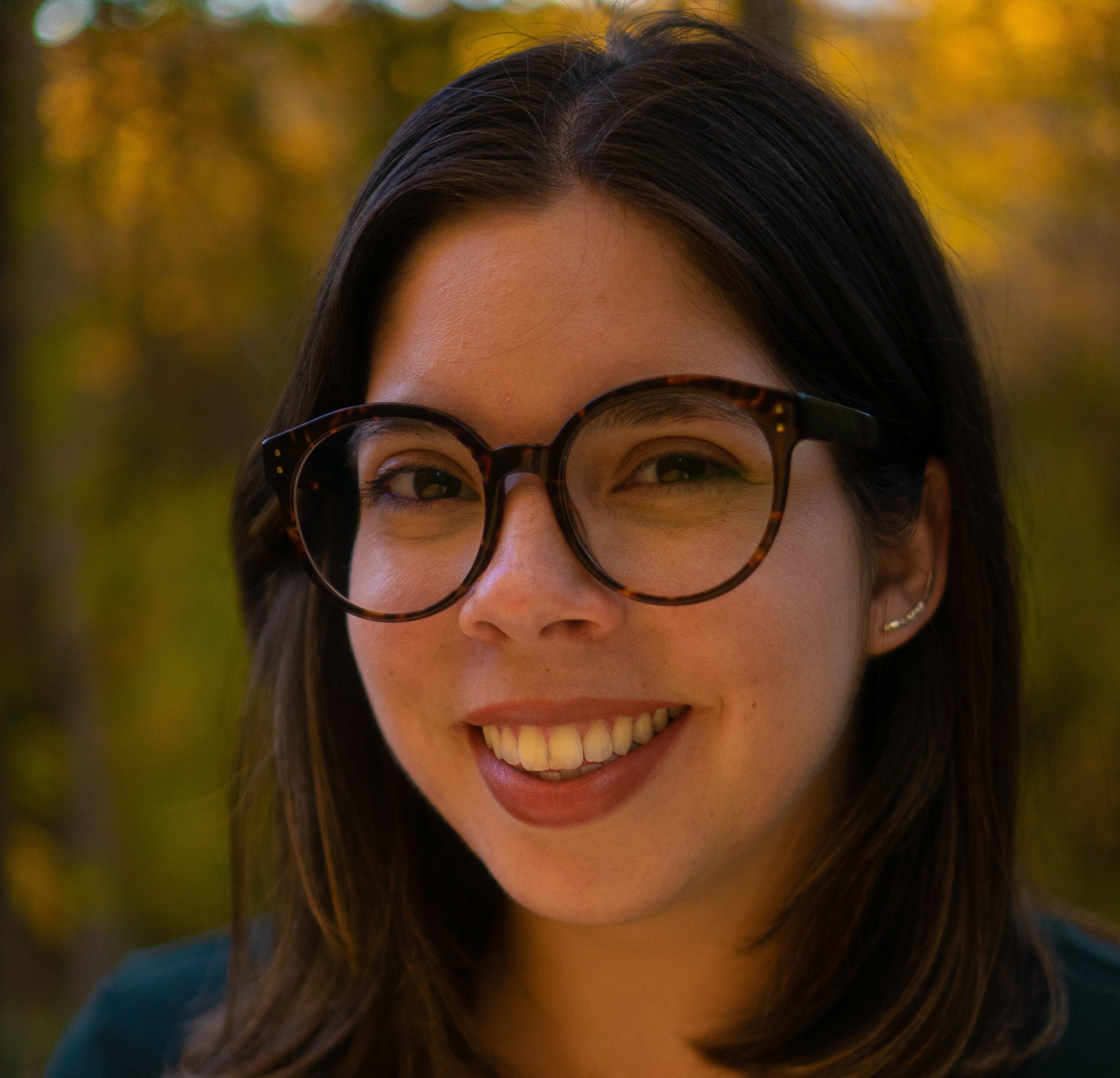 Susy Alfaro
Susy Alfaro is the content marketing manager at ZayZoon. When Susy's not showing employers how to create better employee experiences through her content, she's sewing fashion-forward accoutrement and dancing with her cat.