Strategies to win the war for talent that won't break your budget
All business leaders know it: you may have the best product, all the right tools, or even the coolest office building; none of that matters if you don't have the right people. That's why having a successful recruiting strategy is one of the most important things you can do to make your business succeed.
Recruiting in a tough market
We're in the middle of a particularly interesting market situation to say the least. In 2023, the unemployment level dropped to 5.84 million, which still means that there are more than 1.5 job vacancies for every job seeker.
This means that there are plenty of open roles, and not enough people to fill them.
Job seekers can therefore pick and choose where to go. Your company being the one people choose is more important now than it has ever been.
And the thing is, it's not just other companies in your sector that you're competing with. The job pool has expanded. According to CareerPlug, employees have been looking for more flexibility in their professional lives, often going for gig work or switching industries, looking for job openings in different roles that adjust to their expectations. It really is you against the world to attract top talent.
As if the increased competition wasn't enough, there's the ever-changing mix of social media postings, niche job boards, job ads, and every single platform under the sun that tells you they're the right solution for your unique recruitment goals.
Recruitment strategies just keep getting more complicated which may make it seem like your effort is pointless.
Yet, considering that the average cost of hiring a new employee is $4,700 (which goes up to $14,936 for executive hires); figuring out how to excel at your recruitment strategies can be a massive opportunity for your business.
So, how do you align your hiring strategy to make sure that your business grows in a consistent and efficient way? And how do you attract qualified candidates and convince them that you're their best option?
I was wondering that, too. So I sat down with ZayZoon's fearless People & Culture Business Partner, Jocelyn Meyer, to figure out what the secret sauce to hiring the best talent is. Jocelyn has almost a decade of experience in various People and Culture roles and has an unparalleled understanding of how to lead your HR efforts with a strong pulse on a company's core values.
Here's what she had to say.
The secret to recruiting top talent
To elevate your recruitment strategy focus on these three areas of your people operations:
Optimize your recruiting process: break it down and fill the gaps
- Move beyond ad hoc strategies
- Introduce a job brief
- Write compelling job descriptions
- Think ahead
- Break it down
Use the right tools
- Analyze what you currently have
- Evaluate tool efficiency
- Automate with purpose
Let's focus on how these three areas can take your recruitment process to the next level.
1. Optimize your recruiting process: break it down and fill the gaps
The recruiting process can be a dream or a nightmare, both for the recruiting team and for potential candidates. The most effective recruitment strategies to attract top talent break down each step and optimize every section so that it can be as seamless and beneficial as possible for everyone involved in the process.
Move beyond ad hoc strategies
When ZayZoon was a smaller company, the recruitment strategy was very ad hoc. Each hiring manager did their own job postings and job descriptions based on what they thought was best. Yet as we scaled, these recruiting efforts had to be standardized and improved.
Here's what Jocelyn shared as she has learned about optimizing the recruiting process:
Introduce a job brief
A job listing starts way before it makes it to your careers page or social media. Effective recruiting strategies start with the hiring team setting up the purpose of the job to be posted in a standardized internal job brief.
This brief should :
align with business objectives and the existing budget
fill specific gaps in skills, competencies, and roles
take into consideration who the existing team members are and what skills (hard and soft) will be needed to complement them
When all of this is brought together, a job brief paints a clear picture of what the new role will bring to the company and what their progression will look like.
At ZayZoon, a job brief includes the following:
a bullet list of everything the recruiting team wants to find in the best candidates for the role
skills that will be necessary for the role to be filled
the main outcomes of this new role and how it will both support existing roles, and increase the capacity of the company as a whole
a career trajectory for the person this role will fill and how they might grow with the company
Once completed, this description is pitched to the senior leadership team. They'll be able to go over high-level company goals and ensure that those recruiting efforts are aligned with the company's short, medium, and long-term goals and that this is the right time to find qualified candidates to fill that gap.
The best way to optimize this part of the process is through standardizing what that job brief needs to include. Standardized plans make the approval process go faster, more efficiently and they're clearer for everyone involved.
Write compelling job descriptions
Be clear about what you're looking for in your job postings. Make your titles as specific as possible when you're posting job descriptions.
Be sure to include the essentials such as:
job responsibilities
hard and soft skills you're looking for
day-to-day activities
how the role fits into the larger organization of your company
how the interview process is going to go
a description of your company culture and values as well as for the role as an individual
Finally, keep it concise. Job descriptions between 700 and 2,000 characters receive up to 30% more applications, so you don't want to run too long (or too short).
Think ahead: training, onboarding and beyond
Nailing the recruitment and interview process is an essential part of your recruitment strategy, yet it is just as important to think beyond the process of finding quality candidates. Think about what is going to happen once you have this person on the team. What is training going to look like for them? Do you have a 30-60-90-day plan to set them up for success?
Job candidates want to make sure that they're joining a company that aligns with their career goals. Knowing what their career projection is at, your company can increase the possibility of them choosing you to work with. It will also increase employee retention in the long term.
Break it down
Analyze, analyze, analyze. A good recruitment strategy can be broken down into smaller steps that make your process uniquely reflective of your company and appealing to the talented candidates you want to attract.
Break down every step and determine what is working, what could be improved but isn't urgent, and what needs to change immediately in order to elevate your recruitment process. It's important to be honest about where your business is at and what is possible for you to change (versus what should go on your wishlist).
You'll be surprised about what you find when you look at the single steps that make up the whole process.
2. Use the right tools
Having the right tools is essential for the success of your recruitment strategies. Having tools like:
an applicant tracking system
a texting service to keep your candidates up to date on their interview process
AI tools to optimize your process can be a game-changer
It's not just about what you have, though. It is just as important to use those tools properly and maximize what you get out of them to succeed.
Analyze what you currently have
Analyzing your existing tools for recruitment is an essential step toward improving your overall process. Sit down and examine:
what you currently have
what does it do well?
what could be improved?
Your recruitment tools must add depth and understanding to the hiring process for both the hiring manager and qualified candidates.
Sometimes if you dig a little deeper, you can find that the tools you already have can do much more than you thought and you don't need to buy another shiny new tool to provide value to your recruitment process.
Other times, though, it can be the first step to making the call to switch to a different provider that aligns more with your goals.
Evaluate tool effectiveness
Just as with what you did before, take your recruitment process and split it into all the smaller steps it entails and evaluate your tools based on what they can do and how efficient they are.
Maybe your CRM can track potential candidates, but all information has to be input manually. Perhaps you could benefit from an automated texting platform that lets candidates know where they are in the interview process.
Remember that job seekers are also interviewing you during the hiring process. Make sure that you have the right tools to make it easy for you to put your best foot forward.
Automate with purpose
Recruitment strategies are the building blocks of a longer relationship with a contributor on your team. Automating parts of your recruitment strategies can help make sure that no step is missed during that process.
Make sure that your existing tools are adaptable and can support both a centralized process as well as the individual needs of each hiring manager.
Perhaps you could benefit from an automated texting platform that lets candidates know where they are in the interview process. It'll be easier than counting on humans to never forget a step in the hiring process.
3. Always put people first: Elevate your recruiting experience
Last but definitely not least, your hiring experience is going to be the main factor that determines whether you can take your pick out of the talent pool or just catch what you can.
Paying close attention to how potential candidates will feel throughout your hiring process can elevate your recruitment and retention rates noticeably.
Build a compelling employer brand for today's employee
Employer branding is one of the most important elements that will make your top candidates choose you. It's essential to have a defined company culture, values, and purpose.
More so, make sure that your employer brand is accessible and visible to potential candidates. This includes recruiting assets such as:
an about us page on your site
a careers page
consistent social media and blog activity that showcases the company culture and values
employee testimonials
and more, recruiting assets should speak to your unique culture and company vision
Anything that you can do to showcase what it will be like to work at your company will sway potential candidates in your direction.
Determining existing employee satisfaction is also a key factor in your employer brand. Is your current recruitment strategy working? What have past applicants said of your recruitment strategies and process? Do your employees post about their experience on social media?
You can attract passive candidates and build a talent pool for future listings by showcasing and living your culture out loud for the world to see.
A snippet of the ZayZoon "Our Story" page. Showcasing your company culture is an essential part of your recruitment strategy.
Set up an employee referral program
An employee referral program is not only a great way to incentivize existing employees to promote your company, but it is also a much more authentic way for potential candidates to determine if your company is the right fit for them through internal insights from those who legitimately know what your company is like.
Make sure that you still do your due diligence, even if you have an employee referral program, and do not automatically hire due to that referral. The more thorough you can be in your hiring process, the more successful your employee referral programs will be.
Create a positive experience
It is essential that your recruiting strategy is a positive experience for your potential hires, from the job boards up until their first day.
Not only that though, you want it to be a satisfactory exercise for your hiring team as well. Being intentional by making sure that your process produces results when finding qualified candidates will help establish trust and fill those gaps.
Honesty is also a crucial element of this being a positive experience. Allow candidates to understand the full picture of who your company is, and make sure you don't waste people's time by making false promises of a culture that doesn't exist.
At the end of the day, recruiting is kind of like dating. If the experience isn't a positive one, then that relationship is going to go nowhere, fast.
Implement feedback loops
The final step is having open feedback loops with everyone involved in your recruitment strategies.
When speaking with a candidate, let them know:
exactly what to expect at every step of the process
how many interviews the process will entail
who they'll be talking to so they know what to prepare
any feedback you have if they're not moving forward in the process
Avoid leaving loose ends or ghosting people and you'll have a pool of potential candidates who you can pull from for future roles if something else comes up. Give them a nightmarish experience and you'll never see them again.
Feedback loops aren't only for potential candidates. If you're working with a recruiter, give them honest feedback about what's working and what isn't about the candidates they're sharing so they know how to find the right fit for you.
Overall, open communication will always benefit your recruitment strategy.
Stay authentic: Winning talent at every size in 2023
Recruiting is the beginning of a beautiful relationship with a new member of your team. It can be a long process, but also an amazing one, and that "hell yes!" moment is borderline magical both for the new employee and the hiring team.
Remember to be cognizant of what you are doing at every step of your recruitment strategy and think ahead about what you want to do in the future. Even if you're a smaller company and are not where you want to be yet, be mindful of every step in your process and stay authentic throughout. In the end, that will make all the difference in the world.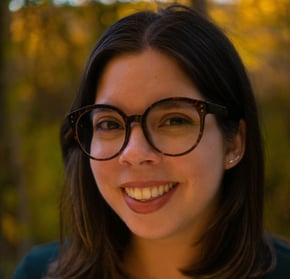 Susy Alfaro
Susy Alfaro is the content marketing manager at ZayZoon. When Susy's not showing employers how to create better employee experiences through her content, she's sewing fashion-forward accoutrement and dancing with her cat.