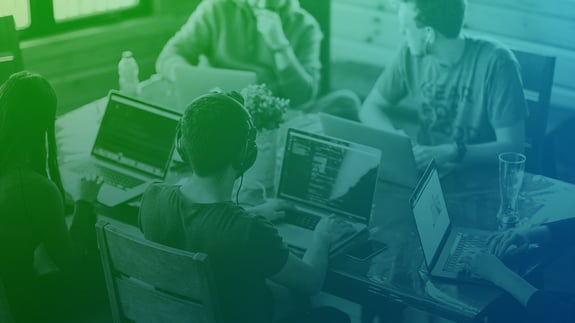 Senior Product Designer (Lead)
COME MAKE EMPATHY CENTRAL TO DRIVING ADOPTION OF FINANCIAL BENEFITS
Imagine having the opportunity to join a well-organized, well-funded and fast-growing FinTech company that does right by employees across the US by not only giving them access to their own wages, on-demand, but a variety of other financial wellness tools to help improve their financial outcomes. ZayZoon is quickly becoming the employee financial wellness app that employees can't live without, and employers are clamouring to get their hands on.

As our Senior Product Designer / Lead, you will be responsible for:
delivering an exceptional user experience to our stakeholders,
providing outstanding design leadership that drives intuitive interaction and nudges users towards responsible use of our financial wellness products
working closely with internal stakeholders, and
to be successful, doing everything in your power to get insights from the end users outside our virtual walls -- including conversations, qualitative and quantitative behavioural observation and analysis.
While your primary function will be in advocating for and driving core product experience flows, you will achieve this with whatever artifacts necessary to effectively and efficiently communicate with and get inputs from your stakeholders.

The ideal candidate has strong aptitudes completing surface-level tasks (UI design, typography, colour, layout), structural-level tasks (workflows, individual interactions, patterns, blueprints, guiding principles), strategy-level tasks (research, requirement gathering, discovery and solution space mapping, behavioural data analysis), and occasionally, and vision-level tasks (product vision, organization planning, business strategy, recruitment). They approach design with the ideal in mind, but iterate through version implementation using a lean methodology: experimenting, measuring and honing in your designs by putting them in front of real users. This is not a waterfall shop, so you will balance your exceptionally high standards with a need to move very quickly.
YOUR RESPONSIBILITIES
Holistic Product Design - Articulating and understanding the needs of the user, and connecting those needs with the strategy of the business to build exceptional products that drive both forward.
Basic User Research and Driving Outside-In Insights - Basic levels of user research for buyer (employer and partner) and user (employee) persona, such that persona can be used as an alignment tool in driving good UX from a solid understanding of our external stakeholders.
Building Exceptional User Experiences - Across multiple touch points in our web and mobile apps, working closely with developers, product managers and product marketers to build walls
Holding Down the Fort, While Building It - Getting your hands dirty with nitty-gritty design elements, building structures and systems to lay the foundation for design practices at ZayZoon
Growing a Team - In the next 1-2 years, structuring and growing a team of design practitioners to support the growing needs of the organization as we expand our business footprint and address needs for different user types.
OUR CORE VALUES
Hustle

– Own it, take it to the next level
Trust

– Do the right thing
People Driven

– Make a positive impact
Mastery – Thirst for knowledge and improvement
WHAT YOU CAN EXPECT FROM US
Competitive salary and compensation, along with a comprehensive benefits package commensurate with your experience and skills.
A tight-knit team of adults that care about and thrive on moving the needle for our customers, our products, and each other.
People who know how to wear multiple hats, and that every team member makes a difference in moving the business forward.
Constant hustle to improve; always growing ourselves, each other, and our business.
A flexible environment, with emphasis placed on getting the job done, not on hours worked -- this means being available for collaboration when needed, and being ready to get down to business in crunch times.
A fun, fast-paced work environment - with plenty of collegial banter and closeness beyond just work.
With an emphasis on employee engagement and job satisfaction, ZayZoon has a tech-industry leading employee NPS score of 71.
WHAT YOU SHOULD BRING TO THE TABLE
Behavioral Competencies
You want to make a difference through meaningful work and are driven by purpose
You get fired up in a start-up culture where everyone owns the business, regardless of department or seniority
You are an innovative self-starter that constantly looks for a better way to do things
You constantly take in input, but can disagree confidently and be decisive and not compromise on your design process, using both evidence and expertise to garner support
You adapt your style to communicate your vision effectively to different audiences
You can manage your time effectively under pressure, without compromising on product quality
You are a data driven decision maker with an analytical mindset, who measures and adjusts based on explicit outcomes
You elevate the team around you by providing mentorship, business context and feedback
You collaborate with engineers to understand constraints in bringing your designs to life
You take ownership over how your designs come together, get interpreted and implemented - end-to-end (beyond just software), and across the full product delivery lifecycle
Are quality focused, but also understand the need to hustle when the fire alarm starts blaring
Are fiercely independent, and can take broad ideas and run with them
Get the bigger picture, can see the forest through the trees, and know how to leverage your technical expertise to move a business forward
Technical Competencies
3-5 years of experience in a UX or Product Design role, with products that are actively in use
A demonstrable portfolio, preferably showcasing mobile and desktop design experiences, and highlighting competencies in problem-solving and leading a project from discovery through to implementation
Have a broad understanding of the end-to-end design process and the many skills that fit under the title of Product Designer, including:

Research and Discovery (direct conversation, behavioural observation and analysis)
Interaction design
Visual design (wireframes, and high fidelity mocks)
Rapid Prototyping / Working Designs (for example, but not limited to: InVision, Webflow, Airtable, Zapier)
and, ideally, some Front-End Development

Derive designs from a solid understanding of customer needs, motivation and behaviours, in order to build outstanding UX using agile methodologies, and industry-standard design tools
Are confident presenting design concepts to stakeholders along with strong rationale to validate concepts and have amazing storytelling skills and can clearly articulate the thinking and strategy behind your decisions
Create aesthetically pleasant user interfaces that excite and delight users
Are inherently analytical, and are guided by data (both qualitative and qualitative), using elements of Heuristic Evaluation to produce design recommendations for any medium
Are intensely focused on break larger design experiences into vertical slices to ship features early and often
Prefer to work alongside developers to see the designs come to fruition, and make any adjustments to the design as a team
Can work effectively with remote team members and customers, and know how to overcome communication challenges that come with remote work
Bonus:

Experience in financial technology or banking
Experience in both B2C and B2B software design experience
An awareness of behaviour psychology and behavioural economics principles, and use it in your designs
A solid understanding of front-end development techniques and could "speak the language" of CSS, HTML, Javascripts (incl. TailWind / TailWind UI)
ANYTHING ELSE YOU MIGHT NEED TO KNOW
We are currently organized as a remote team, as such we are looking for candidates who can work effectively remotely. While we will wait to see how the situation with COVID-19 progresses, we will remain flexible with respect to remote work for the foreseeable future.
Please note that a final step in our hiring process is for candidates to arrange personal reference calls with former managers and/or colleagues. We wish to thank all qualified applicants for their interest in joining our team!
SOUND LIKE THE JOB FOR YOU?
Got what it takes to work with us?
Great! Send us a link to your resumé or portfolio to become part of our talent pool.