ZayZoon Wages On-Demand From

Insperity For Workforce Acceleration Clients
Wages On-Demand and Financial Education is now available with Insperity for Workforce Acceleration clients. Employers can activate ZayZoon with Insperity for their employees in minutes, and they can start saving and reducing stress today.
ZayZoon allows employees to instantly access their earned wages on-demand. It's a voluntary benefit that reduces financial stress related to cash flow shortfall between pay checks.
Thousands of businesses offer ZayZoon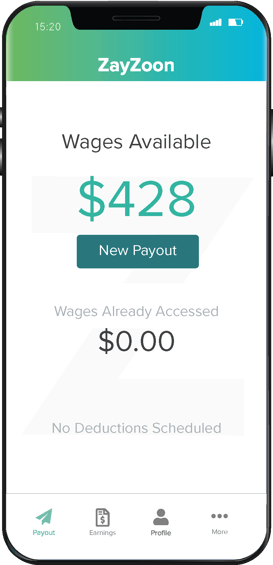 How it works
Integration
Data is exchanged with Insperity to allow employees to securely create an account and access earned pay. How can we activate ZayZoon in 21 minutes? We've already completed the integration with Insperity for Workforce Acceleration clients, making ZayZoon the easiest and fastest EWA solution for employers. Integration not yet in place for Workforce Optimization clients. Activate Now!
Funding
ZayZoon funds all early wage requests. There is no risk or liability to the employer. Funds are automatically recovered on the next pay run.
Support
ZayZoon handles all employee support. There is no additional overhead for the employer to manage the program.
Pricing
The service is employee paid, or employers can choose to help subsidize the benefit.
Reduce Turnover and save on hiring costs
Employees accessing ZayZoon are 29% less likely to leave. For every 200 employees you have, this means $19,200 saved annually on hiring.
Reduce employee stress
89% of employees report ZayZoon reduces financial stress through the combination of managing cash flow interruptions plus free financial wellness tools.

Powering financial health, beyond wage access
As a client of ZayZoon, all of your employees, not just Wages On-Demand customers, receive access to our financial wellness platform, ZayU.
Smart insights
Link your bank account and let us show you where you're spending and how you can save.
Education that's enjoyable
Take a financial health check-up and receive courses custom to your situation. Flex your financial know-how with a certificate of completion, provided with every course.
Alerts that save money
No one likes overdraft fees or minimum account balance fees. Let us alert you when you're at risk.
ZayZoon is the tip of the spear employee offering, helping employers attract new employees.
Hospitality, Healthcare, QSR, Manufacturing, Call Center Facilities and Senior Living facilities are all examples of industries that are pushing wages on demand to help drive new employee applications.
Frequently Asked Questions
Where can I sign up?
Sign up is fast and easy! Click "Create My Account", enter your information and follow the on screen instructions. You may want to have your ID and your most recent paystub handy. If you get stuck, please reach out to our Customer Success Team on web chat.
How can I get my employer to offer ZayZoon?
You can let your employer know that ZayZoon is a free-to-offer benefit. It costs them nothing to offer and can be integrated with their current payroll system.
ZayZoon is a free financial wellness tool that benefits the entire company, not just employees
Send them here ZayZoon FAQ to view the benefits ZayZoon provides and let your employer know how access to earned wages would impact you personally.
How do I know if my employer offers Wages on Demand?
Your best bet is to check with your HR representative, direct manager, or in your employee portal under the 'Employee Benefits' section. If you are still having a difficult time determining if you are eligible for ZayZoon, please reach out to our Customer Success team and they may be able to assist you further.
Will I be charged interest if I'm overdue?
No. We do not charge interest. ZayZoon is committed to helping employees access their wages, when they need it. We want to help our customers break free from predatory, high interest lending products like payday loans, overdraft fees and high interest credit cards.
What if I'm receiving a 401 error or can't sign up?
If you are having difficulty signing up, or receiving a 401 error a couple things could be going on. A 401 error typically means that you are not entering the information (into the sign up form) that matches what we have received from your payroll provider. Reach out to our customer support team, they will be able to guide you. Please make sure you have your most recent paystub handy.
If you are having other issues while signing up, please contact our Customer Success team. They will be happy to guide you further.
How much of my wages can I access today?
ZayZoon encourages employee financial health by recommending that you wait until you've reached the $200 daily maximum before requesting a payout. This way you pay less fees and get the most out of each dollar. This is also why you must have a minimum of $20 available to request a payout. Our flat fee of $5.00 per transaction is a simple way to track how much you're spending on fees.
For a detailed review of how much you can access today, please check your ZayZoon dashboard under 'Wages Available'. There you will see the amount you are able to access today.
If you would like to know more best practices, reach out to our Customer Success Team and ask for their advisory opinion on any topic! We are happy to help!
Can I recommend this to a co-worker or friend?
With the ZayZoon referral program you can access your earned but unpaid wages for free!
Simply send your referral link to friends or co-workers. Once they sign up they can save the $5 fee using your referral code.
Once they've made their first advance using your code, you will also get a credit on your account for a fee free payout. You can save up to $50 in fees by referring co-workers to access their pay on demand!
For more information and to access your referral code head here: ZayZoon Referrals
How do you ensure employees do not access their entire paycheck before payday?
ZayZoon is there to support employees access their earned wages before payday, but is not meant to be a substitute to their entire paycheck. They can access up to 50% of their net earnings during the pay period, or up to $1000.
Is there a limit on how often employees use ZayZoon?
Employees are able to access up to $200 per day. They can access up to 50% of their net earnings during the pay period, or up to $1000.
Does my business provide the funds for the wages advance?
ZayZoon provides the funds for advances from our own reserve, minimizing the risk to you as the employer.
How can employees access their ZayZoon account?
Employees just need to follow the sign up instructions provided from their employer. Once they have created their account, they can access their account through the ZayZoon website or mobile app!
How will offering Earned Wage Access affect my payroll?
It won't! Just run payroll as you normally do. The only thing you may notice is a new deduction field for ZayZoon that shows up on employees' paystub.
How can employees get support for the service?
ZayZoon is equipped with live agents that can respond within minutes to any employee inquiry!
What industries use ZayZoon the most?
ZayZoon is most commonly used in the following industries: Healthcare, Senior Living, Medical, Dental, Restaurant/QSR, Manufacturing, Grocery, Retail, Hospitality, Gig Economy, Call Centers.
Does it cost money for employees to use ZayU?
ZayU is free to any employee, regardless of if they take an advance from ZayZoon or not!
Will offering Earned Wage Access cost our business anything to enable?
No. There are no costs to you as an employer.
Can ZayZoon be used as a recruitment tool?
Absolutely! In fact, employers who offered ZayZoon saw a 29% reduction in turnover, and 79% of employees would switch to an employer who offered Earned Wage Access!
Where can employees deposit their money?
Either to a bank account or debit card.
We are proud of the work that we are doing to help employees with their financial stress, but honestly we are more impressed with them and the work they are doing under difficult circumstances. Check out some of their stories: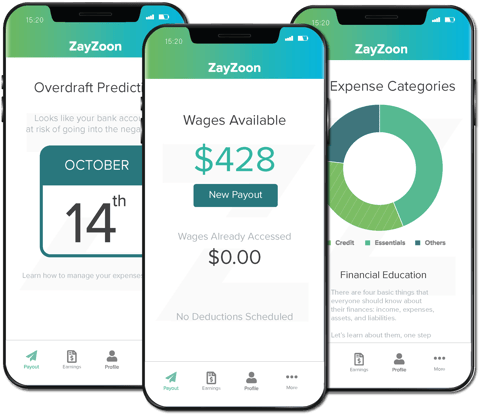 What is Earned Wage Access? Can I Offer Early Wage Access Myself? How Do I Determine What I Need? To many people, Earned Wage Access is a relatively new concept that comes with a lot of questions. At ZayZoon, we put together an Earned Wage Access Buying Guide to help you answer these hard questions. In the past, traditional payroll providers were typically limited in how often they could send out checks due to cost and time. Back then, if an employer wanted to offer advances to their employees, it would come with added costs and take valuable time away from their team. On top of the cost and energy to process these advances, they would also come with tremendous risk.

Tags: Businesses | Culture