It was early 2020. We pitched the ZayZoon platform to a potential partner and their response was not unlike something we'd heard before: "I just can't imagine my employees needing this." We agreed to stay in touch.
Fast forward a few months, COVID hits. All of a sudden, that same business owner was going through the process of helping their employees apply for emergency funds as they were being furloughed. It was then that they called us back.
"So many accounts went into the negative!" they said, "we've got to do more to help our employees improve their financial health!"
This is a story that's stuck with me through the years because as much as people leaders don't want to think it could be their employees who are struggling with their finances, the truth is that a good financial wellness program is something that all companies need to develop.
Through the pandemic in 2020 or the recession of 2023, or whatever is to come, employee financial wellness programs are the best way to win the war for talent.
A comprehensive financial wellness program can differentiate your workplace from others, enabling you to recruit top talent, retain more employees and ultimately stay more competitive.
Employees are struggling financially
It's no secret that we're living in the middle of a cost-of-living crisis, with people across the board struggling to make ends meet. In the latest Consumer Financial Protection Survey, about 36% of households had trouble paying off at least one bill in 2022.
Over the first half of 2023, ZayZoon surveyed 5,000 ZayZoon customers (i.e. people that currently use our platform) to get a clearer understanding of where they are in their financial journey and what they currently struggle with.
What we found was that 61.7% of employees are most stressed about paying off their bills, with 26.8% of them worrying about their finances multiple times a day. On top of that, 46.6% of employees have $0 saved up for an emergency fund.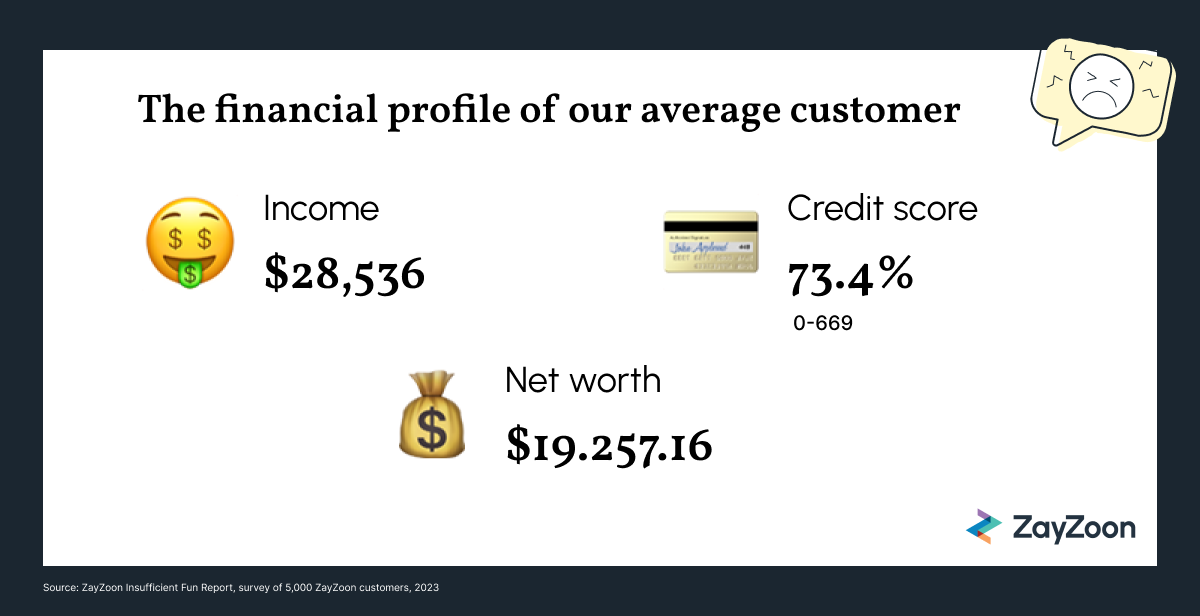 In other words, employees are struggling and living paycheck to paycheck.
To try and get by, 30.1% of employees are often or constantly looking for a new job that pays more, and 11% of them are paying off a payday loan with an average value of $994.96. (It's important to note that this is a dramatic decrease from the 40% of respondents that were paying off a payday loan in our 2022 survey, showing a dramatic improvement thanks to access to Earned Wage Access.)
Financial stress: an epidemic
Financial challenges negatively impact many employees' lives. Here are some examples.
82% of surveyed employees stated that they feel some degree of financial stress

23% feel "very stressed"
61.7% of respondents said that bills are their number one financial stressor—it is then not surprising that paying off bills is the number one financial goal employees are aiming for. Whether it's saving up for an emergency fund, dealing with a major life event, paying off student loan debt, dealing with unexpected expenses, or just aligning with their long-term financial goals like saving for retirement; financial security is something many strive for, and often can't quite reach without the proper tools to help them in that process.
That's where your business comes in.

The right financial wellness tools
I have no idea why we're taught about Pythagoras but not how to do our taxes, yet the fact remains that people are not often equipped with the right financial knowledge or tools to deal with their financial issues. That's where an employee financial wellness program comes in.
A financial wellness program is one that helps employees better manage their finances, understand their cash flow, and has strategies that overall help employees reduce their stress.
It's your duty as a people leader to support your employees on their journey to financial freedom through the appropriate financial wellness and education programs. This is how you will make a real difference in their overall well-being.

Employee financial wellness affects your bottom line
When employees are faced with constant financial stress, their work performance takes a hit. Productivity decreases, their capacity to focus is affected, and many aspects of their day-to-day life are consumed with a constant worry about money.
Many businesses, therefore, choose to help employees by investing in a financial wellness program that will aid by educating employees on financial topics, giving them tips to manage their savings, showing them how to budget for their expenses and upcoming financial goals like retirement planning, and even having access to financial advisors that can help employees in their particular financial journey.
A financial wellness program doesn't only help employees manage their financial wellbeing--it also boosts your bottom line.
For instance, employers who implement ZayZoon report at least 8 hours per month reduction in absenteeism per employee. We've also estimated that an employer can save $95,000 on hiring and costs in a 1,000-employee company.
A good financial wellness program is also a competitive advantage in today's ever-changing war for talent. 79% of candidates would switch to an employer offering Earned Wage Access if all other things being equal. And it's no wonder, 89% of ZayZoon users have reported that their financial stress has decreased since they've had EWA. Employees that are happier will stay with your company longer, improving your retention efforts, too.
These benefits make an impact on your workforce, and your organization.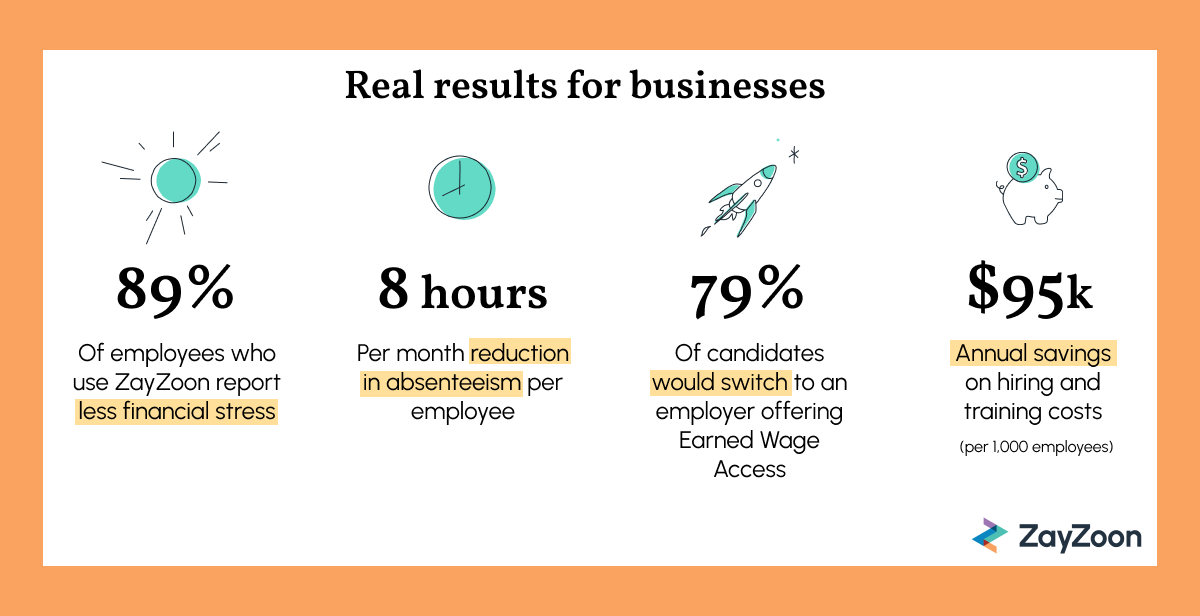 How is Earned Wage Access used?
A common objection we find at ZayZoon when talking about our financial wellness resources is whether employees will use Earned Wage Access irresponsibly or overuse it.
We know for a fact that this is not the truth. In fact, 80.8% of ZayZoon users access their wages ahead of payday to access basic needs. This includes 25.2% for fuel, 24% for groceries, and 31.6% for recurring expenses such as bills, rent, paying off debt, and more.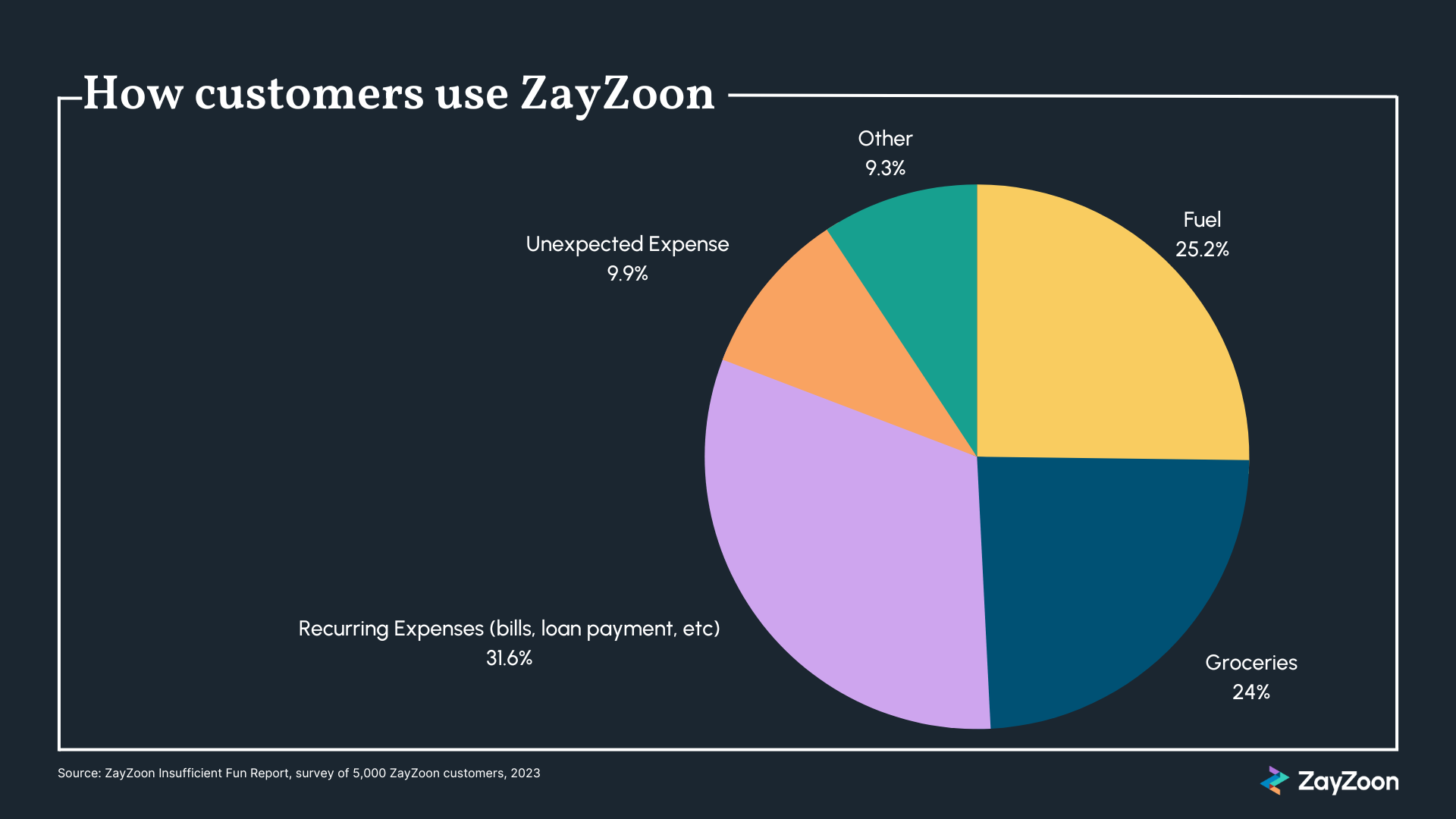 A holistic approach to financial wellness programs
Financial wellness programs need to ultimately serve employees in a number of different ways. A tool like Earned Wage Access is great when you need to be reactive and pay off a surprise expense. But you also need proactive tools that can help you make better long-term decisions and start saving.
This is why we've incorporated an entire financial education platform within ZayZoon's financial empowerment platform. So people can learn how to manage their cash flow, plan for future financial goals, and increase their financial confidence to improve their overall financial well-being and reduce their stress.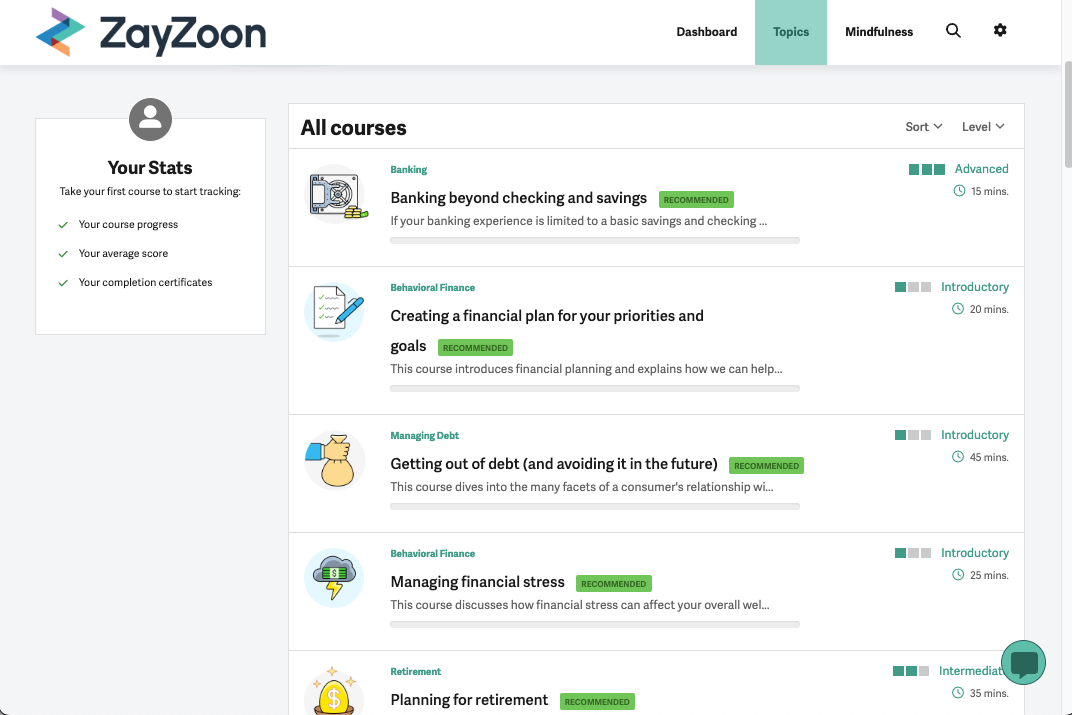 Employee's financial health goes beyond having enough money at a specific moment, it's having the right resources and tools to be able to continue improving their situation in whatever they need, and it's ZayZoon's goal to be there helping you support them on their journey.
Staying ahead in an unpredictable world
Some experts are saying that we're in the middle of "The Big Stay", where employees are staying put in their roles and leaving less frequently than they were in the last couple of years. However, top talent will always gravitate to the companies with the most meaningful benefits for today's market conditions.
Holistic financial and employee wellness programs allow you to build an environment that top talent wants to join, long-term. Your employees will be able to focus on loving their work, getting creative, and creating impact, instead of the everyday financial insecurities of our current world.
We'd be happy to help you win the war for talent. Talk to an Earned Wage Access expert today and empower your employees in their financial journey.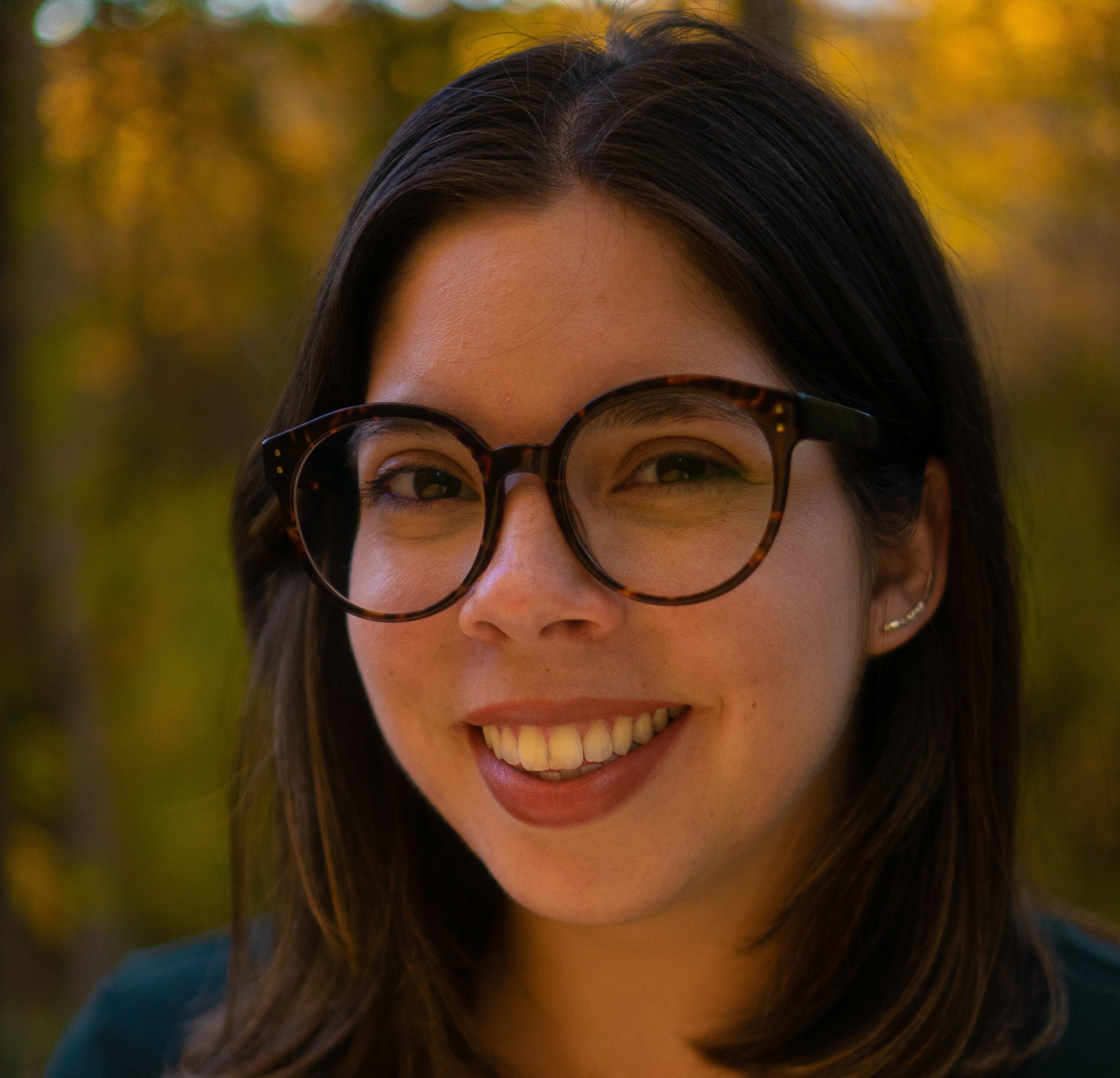 Susy Alfaro
Susy Alfaro is the content marketing manager at ZayZoon. When Susy's not showing employers how to create better employee experiences through her content, she's sewing fashion-forward accoutrement and dancing with her cat.