Financial stress: an epidemic
Employee financial stress is higher than ever before, with inflation at a 40-year high, skyrocketing costs of living, debt, and the lingering repercussions of the pandemic; having the right financial wellness tools to keep your employees engaged is no longer just a competitive advantage, it can make or break your organization.
According to results from the American Psychiatric Association (APA), 87% of residents in the United States report feeling anxious or very anxious about inflation. The APA also revealed that more than 50% of Americans are concerned about a potential loss of income.
In a recent survey of more than 2,000 ZayZoon customers, we found that 24.2% ranked themselves as "very stressed", which means almost a quarter of the population is at their wits' end when it comes to their finances. Of those stressors, it is evident that meeting their basic needs is top of mind, with paying their bills coming as the top stressor for 81% of respondents.
Source: https://www.zayzoon.com/2022-financial-health-report
The impacts of financial stress
in the workplace
Employees who are stressed have shown to be disinterested in their jobs, have trouble focusing, and are overall less likely to perform well as they're constantly worrying about their financial situation and what's going to happen next. In fact, 68% of employees feel that personal financial issues affect their health.
According to the 2022 Employee Wellness Industry Trends Report by Wellable Labs, 76% of companies are investing more in stress management and resilience resources for their team members to help them in both work situations and their personal lives.
It is no surprise then, that AIHR's number one trend for 2023 is "A focus on total wellbeing", where HR professionals need to be more proactive and ensure that their employees are being taken care of holistically, not just meeting basic needs to stay competitive. A massive factor within this is helping to decrease financial stress through proper Financial Wellness tools.
So, what does this look like?
What is financial wellness?
Financial wellness (or health or well-being) is the ability to meet your financial needs, feel secure about your financial future, and have some freedom to make choices that will help you enjoy your life. Basically, it's not having to think about money all the time. It's generally divided into four main categories:
1. Spending: where you spend, paying your bills, having enough to get by
2. Saving: having a plan to be able to cope with an unexpected expense or for long-term goals
3. Borrowing: not all debt is bad, being responsible about how you borrow
4. Planning: planning for long-term goals like retirement, school, investments, etc.
Beyond these four main elements, it is essential that financial wellness is holistic, taking into consideration an employee's mental health, their stress levels, and overall frame of mind.
Financial Wellness Programs
A Financial Wellness Program is one that helps employees better manage their finances, understand their cashflow better, and overall reduce their stress. They can look like benefits that you offer, partnerships with specific financial wellness platforms, discounted or free apps, or more.
The idea of a financial wellness program is that it can be used by your employees as an added benefit to reduce their stress, plan for their finances better, and overall improve their quality of life.
For businesses, it's a competitive advantage that will help you recruit, retain, and engage with employees, ensuring you have the best talent available. It will also help reduce absenteeism, improve productivity, and ensure that your employees know that you care about them and their struggles and want to ensure they grow with your organization.
The top 7 financial wellness programs for employees
We looked at industry ratings from Enrich, SHRM, and Shortlister to determine the top financial wellness programs out there right now. After this, we spoke with almost 100 HR professionals from small and midsize companies to international enterprises across nearly all verticals about what kind of programs they offered and what the response has been.
Here are some of the top financial wellness programs that you should consider offering:
1. Financial Education
One of the biggest stressors that come with personal finances is people's lack of understanding of how to handle their money and invest it wisely. Improving financial literacy is the first step to helping your employees long-term. There are many different financial education platforms available, which provide courses for people to understand how to budget, how savings work, investing for their future, and much more.

One thing to look for is a platform that offers personalized courses that meet individuals where they are at in their specific financial journey. Some platforms also offer access to Certified Personal Financial Counselors (CPFC's) who can provide personalized feedback to employees and answer questions they might not be comfortable asking in other elements of their lives.
2. Budgeting Tools
The first step to staying on top of your finances is to have a budget and understand what budgeting actually entails. When conducting market research with over 100 employees, it was shocking to see how many people did not have access to proper budgeting tools, managing their money in their heads or in a notebook.
There's a wide range of budgeting tools available that can help employees develop the skills to understand, develop and maintain a proper budget. From apps that track their spending to online calculators that allow employees to input their income, expenses, and other spending categories so they can have a clearer picture of their finances.
A budgeting tool can be an add-on to a financial education program, or it can be an additional tool that you implement separately. We recommend looking at ease of use and accessibility for employees when selecting the best budgeting tool for your workforce.
3. Savings Plan
Beyond "saving for a rainy day", many people don't have a proper savings plan to help them achieve their goals. There are a variety of savings tools you can offer to help your employees save for emergencies, a specific goal, or just a better quality of life. If you offer direct deposit, you can encourage better saving habits by encouraging employees to use a split-to-save feature. Alternately, some employers also choose to match a percentage of how much people put into their savings on a monthly basis.
One thing to consider about savings plans is to make sure that you're not only encouraging employees to have a certain amount of savings, but also to look at it holistically, supported by financial education that will help them manage those savings and invest them properly so that they can achieve their goals.
4. 401(k) Matching
Probably one of the most familiar benefits to employees, a 401(k) is an employer-sponsored retirement savings plan that helps employees prepare for their future. With a 401(k), employees set a percentage of their income to be automatically deposited into their retirement account. Companies will often match employee contributions up to a certain amount.
An auto-enrollment feature on your 401(k) plan is an excellent way to get your employees to sign up for this benefit and make things easier for them. With this, employees can be automatically enrolled at a default contribution rate, making it easier for them to set up and ensure they're saving for retirement.
5. Earned Wage Access
Earned Wage Access is an employee benefit that allows employees to access their earned wages ahead of payday in order to cover unexpected expenses. Many employees have to go through the uncomfortable conversation of asking for a pay advance when an unexpected expense comes up, or simply to make ends meet.
With an Earned Wage Access (EWA) solution, not only is that element eliminated, so is the cost and managerial burden of providing and managing advances for your employees. These benefits are often free to deploy for businesses and allow employees to steer away from predatory practices such as payday loans, credit card debt, overdraft fees, and more.
One thing to look for when choosing an EWA solution is the availability of customer support for employees and ease of activation. Some apps will take all the work out of your hands and ensure that this reduces the amount of time you spend thinking about employee advances, whilst ensuring that your employees are well taken care of.
If this is something you're interested in exploring, feel free to check us out at www.zayzoon.com
6. Education Support
As of 2022, 42.8 million Americans have federal student loans, making it a massive weight on people's minds. Education support programs can be a way to assist employees with either paying off student loans or getting an education so they can further better themselves and their prospects.
One option is student loan assistance programs, where employers help eligible employees with a monthly contribution towards their student debt, along with supporting resources to help them better manage that debt. Another option is education reimbursement plans, where companies help students with their education payments, often linked to that employee's attendance and performance at school.
Investing in the development of your workforce will always be a good choice if you want to be seen as a top employer for college-educated talent.
7. Insurance Offerings
Most employees will expect you to offer basic health insurance, including dental coverage; yet offering a varied portfolio of insurance options can really make you stand out in this competitive market. Offerings such as adoption and fertility insurance, homeowner's insurance, pet insurance, relocation assistance, and more; can really make a difference and show that you understand your employees' specific needs.
When choosing what type of insurance you want to offer, think about what your workforce demographics looks like: do you have a lot of pet owners? Pet insurance will probably be an appealing option. Alternatively, you can also match it to your industry. One HR professional we talked to offers down payment assistance for first-time homeowners since their company is in real estate. Don't be afraid to get creative.
How to tell if you're on the right path
It's easy to get caught up in what you think are the best benefit offerings and miss the mark on what your employees actually want. In order to avoid this, do a temperature check and maintain open communication with your team to make sure all of your efforts are actually helping them move forward in their financial journey and decreasing their financial stress.
How do you know if you're on the right track?
Check industry standards: What are other companies doing that you could implement, too? What's become a new standard that would make you lag behind if you're not offering it? Make sure you're staying on top of industry trends so you can be ahead of the curve, and not trying to catch up with them. Remember that the talent you're hoping to attract is also looking at your competitors and what kind of benefits they offer.
Ask people what they want: Employees often have an idea of what kind of tools would be beneficial to them. Try this

survey template from Wellable

to get actionable intelligence on your workforce needs.
Follow up: check in with your employees after a new financial wellness benefit has been deployed. Is it working? Are there any obvious gaps you could fill? Maintaining open channels of communication is always going to be the best way to gauge the impact of the tools you set out for them.
Conclusion
Now, more than ever, it is essential to support your employees with the proper financial wellness tools to help them reduce their financial stress, improve their overall performance at work, and ensure that you're staying competitive.
For more information on how to select the right platforms for these types of financial wellness programs, stay tuned for upcoming blogs.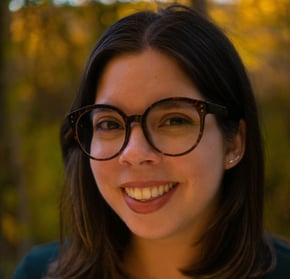 Susy Alfaro
Susy Alfaro is the content marketing manager at ZayZoon. When Susy's not showing employers how to create better employee experiences through her content, she's sewing fashion-forward accoutrement and dancing with her cat.