Between 62% to 70% of US employees are living paycheck to paycheck [source]. Employees in this position are forced to search for ways to mitigate their cash flow issues. They often have no choice but to engage a high-interest lender - and enter a debt cycle that is difficult to leave.
ZayZoon's 2022 Annual Employee Financial Wellness survey told us:
70% make less than $3500 per month
40% of ZayZoon customers are dealing with payday loan debt. ZayZoon customers are mostly hourly wage earners. For context, only 13% of all Americans carry payday loan debt
36% of ZayZoon customers paid more than $75/month in bank fees and late payment charges.
It's clear that hourly earners are disproportionately affected by sky-high fees and interest charges.
Challenge
Some employees take a different approach by reaching out to their employer about a cash advance. Industry data tells us that 13% to 18% of businesses offer cash advances to employees. For simplicity's sake, let's assume 15% do.
That 15% of employers offering advances are risking the following:
Total loss of funds due to lack of repayment.
Administrative overhead: Off-cycle payroll, tracking advances, and managing interest and repayments terms.
Litigation: Employers offering advances must have a robust HR and payroll policy outlining criteria, frequency, and process for requesting and administering advances. Opportunities for advances must be equitable, or the employer runs the risk of being sued.
What about the 85% of employers not offering advances?
By not offering employees a cash flow safety valve, they are putting employees in the position of using high-interest payday loans, incurring overdraft fees, having late bill payments, or other punitive services that distract them from a healthy and happy life.
Increased employee stress makes it more likely that employees will pick up fewer shifts, or quit altogether
What does the ideal scenario look like?
Employees would like an employer-administered cash advance, to avoid payday lenders.
Employers would like an option to cash advance earned wages, that eliminates risk and administrative overhead.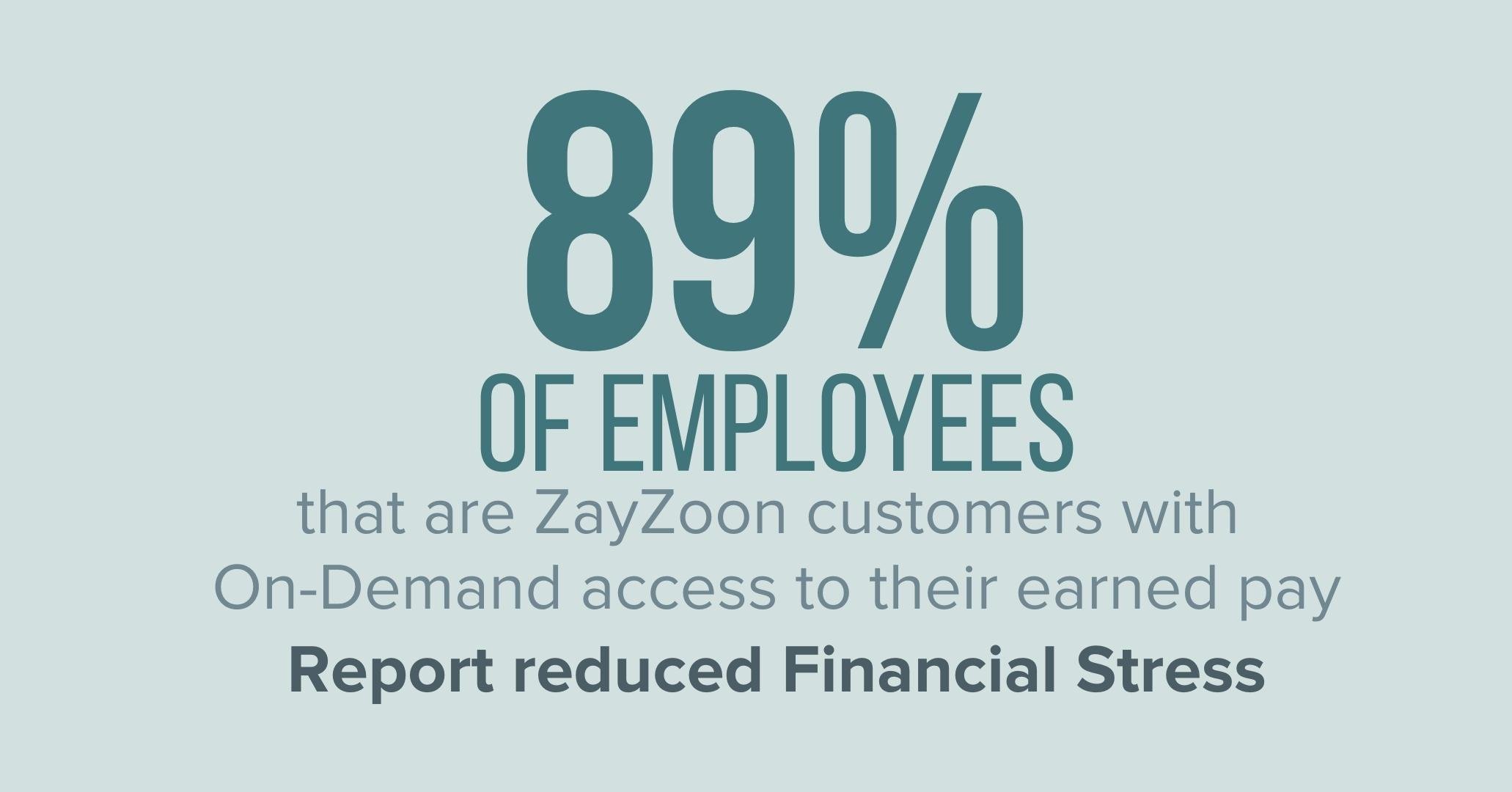 How Can ZayZoon Help?
ZayZoon takes on the financial and operational risk of allowing employees access to part of their pay in advance of payday. We call it Earned Wage Access, and you can learn everything you need to about it right here. We provide employees a self-service tool to have control over their own cash flow through ZayZoon's Wages On-Demand app.
Result
A staggering 89% of employees who access ZayZoon report that having on-demand access to their earned pay reduces their financial stress.
Imagine the attitude of your hourly workforce energized by being freed from predatory debt, working towards a position to save, invest, and build their net worth.
It's been said that you can't fill from an empty cup. We believe that if you educate and enable your people to soar, you will attract and retain the best - and they will do their best work for you.
If you are among the 1,000,000+ businesses who use one of ZayZoon's payroll and HR software partners, you can have ZayZoon up and running in 30 minutes, at no risk and at no cost to you.
Ask us how employees can access Wages On-Demand with $0 transaction fees with the all-new ZayZoon Prepaid Visa Debit card.
You don't pay, they don't pay, everybody wins. That's the way we think it should be.
To learn more, click the link below: