PayDay Are We There Yet?!
The Second Leg: Phoenix, AZ
Hello, Phoenix.
For the past week, we've gotten the opportunity to hang out with nearly a dozen employer partners, one HUGE PEO partner (we see you, Vensure), and tons of employees who are using ZayZoon to access their earned wages.
It's been a slice.
Fun fact: Phoenix is home to five ZayZooners. So, beyond getting to connect with partners and customers, we got to meet up with team members IRL.
Always a pleasure.
Left to right: Victor "V" Platon, Ryan "Kiwi Ryan" Madden, and Ryan Noort enjoying their first ever In-N-Out burgers (that's me on the far right)
Read on to learn more about the second leg of our PayDay Are We There Yet?! RV tour.
Spoiler alert: We had some car trouble… 🚧🚌
September 17th | Phoenix, Here We Come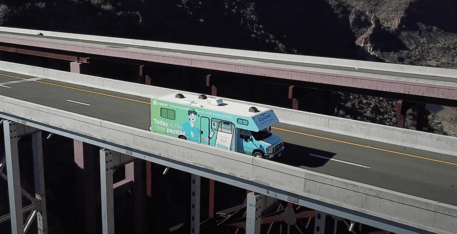 The Wage Wagon en route to Phoenix
Today, we picked up Kiwi Ryan from Sky Harbor Airport and headed to our AirBnB, which would be home for the week. Ryan was just one of four out-of-towners who'd be joining us. To facilitate team bonding, we decided we all wanted to stay under one roof.
Our new digs
September 18th | Sunday Funday
Today, we woke up with a rumble in our stomachs, so we decided to grab a bite at a local favorite: Joe's Diner.
For those who don't know, Joe's is one of our employer partners. They offer ZayZoon to employees as a benefit to support their financial health and wellness. After tucking into a hearty full stack soaked in syrup, we got the opportunity to connect with some of Joe's employees. Even on Funday, the ZayZoon team is hard at work connecting with our customers.
The one and only Joe's Diner
After Joes, we got the RV cleaned up and ready for a week of showing off.
September 20th | Phoenix French Brasserie Meets Calgary's Double Z
To kick off the day, we dropped by one of our customers, Vib by Best Western. Vib is the first hotel of its kind in the U.S. Think: same great service and accommodations as a typical Best Western, but better. They also own a Cousins Maine Lobster. We got to chat with employees from both locations and capped it off with some tasty lobster rolls.
Team ZayZoon chatting with team Vib by Best Western
That night, we decided to treat ourselves to some tapas-style cuisine, and it did not disappoint.
The real highlight of the night, though, was our amazing waitress, Janet. She'd never heard about ZayZoon before, but when we filled her in on the service, she was thrilled. Janet has been with The Mick for almost three years and beyond being an exceptional waitress, she takes on many managerial duties, including onboarding new hires onto the payroll system.
The Mick knows how to put together a charcuterie board
She was excited to hear about ZayZoon and the potential opportunity it represents to her coworkers. Hopefully, we can turn that excitement into even more robust financial benefits for employees of The Mick.
After settling the tab and recovering from our respective food comas, we spun by the airport to pick up Ryan Noort. His flight was late, so we hung tight in the RV and had some laughs over the late Pat Stay's compliment rap battles – If you haven't listened, it's a must. The fun starts at the 2-minute mark (NSFW) : https://www.youtube.com/watch?v=xBUIhF40uwM
September 21st | Car Trouble, Puppies, and Team
Today, we had our first bout of car trouble. Thankfully, it was just a flat tire.
V sizing up tire upgrades
Tanner getting his hands dirty for once**
As you can see in the photo above, Tanner "Fist of Fury" Hiltz, made a quick tire change and got us back on the road in no time.
** Actually, this wasn't Tanner at all. This was a wonderful employee from the tire shop, but don't tell anyone.
Tanner admiring his "handiwork"
The tire didn't slow us down. The 21st was a big day for us and so we had to keep moving. Once fixed, we made our way to Petsmart to purchase some items off the wishlist for the Arizona Animal Welfare League (AAWL). AAWL is one of our clients and so, like many of our days, we found this to be the perfect opportunity to mix work and pleasure.
Striking a pose outside Petsmart
September 22nd | Hoops
In the AM, we rolled up to AZ Partsmaster, a maintenance, repair, and operations supplier, to host a ZayZoon signup party.
A signup party gives us the opportunity to bring food and show appreciation to the staff while being able to help them sign up at the same time. The learnings gained by the ZayZoon team during this time are invaluable.
We get a first-hand look at the troubles our customers experience and get to ideate and problem solve while these issues are top of mind. One moment from this visit in particular that stuck out to me was when Ryan Noort, a Software Developer at ZayZoon, pulled his laptop out to help a customer get past an onboarding step. It was great that he was there, but also concerning to think about what would have happened if he wasn't!
Like PB & J
Chatting with Partsmaster employees
After helping a bunch of AZ Partsmaster employees gain access to their earned wages, we decided to shoot some hoops.
You can't see it in the shot below, but we pulled the Wage Wagon right up to the court and generated quite a bit of conversation with the other players in between our 3-on-3.
Ryan takes a shot
Post-game smoothies
September 23rd | Vensure
Vensure is one of our long-time professional employer organization (PEO) partners. They are the fastest-growing PEO, supporting about half a million worksite employees across North America. Vensure is exactly the kind of partner you want to have.
Not only do they already deliver a robust suite of services and solutions to their clients—but they're also always striving to improve, which challenges us to do the same. We met with Vensure reps to teach their reps all about ZayZoon and rolled in some food trucks for grub.
Vensure + ZayZoon = Where the magic happens
Grabbin' grub
https://www.linkedin.com/posts/tate-hackert-181ba074_wednesday-wisdom-from-nicholas-smith-ugcPost-6980910921317580800-NZ7v?utm_source=share&utm_medium=member_desktop
Well, that's another one for the books. So far, we've traveled 650 miles, which means we've got another 2050 left to go.
For this next leg of the trip though, we might just have to trade the RV in for a plane.
Next stop: Calgary.
Be sure to tune in next week for another update from our PayDay Are We There Yet?! Tour.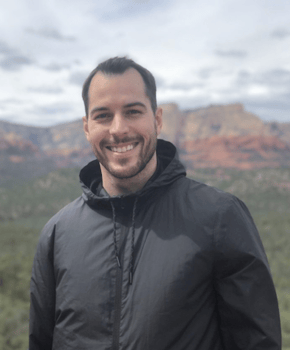 Tate Hackert
Tate is the brain behind ZayZoon, developing the idea of providing access to funds before payday, in 2013. He feels gratified knowing "we get to improve the financial health of people each and every day." One of his favourite ZayZoon experiences involves a business trip to Selinsgrove, Pennsylvania where he helped film a Holiday Inn Express testimonial video. Wearing a ZayZoon shirt at the local Walmart, someone saw Tate and exclaimed, "Hey, ZayZoon! I use that!"