Reflections from the Road:
An RV tour retrospective
Now that the Payday Are We There Yet?! RV tour is officially in the rearview, I'd like to share some key lessons we learned on the road.
But before I do, I think it's worth revisiting the three objectives we had for this journey:
Show love to the partners, businesses and employees who continue to support us.
Get a deep understanding of the problems our customers face and how we can help.
Instill an insatiable curiosity, tenacity and a personable approach into the fabric of our culture.
Now, you're probably wondering if we met these objectives.
The Wage Wagon, CA ➡️ AZ
We did.
We hosted lunches, training sessions and signup events for more than 2,000 people. ZayZoon advocates from 17 partners and hundreds of employers
We had a number of intimate one-on-one conversations with customers that gave us invaluable product feedback and opened up to us about their financial successes and struggles. In the new year, you'll see some of these conversations as part of a new series we'll be launching called Money Talks.
41 ZayZooners joined us on the road. When we first set out on the RV tour, I thought only 8 team members would join in on the fun but very quickly we realized there was immense value in team participation. I cannot overstate the impact this has had on our culture and business.
Here are some of the lessons we learned.
Feedback
Some of our learnings were explicit - direct feedback provided.. But much of our learning came from simple observations.
As the first point of contact for many issues, we need to further empower our customer service team and make sure their interactions are contextualized for the broader team, more often.
Eating your own dog food is important. The entire team should be using your product, often.
It's important to set clear brand promises and adhere to them. Holding each other accountable to these is what keeps the machine moving forward in the right direction.
Conversations with your customers (in our case, the partners, employers and employees that interact with ZayZoon) can very quickly point you in the right direction.
People need to hear things 7+ times (and I'd l argue in 7 different ways) before it takes hold. Marketing and building awareness is key.
We must put delighting our customers at the top of our priority list.
You might be reading this and thinking it's all fairly obvious – these are things that ANY successful company should be doing.
One of my favorite quotes comes from Ray Croc,
"Someone once asked me why McDonald's is so successful.
I said 'our bathrooms are always clean.'
'Sure,' he said, 'But that's easy.'
'Well,' I replied, 'Are your bathrooms clean?'"
Like the obvious changes that might occur when someone has a near-death experience, I think more companies could benefit from 75 days on the road interacting with their customers.
Here are some of the observations and interactions on the road that led to the broader statements made above:
In the hunt for improvement, there's no substitute for IRL
Casey, our director of digital marketing, had a great insight after joining us in Philadelphia, PA. He said that being able to watch customers navigate our signup and payout processes via their mobile devices versus screen recordings from thousands of miles away was a game changer.
The awkward 4 seconds between screen loads or the white space that exists (both figuratively and literally) is 10X'd in person.
There is no better way to get a big serving of humble pie than to sit down with your customers while they interact with your product.
Watching a customer sign-up, Philadelphia, PA
Awareness + Language = Understanding
It's too easy to make assumptions.
Like, for instance, assuming that every single employee at a McDonald's location in Riverside, CA will intuitively "know" what ZayZoon is all about.
We live and breathe ZayZoon everyday, so it's easy to see how we might assume our customers do too. But that's just not the case.
Despite workplace posters and communications sent, many employees still didn't know who we were or what exactly we offered. They might have dismissed our service as something they didn't need, due to minimal understanding of it. Yet, as soon as we walked them through what ZayZoon is all about, they were absolutely ecstatic. That's both great, and extremely frustrating. A new customer, that if we hadn't been there in person, might not have ever signed up for our service.
Recruitment poster, somewhere in Tennessee
Another example of this is while filling up the Wage Wagon at gas stations across the country, the dozens of people we asked the question, "what do you think we do?". So many people did and said the exact same thing. They would stare at the RV for 5 seconds and then say: "health benefits?"
Despite the app on the RV and wording "money available" and "Today is the new payday", people were fixated on the "financial health" statement.
Tanner working through car troubles, Phoenix, AZ
The big takeaway here is that we need to think more like our customer. How can we communicate our service in the most effective way? What language makes the most sense to our customers? Beyond that, I think there's plenty of room for us to provide additional support to employers that offer our service.
¿No hablas español?
During our time on the road, we quickly realized the extent to which Spanish is a first, and primary, language for many of the employees we serve. We currently offer promotional material and customer support in both English and Spanish, which is great, don't get me wrong, but it became apparent we're potentially missing the mark with some of it.
Just as our customers are Spanish first, we need to be Spanish first in certain segments too. If our goal is to not just provide Earned Wage Access, but leave our customers delighted, then we need to make sure that's reflected in every product experience we deliver.
Spanish acts as a great example, but truly this can be a metaphor for many customer segments. When building your product, how do you scale to the masses yet still provide a personalized experience?
The Wage Wagon parked outside of First Watch, Houston, TX
Everyone has a money story, each sharing many of the same dilemmas
We spoke with a cross-section of people—some with incomes beyond 100,000 USD and others well below that number. What we learned is that cash-flow management and purchasing power is at the core of most financial decisions.
While visiting Atlanta, Darcy had an enlightening conversation with a senior salesperson at one of our partners who uses ZayZoon to handle his unusually large food expenses in anticipation of having his adult boys over every two weekends. He said they "eat him out of house and home". ZayZoon provides him with the utility of more buying power through our perks. He can head to the grocery store, take a ZayZoon payout onto a grocery card and buy all the food he needs. On his next paycheck, he knows that the expense is conveniently taken off his pay, so he can access the remaining funds in his bank account without concern.
There are 2 interesting things in that behavior:
Increased purchasing power is important (I mean, who doesn't want more money)
Cash flow management by way of compartmentalizing certain expenses
This was consistent with many customers. They would use ZayZoon for specific expenses, their Chime account for something else, and their Chase checking account for yet another expense.
This is interesting to me. This is the insight that helps build the future of finance.
The heartbreaking story of a $400 loan with $800 in fees, told in Mississippi
And with that, the future is ZayZoon
We drove over 10,000 miles in seventy-five days, beginning in Ontario, CA and ending in NY, NY. And what can I say, every mile of it was a blast.

It's important that we stay vigilantly curious about our customers and the problems that they're navigating. What are the things we can do to further our mission of improving the financial outcomes for ALL employees? Our mission transcends everything we do and helps us align our partners, employers and staff throughout our journey.
We're ready to take our learnings and use them to keep building the best ZayZoon possible.
If you'd like to relive the RV tour with us, feel free to check out my dispatches from the road below:
📣 Why we're doing the Payday Are We There Yet?! tour
🐻 The first leg: California and Nevada
⛺️ The ZayZoon summer camp detour
🐊 The fourth leg: Louisiana and Alabama
The Wage Wagon looking its best, Columbus, OH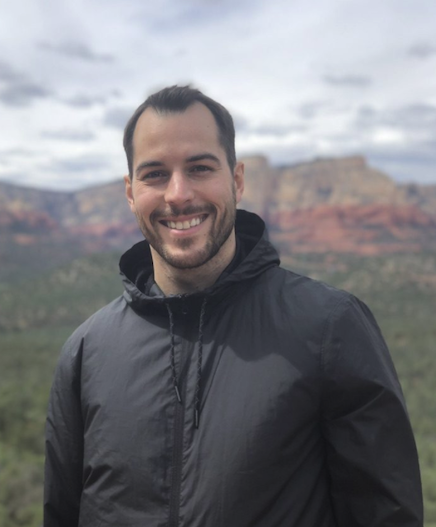 Tate Hackert
Tate is the brain behind ZayZoon, developing the idea of providing access to funds before payday, in 2013. He feels gratified knowing "we get to improve the financial health of people each and every day." One of his favourite ZayZoon experiences involves a business trip to Selinsgrove, Pennsylvania where he helped film a Holiday Inn Express testimonial video. Wearing a ZayZoon shirt at the local Walmart, someone saw Tate and exclaimed, "Hey, ZayZoon! I use that!"