Payday Are We There Yet?!
The Final Leg: The East Coast
All good things must come to an end, including our cross-country RV tour. Thankfully, we documented everything. Just hit one of the links below to learn more.

📣

Why we're doing the

Payday Are We There Yet?!

tour


🐻

The first leg: California and Nevada


🏜

The second leg: Arizona




⛺️ The ZayZoon summer camp detour


🐄

The third leg: Texas


🐊

The fourth leg: Louisiana and Alabama


🍑

The fifth leg: Georgia


🎶

The sixth leg: Tennessee


🌀

The seventh leg: Missouri


🌽

The eighth leg: Ohio





With this final leg, the tour was coming to an end, but it wasn't over yet.

Turns out, we saved the best for last.

We hit up Pittsburgh, Philadelphia and NYC. We made tons of on-site client visits and helped employees get Earned Wage Access through the ZayZoon app. We also attended some awesome events, linking up with our friends at ADP and Kelly Payroll. Finally, we enjoyed all that the East Coast has to offer, from Philly Cheesesteaks to authentic New York deli.
November 10 | Pittsburgh, Pennsylvania
In Pittsburgh, our first order of business was an ADP training session, followed by some tasty burritos from Moe's Catering.
Shubh (center screen, naturally), holding court
These training sessions are always a blast. Chatting with reps, learning about their challenges, and helping them unlock more value for their clients with ZayZoon is immensely rewarding.
Some happy ADP reps
We ended up having an extra seventy burritos, so we had reception shoot out an email to everyone in the building to let them know.
A lot of people showed up.
Shubh was there to sling burritos and talk shop. In less than twenty minutes, they were all gone.
Afterwards, we dropped Shubh off at the airport and made our way to New York. It took us four hours to get to Allentown. There, we got some late-night dinner at Chipotle and crashed in the Wage Wagon in a Walmart parking lot.
November 11 | Pittsburgh, Pennsylvania
Today, we had planned on traveling to NYC, but thanks to a massive rainstorm, we decided to hold tight. From about 9:30am - 3:00pm, we hunkered down at a local coffee shop to get some work done. When our stomachs started grumbling, we decided to break for a late lunch. Then, just to get a taste of the local coffee culture, we checked out another spot. We stayed there until it closed and grabbed dinner at a Thai restaurant.
As luck would have it, the rain stopped, so we hit the road once more, crashing in a Walmart parking lot just outside of New Jersey.
November 12 | New York City, New York
We kicked off the day with a workout at Planet Fitness followed by a delicious breakfast at First Watch. Then, we drove to New Jersey, which only took about thirty minutes. We stayed in an RV park downtown. In fact, we could just make out the Statue of Liberty.
Until about 2pm, we put our heads down and got some work done at a cafe. We jumped on the PATH into downtown NYC. One of my close friend's was in town, so we linked up with them, hung out in central park, then looked for food, which took way longer than we had anticipated. Finally, we found a place that didn't have a one-hour wait time and dug into some grub.
November 13 | New York City, New York
My friend from yesterday invited us to check out her booth at the Boutique Design New York Conference. She even hooked us up with some free tickets. We stopped by and chatted with her. Her company sells luxury pool tables, foosball tables, ping pong tables—you name it.
Tanner and I were pretending to work the booth with her. In reality, we were messing around with one of the foosball tables on display. At around 1pm, we had to say goodbye. There was still a bunch of stuff we wanted to get done and not enough time. A new crop of RV recruits were flying into Philly and we had to be there by 4pm.
Melika and I posing for the cam
We rented some Citi Bikes and inhaled sandwiches at the world-famous Katz's Deli. Yes, it was an hour-long wait. Yes, it was totally worth it. Once we got back to the RV we had just enough time to grab a quick shower, then it was off to Philadelphia.
In Philadelphia, we picked up Casey, our director of digital marketing, Boston Ryan, one of our sales reps, and Jolene, one of our customer support reps for one last hurrah. We were lucky enough to catch a Philly vs Utah NBA game, then it was light's out.

ZayZoon team catching a 76ers game
November 14 | Philadelphia
Chelsea, our senior sales manager and expert of all things ADP, arrived at our Airbnb at 7am. She'd be joining us for another ADP training session (this time, in Fort Washington).
Leaving for the event was a bit of a challenge but Tanner ended up saving the day. He blocked a one-way street, so that I could pull the Wage Wagon out of the slip and exit the opposite way.
The maestro at work (AKA Tanner blocking off the street)
Chelsea presenting at ADP
After the ADP session, we had lunch with Lisa, the director of Earned Wage Access and fintech partnerships at Visa. Always a pleasure to explore our partnership with Visa and look at new ways of supporting our customers.
Then, we dropped by a Wendy's that offers ZayZoon and helped employees get started with the app. More ZayZooners wanted to get in on this last stretch of the tour, which meant a trip to the Philly airport. We picked up Andrew, a rev ops specialist, Danila, a senior developer and Sheldon, our lead architect.
Helping an employee get ZayZoon
While the rest of us grabbed dinner, Chelsea and Boston Ryan rented a car and hightailed it to ADP for another event the following day.
November 15 | Baltimore
Our day began with a Kelly Payroll training session and lunch in Baltimore. Kelly Payroll helps businesses deliver a people-centric experience throughout the employee lifecycle. They are an amazing partner to work with and share many of our values.
The Wage Wagon in front of Kelly Payroll HQ
After a great time catching up with the Kelly Payroll team, we dropped by Charter Senior Living for a scheduled signup event. As always, it feels great giving employees instant access to their earned wages. Plus, we always learn new things about how we can improve our product by watching customers use it.
Jolene helping a Charter Senior Living employee sign up for ZayZoon
We drove back to Philly and met up with Chelsea and Boston Ryan for a team dinner. While some of us turned in early, others were up reminiscing until 4am.
November 16 | Philadelphia
First stop of the day was a tour at Verano Production Facility.
The team about to embark on ou tour of the Verano facilities
After that, we dropped by the market for some famous Philly cheesesteak sandwiches. Then, we took some photos in front of the famous Rocky statue and stairs. Feeling spent from a day of sightseeing, we headed back to our Airbnb to watch Netflix and order takeout.
ZayZoon and Rocky
November 17 | Philadelphia
Everyone on our final leg flew home, except for me and Tanner.
Saying goodbye is never easy, so it was with a heavy heart that I got the Wage Wagon unwrapped and dropped it off at Cruise America. We rented another vehicle and raced to NYC, as I had a C100 dinner that night.
November 18 | New York City
Today, I flew home.
Obviously, I have plenty of thoughts about this RV tour. Over these past seventy-five days, nearly half the company got the opportunity to connect in real life with our partners, clients and customers. We dropped by events, places of work and broke bread with so many people who are a part of the ZayZoon ecosystem.
I don't think I could possibly over exaggerate the impact this has had on us. Many businesses talk about "customer centricity", that is, putting the customer at the heart of everything they do. But walking the walk can be a challenge. It involves real immersion in the customer experience and the willingness to see, as the customer does, what your business is all about.
This can be hard. But it's always rewarding. And it always leads to growth. After I've unpacked this journey a little bit more, I'll share some of my thoughts with you in more depth. Until then.
Removing the wrap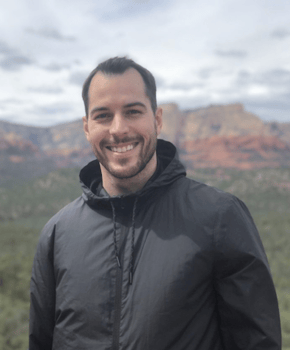 Tate Hackert
Tate is the brain behind ZayZoon, developing the idea of providing access to funds before payday, in 2013. He feels gratified knowing "we get to improve the financial health of people each and every day." One of his favourite ZayZoon experiences involves a business trip to Selinsgrove, Pennsylvania where he helped film a Holiday Inn Express testimonial video. Wearing a ZayZoon shirt at the local Walmart, someone saw Tate and exclaimed, "Hey, ZayZoon! I use that!"