It's Monday morning, you check your calendar and see that you have…onboarding. A heavy sigh leaves your body. Not again.
HR professionals know that onboarding can be tedious, repetitive, and just straight-up boring. So much of onboarding is getting paperwork filled out, going through long lists of things to do, and parts of a new job that are just… not that exciting for the employee or for the people ops leader who has to go through them.
If the only problem with onboarding was that it can be tiresome, it'd be one thing. Some important things are jus the kind of tasks you just have to get through. Thing is, first impressions really matter.
New hires make an effort to give off a good first impression. You should too. That's why onboarding is so important. It's your chance at a first impression. Plus, it can have a long-term impact on whether a new hire sticks around.
In fact, according to FolksHR onboarding statistics for 2023, the first 45 days of employment account for up to 20% of employee turnover.
That's because onboarding equates to higher retention rates.
The numbers speak for themselves: a good onboarding process can increase retention by 40% and up to 91% of employees stay with a company for at least a year if that company has an efficient onboarding process. A positive first impression can really set up an employee for success and lead to long-term job satisfaction.
So, how can you improve your existing onboarding program?
Kim's 5 onboarding tips:
I sat down and spoke with Kim Kucey, the Operations coordinator at ZayZoon, who walked me through how we do onboarding for new employees at ZayZoon. We talked about how it's progressed and changed throughout the years and how we've managed to elevate that experience. Onboarding is now not only an incredible first step into our company for new employees, it's actually one of the favorite parts of her job.
Win-win, right? But, how?
She broke it down into these five tips:
Break the process down and spread it out.

Incorporate various media formats to make it more engaging.

Foster a culture of autonomy and encourage questions.

Start onboarding early

Consider group onboarding for cross-learning and community building.
Let's dive deeper into the problem with onboarding as we know it, and how you can change your onboarding program to be the best it's ever been.
The problem with onboarding programs
Onboarding pain points for HR professionals
When speaking with people leaders, one common pain point is onboarding. Going through all that new hire paperwork, company history, security training sessions, company culture. It can be a tedious process for both people leaders and HR professionals.
When analyzing some of the main onboarding challenges for HR professionals, there were five common topics that came up:
Complex processes: Onboarding involves numerous tasks such as paperwork, training, orientation, and setting up systems. Complex processes can make the experience a nightmare and oftentimes can be even more complicated if they're onboarding remote employees.

Time-consuming: Onboarding requires substantial time and effort from HR professionals. That first week of new hire onboarding can take up hours of training. If it's done individually for every new employee, the hours can pile up very easily.

Inefficient technology: Maybe it's your HRIS platform keeps crashing. Or the data you need is hard to find when you need it. Outdated or inefficient technology can hinder the onboarding process and add unnecessary hurdles to the process.

Lack of personalization: Onboarding shouldn't be a one-size-fits-all process. Yet it often is. Individuals will not be interested in a process that doesn't seem to take them into consideration.

Integration with company culture: Employee onboarding should reflect the company culture and give new employees a taste of what the team will feel like. It's a lot easier to dive into the culture early on.
A bad first week: onboarding issues for new employees
I once started a job where onboarding consisted of me sitting at a computer (not mine, they didn't have that yet) on their HRIS system, going through countless documents and training pages. Once completed, I had to go to the HR person's office and sign countless sheets and go over all of their procedures. It was an excruciating first day.
Starting a new job should be exciting. After going through the hiring process, the new team member can finally get going and step into their role. Yet onboarding is often a hurdle they have to bear in order to get to the good stuff. In fact, 88% of employees feel like their company could improve their onboarding program.
Some pain points with onboarding for employees consist of:
Lengthy onboarding duration: A long onboarding experience that consists of a formal process of endless tasks can really affect the employee experience.

Insufficient communication: Poor communication during onboarding can leave new hires confused and disconnected. It is essential that they have a guideline of what their onboarding activities will consist of, determine who their go-to person is, and know where to be.

Lack of clarity on expectations: Honing in on the hiring process is one thing. It is essential that job expectations are clear and employees know what they should be aiming for in their new role.

Inadequate training: Not being trained in tools that will soon become required can negatively affect job performance and affect the new team members' confidence in their role.

Limited engagement: Passive onboarding methods can lead to disengagement. Having an onboarding buddy, chatting with existing team members, and having access to their direct supervisor is essential for new hires.
The (not so) hidden cost of onboarding
As if all those pain points weren't enough to change how we do things, effective onboarding processes can have a significant impact on your business's bottom line. According to FolksHR, the average cost of onboarding a new employee in 2023 is $4,000. Not only that, replacing an existing employee costs around 20% of the employee's pay, and a bad hire costs up to 30% of that employee's first-year earnings.
At ZayZoon, we've seen that just by reducing turnover and increasing retention with the right employee benefits, companies can save up to $95,000 annually on hiring and training costs (per 1,000 employees).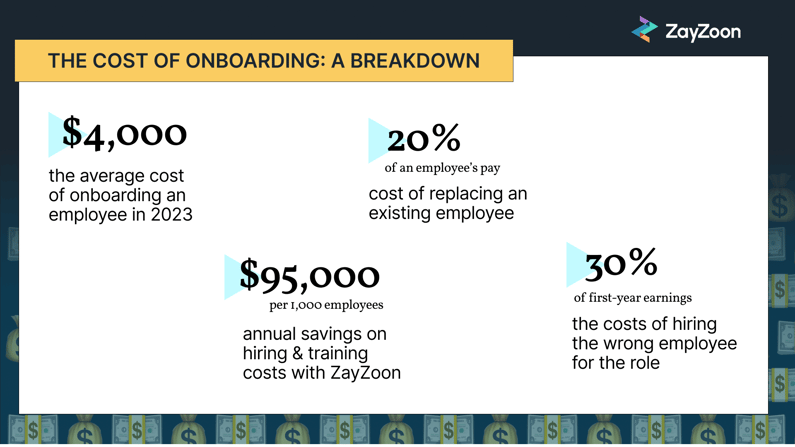 Effective employee onboarding is a powerful tool. It provides valuable insights into a new employee's career at your company, maximizes productivity, and sets them up for success. It's the smartest thing you can do to ensure that all the effort put into finding the right person to fill a role pays off. In fact, employees integrated with effective onboarding programs are 69% more likely to stay for three years in your company.

Get exclusive content straight to your inbox:
5 tips to elevate your onboarding practices
An effective onboarding process is a holistic program that represents your company values and consists of more than just steps to follow: it's an introduction to your company, its culture, and its people.
When talking with Kim about our onboarding process, I was blown away by how every single step has been thought out, evaluated, and reiterated to be the best it can be (or as she said, "pretty good for now, but it can still be even better!"—she's being modest)
So, how can you elevate your onboarding process?
1. Break it down and spread it out
When I asked Kim what her one tip would be to improve onboarding, this is what she said: "Break it down. Break it down! And then break it down some more!"
When designing an onboarding process, break down the content into digestible pieces and spread it out over time to avoid overwhelming new hires. Although it is essential to give new hires a holistic view of the company, trying to cover everything all at once will overwhelm anyone.
Break your sessions down into sections that the new team member can process and allow for breaks. Slot in some social interactions or coffee breaks with current employees. Drop in some time slots in their calendar to just get up and take a walk. It'll be beneficial in the long run when employees actually know what they went through in onboarding.
2. Incorporate various media formats to make it more engaging
Use videos, recordings, slide decks, and live sessions to make the onboarding process more engaging and accessible to different learning styles.
Think of what medium will best serve each function that is being covered. Sales, for example, has pre-recorded sales calls that new hires go over to see how we promote ZayZoon. Customer care does an interactive session where new employees do a ride-along and follow them for an hour answering customer questions. Branding is a recorded presentation and then some time is allotted to go over the brand book.
Every part of the business can be shown through different media which will allow for a more effective onboarding process and also will help people absorb information more easily.
If possible, provide more than one option for these training sessions so people can take it at their own pace and in the format that best works for them. This can look like a meeting recording and its transcript, where employees can choose which one to go through.
3. Foster a culture of autonomy and trust
Part of your onboarding plan must focus on showing the new hire what their role in the organization will look like. Promote an environment of autonomy and transparency where people can ask questions and have access to the information, people, and tools they need to succeed.
At ZayZoon we take that a step further by having a one-on-one meeting with our president, Tate Hackert. Tate walks new hires over our business strategy and our company vision. Your co-founder may not have the capacity to do this, but setting up one-on-one meetings with key people leaders and the hire's department can really open up the channels to make them feel valued and a part of the team from the get-go.
Two of our core values are being people-driven and trust, which is why we never assign tasks that require employees to figure out when they'll be able to complete them or to work after hours to catch up.
Show your new team members that their time is valuable and allow for the appropriate time for them to go over any paperwork, work-related tools, or pieces of training during the onboarding period.
4. Start onboarding early
No matter how much of an adult you are, the first day of work can still be nerve-wracking. Take away some of that stress by empowering the new hire with the right tools to succeed from day one.
At ZayZoon, onboarding starts before the official first day and involves various touchpoints so new employees feel prepared and connected to the company culture.
Once an official start date has been determined, a welcome package email is sent over with onboarding materials, a point of contact for any questions, and whatever hardware they might need (laptops, monitors, fun company swag).
Then, there's the first week. Employees begin on a Friday as their official first day, yet they receive their welcome package on the Monday of that week. This means that they'll be in touch with their hiring manager, join our messaging platform so they can chat with existing employees if they'd like, and have information to set up their work email and calendars. This last point allows them to go over their calendar and know exactly what their first few weeks are going to look like. This is also a good point to go over company policies and any basic literature they may need.
The new hire's first day consists of introductory calls, joining scrum, and team lunch. Our Drink & Think meeting takes place in the afternoon, which allows them to have a casual setting to get to know their new team members. Then, they have the weekend to digest all the new information and get over those first-day jitters.
The following week is broken down into various information sessions on different aspects of the company: culture, values, product, sales, marketing, and more. Each one is individually slotted in the employee's calendar with the time it will take for them to go over the materials, watch the corresponding videos, or go through a specific piece of training. Over the first 60 days, an employee will go through every aspect of the company that is relevant for them to understand where they fit in and what we do.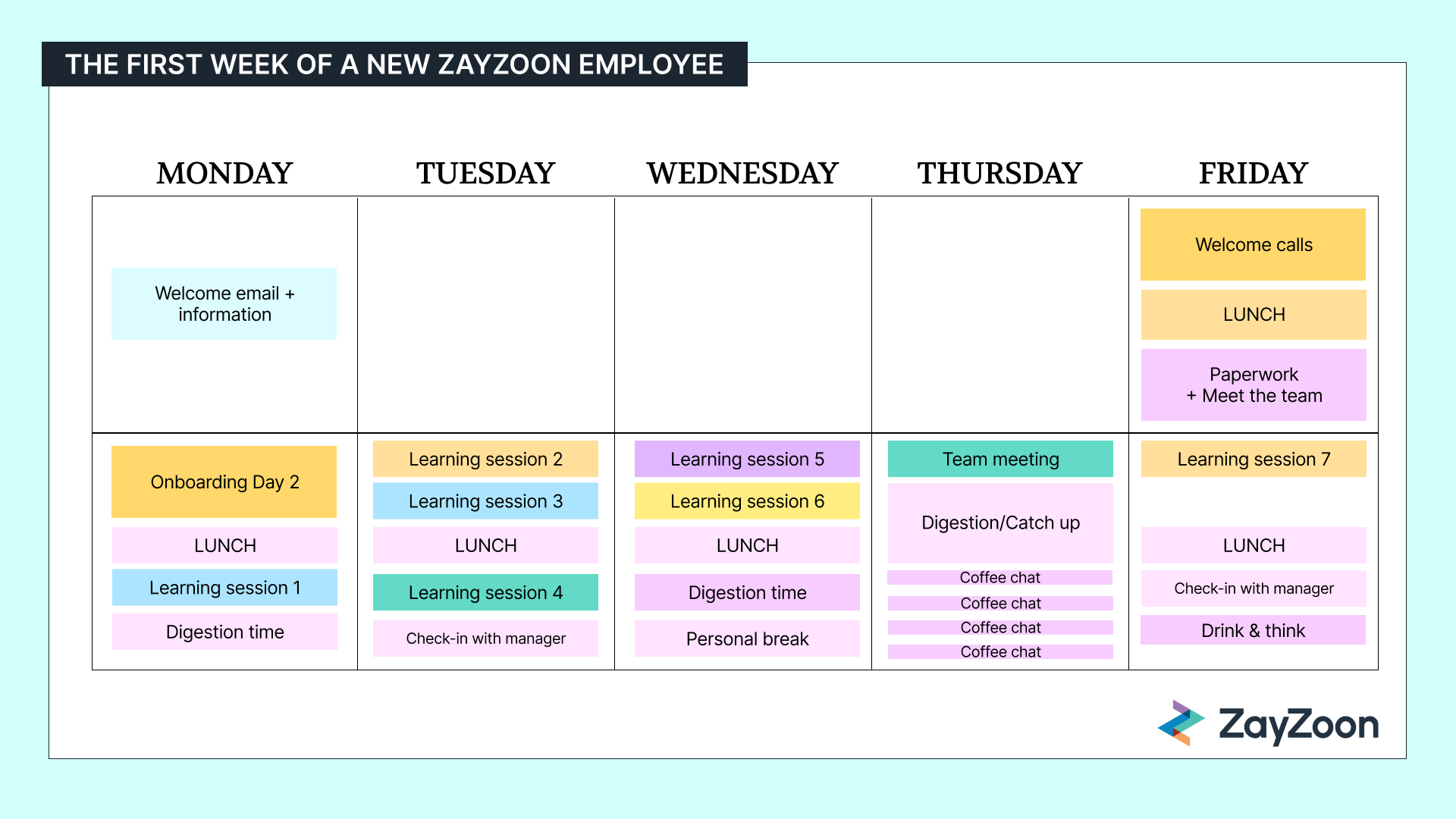 5. Consider group onboarding for cross-learning and community building.
At ZayZoon, whenever possible, we do group onboarding for that first week, even for hires with different roles. This allows for cross-learning, information sharing, and an early sense of community. It also can be the beginning of change-driving conversations as the new hires go on to their teams.
Kim mentioned a time she was onboarding a group of five new ZayZooners when someone had a technical problem she couldn't solve. Thankfully, a new developer was a part of the cohort and they knew exactly what to do!
Onboarding teams of new hires can establish those working relationships from day one and build community in a way that an isolated individual will have to work harder to do.
It's also essential to include new team members in group communications. We're a remote organization, so Slack channels are where a lot of the company banter and watercooler chats happen. Making sure that new hires are included in the relevant chats can help include them in the company culture and meet new team members. Are they a parent? There's a channel for that! Do you love pets? Sew? Like to garden? You name it!
Iterating and evaluating
When I first joined ZayZoon in 2020, onboarding was pretty sparse and consisted of some sessions with my hiring manager going over everything they could think of. When I came back from maternity leave, I underwent onboarding again and it had changed a lot (for the better!). I even got to go through the process with my new SVP of Marketing, Shannon Dougall, which made the change a lot smoother!
Chatting with Kim one year later, I see that onboarding has changed quite a bit in the last year, too, and I know she has great ideas to keep improving on it.
Remember that constant iteration is the name of the game. Evaluating your process and improving your onboarding best practices constantly is going to help make onboarding employees the launching pad to ensure their success.
Include senior leaders in what their vision is for new hires, create surveys and go through them to iterate on the employee onboarding process. Ask other team members what they liked or would've liked to see. You have an infinite amount of places to gather insight from – use them!
If you build it, they will come
As with many things in HR, onboarding best practices are not a be-all-and-end-all, they should be a part of your People Ops strategy and centered in your core values. It should be general enough to cover all new employees that may come on, but also specific enough to make sure that each individual feels valued and supported. In other words, what's right for your company may not be right for others, and that's okay.
Hopefully with these tips you will be able to improve your new hire orientation and bring the joy back into onboarding other employees.
After all, you may go through it 1,000 times, but for them, it's an introduction to the company and the beginning of a beautiful relationship. Make it worth it.

All we need is your email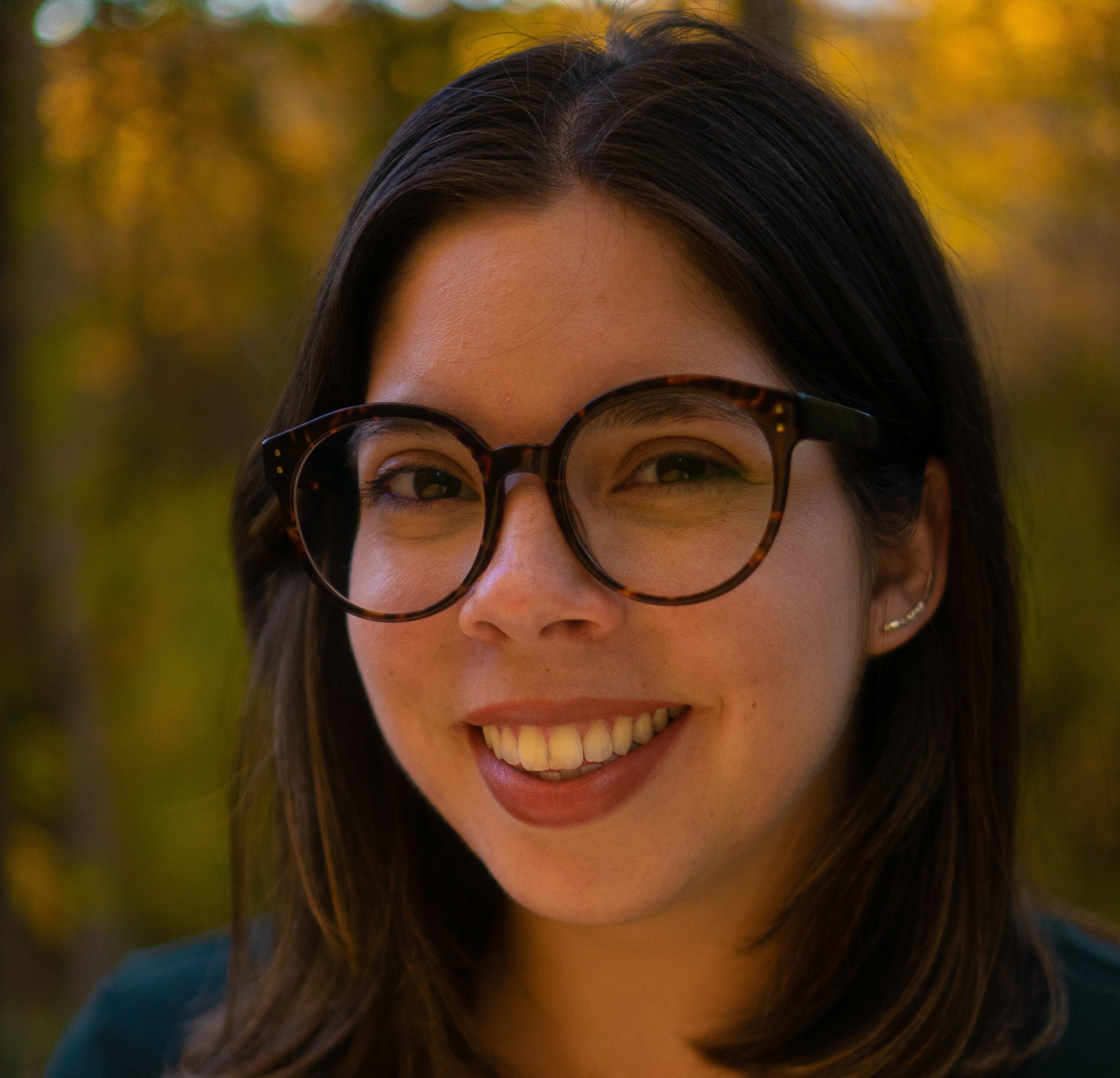 Susy Alfaro
Susy Alfaro is the content marketing manager at ZayZoon. When Susy's not showing employers how to create better employee experiences through her content, she's sewing fashion-forward accoutrement and dancing with her cat.