Welcome to ZayZoon's blog. This is our FIRST article. Lucky you. ZayZoon is going to keep you on trend with everything related to Money, Lifestyle, and Random goodness.
After all, #PaydayJustGotCloser stands for more than just an awesome borrowing experience. In this first article, we are going to take a look at predatory lenders and demonstrate comparisons with a better solution. Let's start with the facts.
Did you know that 51% of Canadian employees would find it difficult to meet financial obligations if their paycheque was delayed by just one week? According to the Financial Post, this is the reality for many, especially millennials. A reported 63% of Canadian employees between 18 and 29 are living paycheque to paycheque!
Canadian Employees Between 18 and 29 are Living Paycheque to Paycheque!
Let's put living on these tight budgets into perspective, as it's no secret many live beyond their means. According to the Canadian Payday Loan Association, two million Canadians take out payday loans each year. Take a look around your office, construction site, restaurant, or wherever else you may be working. 1 in 10 of your employees or colleagues are probably using a payday loan on a regular basis. Maybe you are that employee – and that is totally fine! Hey, we understand. People need to get paid! What we don't understand are payday loans.
Payday loans or Predatory lenders, continue to take advantage of those who require a short-term borrowing solution by offering extremely high, bogus interest rates. It's no wonder people are struggling, spinning, always trying to catch up!
Well, there's a better way! At ZayZoon we are committed to working WITH payroll, so that employees can borrow money directly from their paycheques, in a hassle-free process that transfers money the very next day. We call it Earned Wage Access.
Think about this — In Canada, some predatory lenders charge upwards of $23/$100 borrowed. That's ludacris! (and not the fun 90's style Ludacris most of us are used to). ZayZoon's works out to be $2.25/$100 borrowed for the same 2 week advance. That's just 16 cents a day to have access to funds before your next payday! And, we take responsible lending a step further and automatically debit funds from the employee's paycheque after next. No more debt spirals, and no need to worry about paying back the advance, our quick and easy process has it covered.
Discover how short-term borrowing with low fees can help you achieve financial freedom. Find out more about how ZayZoon works in comparison to predatory lenders! Watch our new video now: ZayZoon – Payday Just Got Closer
To learn more about offering ZayZoon, click here.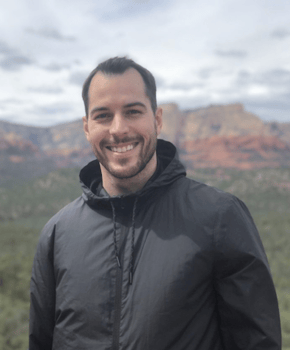 Tate Hackert
Tate is the brain behind ZayZoon, developing the idea of providing access to funds before payday, in 2013. He feels gratified knowing "we get to improve the financial health of people each and every day." One of his favourite ZayZoon experiences involves a business trip to Selinsgrove, Pennsylvania where he helped film a Holiday Inn Express testimonial video. Wearing a ZayZoon shirt at the local Walmart, someone saw Tate and exclaimed, "Hey, ZayZoon! I use that!"