We live in the digital age. Your Grandma can send you money electronically for your birthday, but you still have to wait weeks to get paid. Not anymore. ZayZoon's mission is to improve customers' financial health through the use of responsible financial products, and with Wages On-Demand, our unique offering of Earned Wage Access, we're changing how employees get paid.

Wages On-Demand gives workers access to the money they've already earned ahead of payday, so they can cover unexpected expenses without having to use payday loans, paying overdraft fees or being late on bill payments.
Earned Wage Access is a game changer for the more than 78% of Americans living paycheck to paycheck (In Canada, this represents 53% of workers). On average, American households pay $577 annually between overdraft fees, late payment charges and high interest rates. ZayZoon's Earned Wage Access gives customers control over their finances and brings them a step closer to financial freedom.
Constant financial pressure is reflected in your everyday life, resulting in 68% of employees feeling that personal financial issues affect their health (and 43% for neighboring Canadians). This is manifested in a number of ways including depression, anxiety, migraines, ulcers, and so much more. While financial advisers advocate for folks to have enough funds saved for at least six months in the event of losing your job, that is not an attainable goal for many people. The stark reality is that 57% of Americans don't have $500 to cover an unexpected expense (and 48% of Canadians are $200 or less away from Financial Insolvency).
Companies play a key role in providing their employees access to solutions aimed at increasing financial health and wellness. Whilst companies cannot provide all the answers, they play a key role in empowering their staff by providing solutions aimed at increasing financial health. Many employers want to do right by their employees, yet 87% of employers can't or won't give advances because of the risk and overhead involved.
Now, with Wages On-Demand, you can help your employees have a better grasp on their finances, being able to focus on their job and not constantly on expenses. This is such a game changer. We know that 89% of workers would be willing to stay longer at a company that offers Wages-On-Demand. Furthermore, this benefit gives you the extra edge when recruiting, since 79% of workers are willing to switch to an employer who offers Wages On-Demand, if all other factors were the same.
To take it a step further, ZayZoon's educational platform, ZayU, enables customers to understand and manage their own finances with services like Overdraft Prediction and Spend Behavior. ZayU's budgeting tools are designed to pay off debt, recognize spending patterns while giving access to interactive online courses.
So, how does it work? Employees can access up to $200 daily for a flat transactional fee of $5, which is automatically deducted from their next paycheck. This fee can be employee paid, employer paid, or a shared cost. Setup is easy and completely handled by our amazing team of tech wizards. It's a simple fix to an overdrawn problem.
WHAT DO EMPLOYEES USE ZAYZOON FOR?
98% of employees use ZayZoon for necessities, to avoid high fees or for unexpected expenses, such as: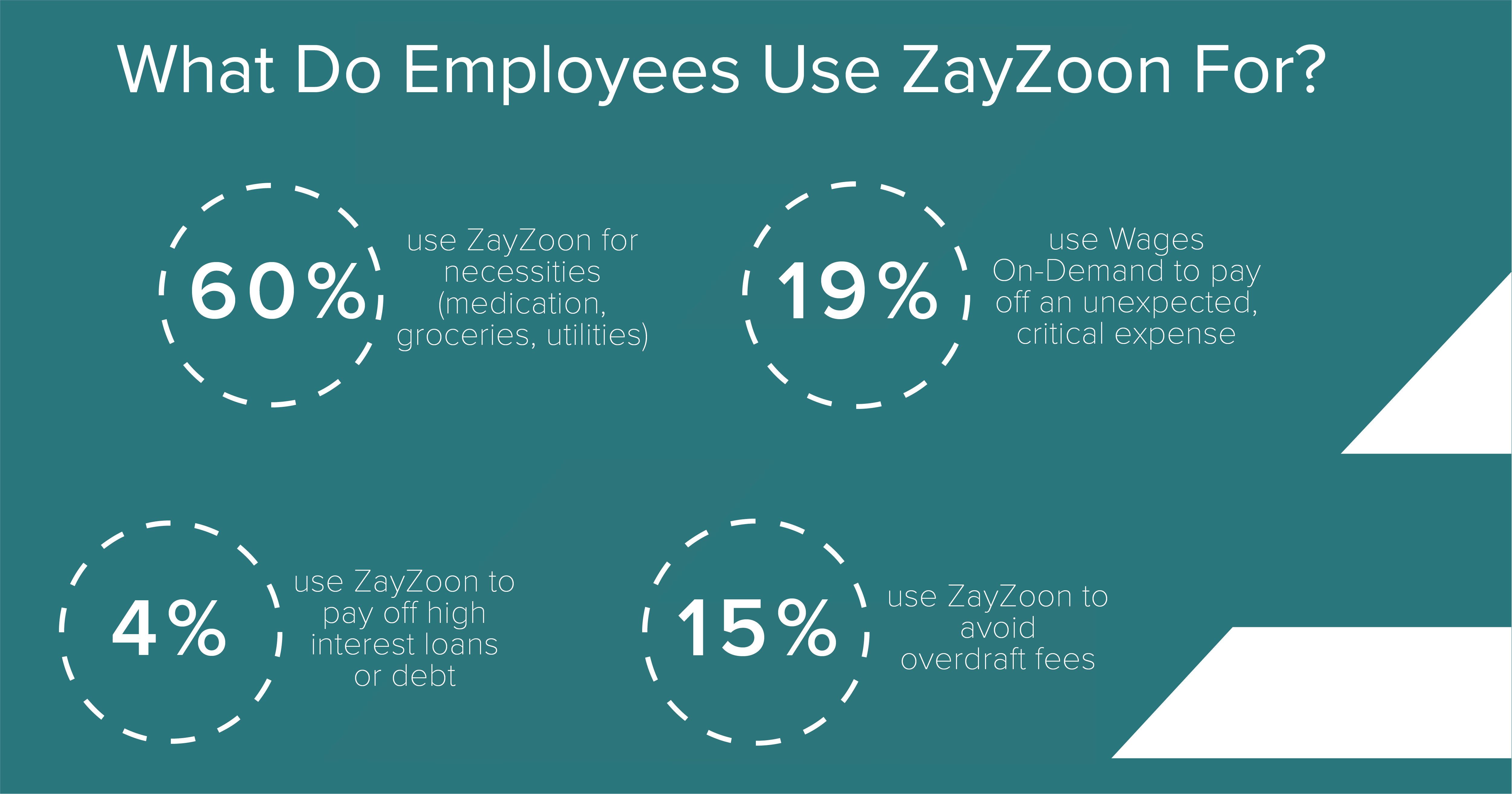 60% use ZayZoon for necessities (medication, groceries, utilities)
15% use ZayZoon to avoid overdraft fees
4% use ZayZoon to pay off high interest loans or debt
19% use Wages On-Demand to pay off an unexpected, critical expense
Organizations that offer Wages On-Demand report:
15% active use of the Wages On-Demand solution
5% reduction in hiring costs
When workers are able to pay their bills on time, manage a surprise expense and have a safe way to smooth their cash flow, they can take control of their finances and improve their financial health. ZayZoon is allowing employees to keep money in their pockets, saving $702 annually on average by using Wages On-Demand.
ZayZoon's pioneer service is elevated by our world-class team who are passionate to support, educate and build relationships with our customers as they navigate through our products and services. This relationship building has earned ZayZoon a 4.9/5 average customer review rating. Need we say more?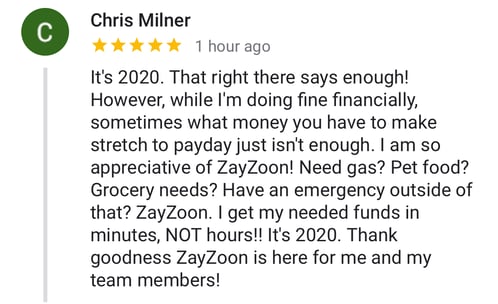 Interested in solutions like ZayZoon for your employees?
Book a Webinar On-Demand at https://www.zayzoon.com/activate
--
Are you interested in having someone from the ZayZoon team speak about the financial stress epidemic in media, on a podcast or a webinar? Contact media@zayzoon.com.
--
This is part of our 10 Facts on Wages On-Demand series, to see all the existing pieces, click here.