Getting started is easy
In less than one minute you can sign-up, choose how much money you would like to access, and have it transferred into your bank account as soon as same day.
No credit checks. Our only requirement is that you are an Independent Contractor paid through the Openforce system.
Unsure if this is you? Simply ask by using our live chat :)
Your money
Avoid non-sufficient funds charges and late payments. It's your money, access it when you want.
Secure and Easy to use
No credit check, under one minute to sign up, and all made possible by a trusted integration with Openforce.
Incredible Support
We maintain a live-chat response time of 3 minutes.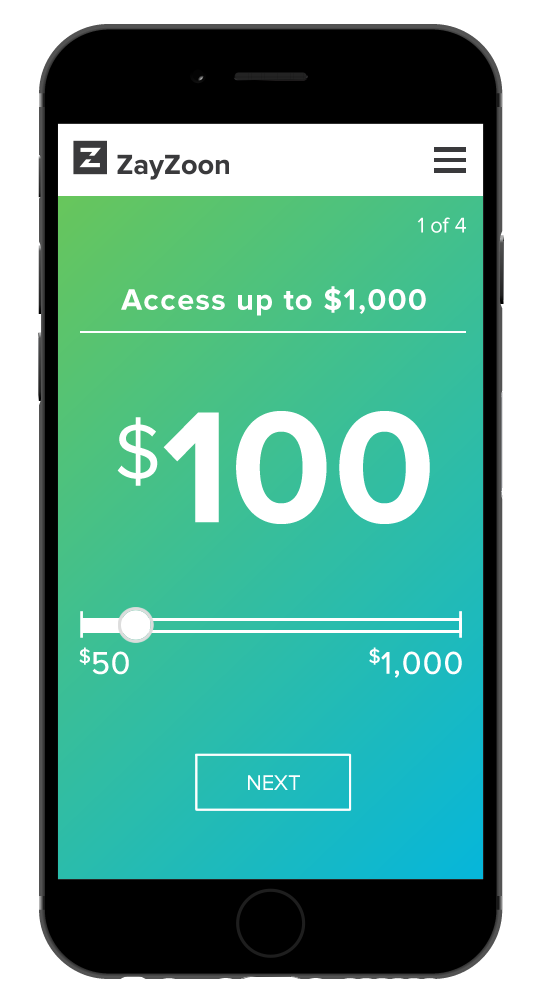 Features you will love.
ZayZoon is the easiest way for Independent Contractors to access their Settlements early. No app to download and no cards to wait for in the mail. ZayZoon is entirely online and can be used with a smartphone, tablet, laptop or desktop - you pick.
Funds sent directly to your bank account.
$5 flat fee - no other hidden fees!
No credit check!
We are not a loan!
Simply login to ZayZoon using your email associated with your Openforce account. If you do not have this email, please create an account by choosing the "sign-up" button or contact us at support@zayzoon.com for a quicker solution :)

ZayZoon charges a flat fee of $5 to access your settlement early. There are no other hidden fees.

How long does it take to receive money?

ZayZoon uses the ACH network. This means funds typically arrive within 24 - 48 hours. We are working hard to improve this and have funds arrive instantly!

When do I need to pay ZayZoon back?

Funds are automatically debited from your next settlement disbursed by Openforce.

How is my available limit calculated?

Your available limit is based on your already earned, but unpaid settlement.

How long does it take to verify my account?

Your account is verified instantly upon sign-up

We make security a priority at ZayZoon. Our website uses 256-bit encryption to protect the privacy and security of your information. The same security your online banking offers you.

What if I took money by accident?

Mistakes happen! Maybe you got excited with how simple the process to access your money was and accidentally clicked submit? No worries. Contact us using our live chat at zayzoon.com/openforce and we can reverse the advance.