One of our four core values at ZayZoon is Mastery.
Mastery is the thirst for knowledge and improvement. It's the idea that we are the average of the 5 people we spend the most time with. It's the idea that the efforts we put into better ourselves compounds.
One of the ways we flex our Mastery Muscle at ZayZoon is each Friday at 3 pm, for 45 minutes, we host a Drink & Think.
What the heck is a Drink & Think?
Drink & Thinks serve as an opportunity for the entire team to come together and LEARN together in a super fun and relaxed way.
So, grab your beer, soda, or water... I'll give you all the details so you can get this going with your company too.
On Friday, a team member presents a topic they care deeply about. This can be work-related or simply just personal interest! The point is, it's an opportunity to showcase to the team something you are passionate about.
So how is it decided who gets to present?
We rotate through the teams at ZayZoon. This Friday it might be the product team, next Friday it could be Finance. The teams decide independently who's going to take on the role of presenting that week, but usually, there's a volunteer that is excited to share a passion of theirs or newfound learning.
What are some examples of stellar Drink & Thinks?
Got to admit though, sometimes after a long week, we just end up playing a game. BUT even when we play a game, they're something that helps us learn more about one another, flex our creative muscles, or a combination of the two. For example "arms reach show and tell". This was a fun one.
How does "Arms Reach Show and Tell" work?
The meeting host sets a 1-minute timer.
Participants run and grab something in their house that is meaningful to them.
Each team member has one minute to share about their object, including information like where they got it, and why they keep it.

Drink and Think might be the star of the show, but a close second is the Question Of The Week (QOTW) that's always paired with the session. QOTW is great because it acts as a solid ice breaker and learning tool each and every week!
So, what's QOTW?
It's quite simple.. Once a week, a question master is nominated, and that person has one job - pose a question to the team!

Normally QOTW is thrown up in Slack and then for the first 15 minutes of the 45-minute Drink and Think session, the question master calls on the team for answers. Depending on the question, you can end up with some hilarious commentary or really deep and insightful thoughts. Either way, QOTW is a stellar way to further team relationships and put the mind into a state of strategic creativity.
At some point before the next week's session, that question master nominates someone new to run that first 15 minutes.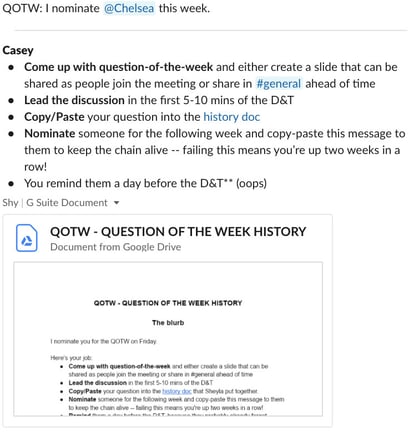 How to take D&T to the next level

Drink & Think is one of my personal favorites, but I'm even more excited about ways to improve this.
As the ZayZoon team grows, I think about how we can expand Drink and Think beyond just our team members. Both as audience and presenters.
During COVID, we brought in sports coaches, physiologists, and family health experts from our network to present to our team members. This requires quite a bit of coordination, but something we'll look to do more of. In fact, in December we brought in Maia Bittner from Chime, to speak to the team about the Challenger bank landscape and payments.
It all spurred from this Slack message:




As a Canadian company operating predominantly in the United States, it's easy to forget that many of our Canadian staff, especially those that are not directly involved in Sales or Product, can easily get confused by the nuance that is the US banking ecosystem.

Bringing in a speaker to help with widely misunderstood questions like this demonstrates your willingness to bring guidance and support to your team. The aftermath of these events is quite incredible. It pulls your out of the business for an hour and gives everyone a unique vantage point or a different way of looking at things. Break out conversations, new slack groups - people getting excited about opportunities.

If you're reading this and are the operator of a company, chances are you have a pretty incredible network that your team would jump at the opportunity to engage with. Pro tip too - run it as a fired chat or Ask-Me-Anything event - it makes it a lot more low pressure for the "presenter" and gives your team the ability to insert themselves into the conversation more.

Lastly, I think about the potential to involve the broader community in these discussions. What a great way to put your company's core values on display to the world. Maybe one day we will have a follow-up post to this, speaking of all the great guests we have had and how one of the reasons everyone wants to work at ZayZoon is for the exclusive access they get to industry leaders.