Listen, I love a good deal just as much as the next person. But sometimes a good deal doesn't always make for a good purchase. Especially with all the stress from the huge crowds.
With the upcoming holiday season, I want to chat about Black Friday sales. We've heard the news—you can buy things for extremely low prices. You can get amazing savings on electronics and a wide variety of products. But what's the catch? Will I have to risk a fight for these Black Friday promotions? Will my financials take a hit? Or will I come out as a winner?
Some shoppers will take the day off from work and brave the crowds to get a good deal, others will shop from the comfort of their own homes. In both scenarios, we rarely just buy what we need. More often than not, we end up spending more than we budgeted for (I am guilty of this—same with my peers). So let's slow down and take a moment to think—are the deals really worth it?
What is Black Friday shopping?
I checked my emails and all I saw were "doorbuster deals," "massive savings today" and "get 35% off when you spend $150" plastered across my inbox. This is Black Friday. It's a popular shopping event that occurs the day after Thanksgiving. Some might call it the unofficial launch of the holiday shopping season. Many retailers amp up their marketing to promote Black Friday discounts and exclusive deals (like buy one, get one free).
What happens on Black Friday?
Deals. Shoppers. Price wars. Line ups. And more.
Retailers offer steep discounts and special promotions on a wide variety of products. You can go into brick-and-mortar or online stores to find discounted clothes, electronics, toys, etc. Roughly 125 million people shopped on Black Friday in 2022. That's approximately 37% of the U.S. total population.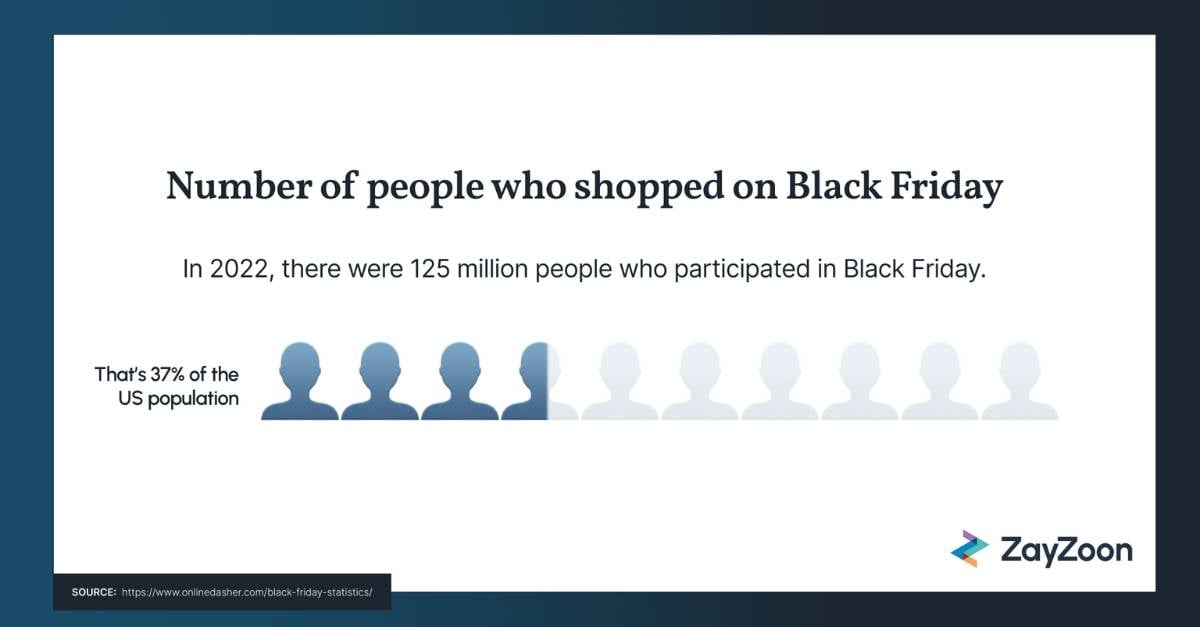 Why does Black Friday occur?
Black Friday originated from the idea that retailers can go from a financial loss to making a profit through a spike in sales. When a business is operating at a loss, they're red on the balance sheet. Once these businesses cross over to the profiting side, they become black on the balance sheet. And that's how Black Friday was born (at least that's what our research tells us.)
Offering discounted items and promotions will help stores with their year-end reporting. For most retailers, it's been said that a majority of their annual sales revenue is a result of Black Friday and the upcoming holiday shopping season.
Retailers offer steep discounts because they can still make a profit from increasing the number of items sold. If their profit margin is lower per item, their overall revenue can increase if their sales volume increases.
The pros of Black Friday
Okay, so before we tackle the tough stuff, let's unpack exactly why people get amped up for Black Friday.
Black Friday is great for saving money on things you need:
Big appliances and electronics
Have you ever had a fridge, a washing machine, a microwave, or any appliance die on you? If you have, you know that those items don't come cheap. This is the perfect time to get an upgrade in-store.
Stock up on essentials and gifts
Black Friday shopping is great for gifts and picking up personal essentials. Buying quality gifts for my loved ones is better during Black Friday. Holiday sales may not have as low prices. You can also get 2-for-1 deals on items that you regularly buy.
Family purchases
Black Friday deals are great when purchasing things for your family. Kids grow up fast, so if there's a shop with a great sale on shoes, I'd spend time looking around. If you want to buy a bike, shopping during the holiday season would be cheaper than buying a bike in April.
The cons of Black Friday (and how they affect you)
There are a lot of things wrong with Black Friday, and I'm going to shed light on a few of the biggest issues below.
Aggressive promotion leads to impulsive shopping, waste, and buyer remorse
It was November 2nd, and I just finished work so I went to browse the internet. And guess what I saw. Nonstop ads. I was bombarded with ads, and it wasn't Black Friday yet. These ads have become more aggressive these recent years. They know which deals and in-store promotions trigger their customers (AKA me) to shop. And here I was, spending time looking through all the deals from my favorite brands.
Shopping online is a trap. I wanted everything—a camera, new clothing, toys, etc. I wanted to buy more coasters even though I already had a set. The total in my cart was easily over $100.
The frenzy of Black Friday can cause us to forget our needs versus wants. We end up buying more than what we need. Which creates a lot of waste and clutter. And it hurts our wallet.
We think retailers who offer Black Friday deals benefit us because they're "helping us save money," but they're not. Many retailers are focused on getting customers to make fast purchases. How? They frame it as a "limited-time offer," which pressures shoppers to make fast decisions because these sales only happen "once a year." Oftentimes, we're left with regret because we rush into buying something we didn't want or need.
Retail therapy feels good. Being in debt does not.
Black Friday makes it so easy to spend your money. Shopping is designed to make you feel good when you find the "best deals." But again, it's a trap. If you're not careful and diligent with your budget, Black Friday shopping can lead you into a ton of debt. A sale over here, low prices over there and you go over budget. Shopping hijacks our reward system by making us feel good. That can cause us to lose sight of our financial priorities and make poor decisions. Then what? How do we pay everything off?
I had to remind myself of all my financial obligations (pay off my credit card, my rent and utilities, and my car insurance), before buying more things that I didn't need.
If I didn't catch myself, I would have to go into credit card debt to pay off my bills. The absolute worst-case scenario is needing to borrow money from a payday lender to pay off your debts.
Just because there's a sale, doesn't mean you need to go into debt for it. There's always next time.
All-around stress
Stress hits before Black Friday even starts. Some shoppers don't get to rest and relax with their families. If they're hardcore, they rush to line up at stores after Thanksgiving. They will battle crowds right when the doors open. People get hurt and the in-store employees are stressed. You're stressed and the guy beside you is stressed. Everyone wants the best deal, but is it worth it if we're anxious, tired, and stressed out?
There's also the "uh oh, did we go over budget" situation. Sometimes we make mistakes and go over budget. We didn't intend to go over budget, but it happens. Especially with online shopping, it's so easy. With just a few clicks, you could have anything delivered to your door.
Going over budget can cause severe stress and anxiety. "Will I have enough to cover rent this month? Do I have enough gas to get to work next week?" Being short $20 on a bill could trigger you to fall victim to credit card debt or even worse, payday loans. And life is better without those stressors.
How to participate in Black Friday (if you gotta do it, do it)
How can shoppers make the best of Black Friday?
I prefer to avoid Black Friday, but sometimes there are deals too good to pass up. So here are a few tips to help you survive Black Friday and stay out of debt.
1. Budget before buying
We don't want you to get into debt, so we suggest having a budget to avoid impulse spending. Check out how to build a budget right here. It'll be helpful to create a Holiday gift list, so you can stay focused on grabbing things you need. And all the extra stuff can come after checking your budget!
2. Take advantage of your earned wages
You have a budget but payday is the week after Black Friday... so what do you do? If you're considering borrowing money, take a look at earned wage access (EWA) before you turn to credit cards or buy now pay later services. EWA services allow you to access your wages before your payday. No interest, and no sketchy and expensive repayment plans.
3. Take advantage of gift cards
If you're shopping, make sure you're getting the most you can with your money. Use gift cards to get more spending power. ZayZoon partners with popular merchants like Target, Amazon, Ulta, and more so you can take out gift cards with an additional 10-20% more in spending power.
If you had a budget of $100 for Barnes & Noble, you could get an additional $20 (a total of $120) for your Black Friday Shopping.
Editor's note
Black Friday has its pros and cons. It's great for saving money, however, it could trick you into buying more than you need and lead you into a mountain of debt.
If you're going to participate in Black Friday, be smart and save money where you can. Be mindful of your shopping habits and do your best to avoid overspending. Having a plan and budget will help you have a less stressful Black Friday experience.
Good luck and Happy Holidays.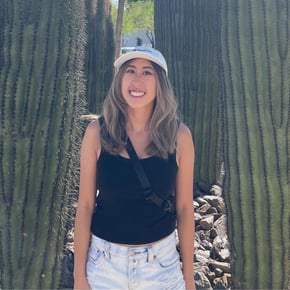 Susanna Kuang
Susanna is the Senior Customer Marketing Coordinator at ZayZoon, where she leads customer communications. Her dedication for helping others on their financial journey has helped her move from the Customer Care team to the ZayZoon Marketing team. Outside the office, she's an avid outdoor enthusiast—hiking in the summer and snowboarding in the winter.