We surveyed 100 HR professionals to find out if they'd heard of Earned Wage Access and, if so, to describe it in their own words.
Here's what they said 👇
No idea what Earned Wage Access is. Never heard of it before.

Human resources manager, financial services company
Earned Wage Access is the ability for employees to see their earned wages whenever they want to.

Human resources specialist, retail company
I believe Earned Wage Access refers to an employee's ability to access or borrow against their payroll funds outside of or before the standard payment cycle.

Deputy director of human resources, municipal government
Shockingly, only 66% of our survey respondents had heard of Earned Wage Access.
Why does this matter? you ask.
Simple.
Whether you're leading your company's HR function or are a key contributor on the team, Earned Wage Access represents another lever you can pull to improve employee financial wellness.
But to do so, you need to understand exactly what it is and how it can benefit you and your team.
So, then, without further ado...
What is Earned Wage Access?
Earned Wage Access or on-demand pay as it's sometimes called, is revolutionizing payroll infrastructure. Employees are no longer bound by weekly, bi-weekly, semimonthly or monthly pay periods. With EWA, they're free to access a percentage of the wages they've already earned whenever they want.
To put it another way, you can think of EWA as an interest-free advance on your employees' wages. Companies typically add on-demand pay to their benefits to help workers who might be dealing with cash flow issues. And it's quickly becoming an established business practice.
Channel sales rep Matt Sparkman breaks down EWA in 30 seconds
Now that you know what Earned Wage Access is all about, you might be wondering why you need it.
That's because...
Traditional payroll is lagging behind
It should come as no surprise to learn that many employees are living paycheck to paycheck—two in five, to be exact, according to global advisory firm WTW.
So employees today are struggling to make ends meet. They're dealing with financial stress which is impacting their well being and ability to perform in the workplace. To ignore this fact would be a massive mistake.
Because it turns out your business can help.
Traditional payroll has been slow to adapt to employee needs. It lacks the flexibility required by those who might be struggling with cash flow.
Unfortunately, bills don't wait for payday.
When an employee has to pay a bill but doesn't have enough cash in their bank account, there are only a handful of options available to them:
Ask you for a cash advance
Pay the bill even though they don't have enough funds (and get charged an overdraft fee)
Wait until payday and get charged a late fee
Take out high-interest loans (like title loans or payday loans)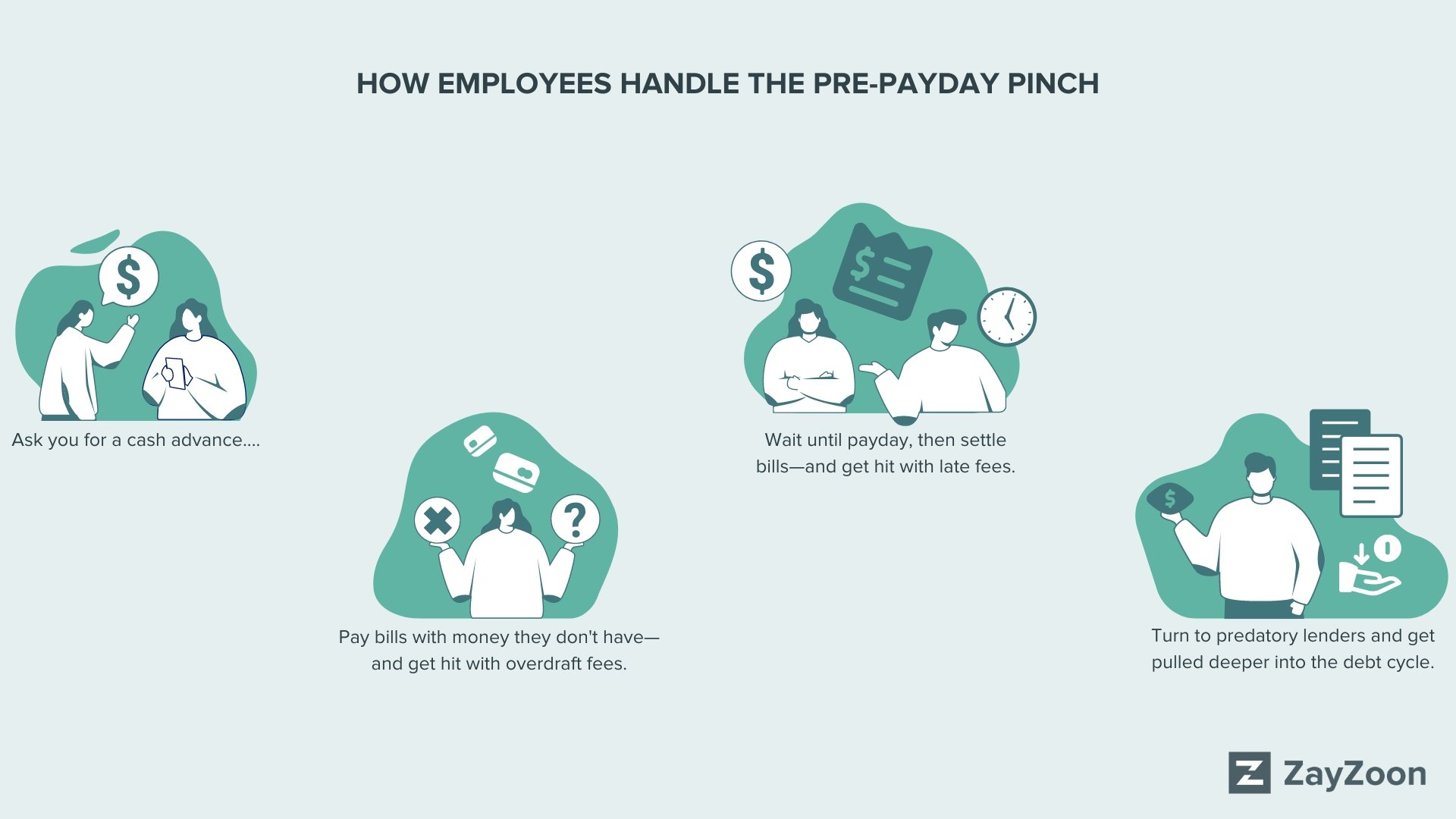 Most of the options above push your employees further into debt, compounding their stress and negatively impacting their financial health.
Thankfully, there's another option on the table.
Yup, you guessed it.
💸 Earned Wage Access 💸

Benefits of Earned Wage Access for employees
Instant pay can have a profound impact on your workers.
First off, it gives employees much-needed flexibility. With early access to their earned wages before payday, workers can meet unexpected expenses without having to resort to predatory lenders (not to mention avoid overdraft fees).
But, like they say, the proof is in the pudding. That's why our team of data scientists crunched some numbers. Turns out:
On average ZayZoon saves workers $702 per year.
That's the real impact of EWA. But that's not all. We conduct an annual survey of 2000+ employees who use ZayZoon to understand the state of employee financial health. According to this year's survey:
89% of workers who use ZayZoon report less financial stress.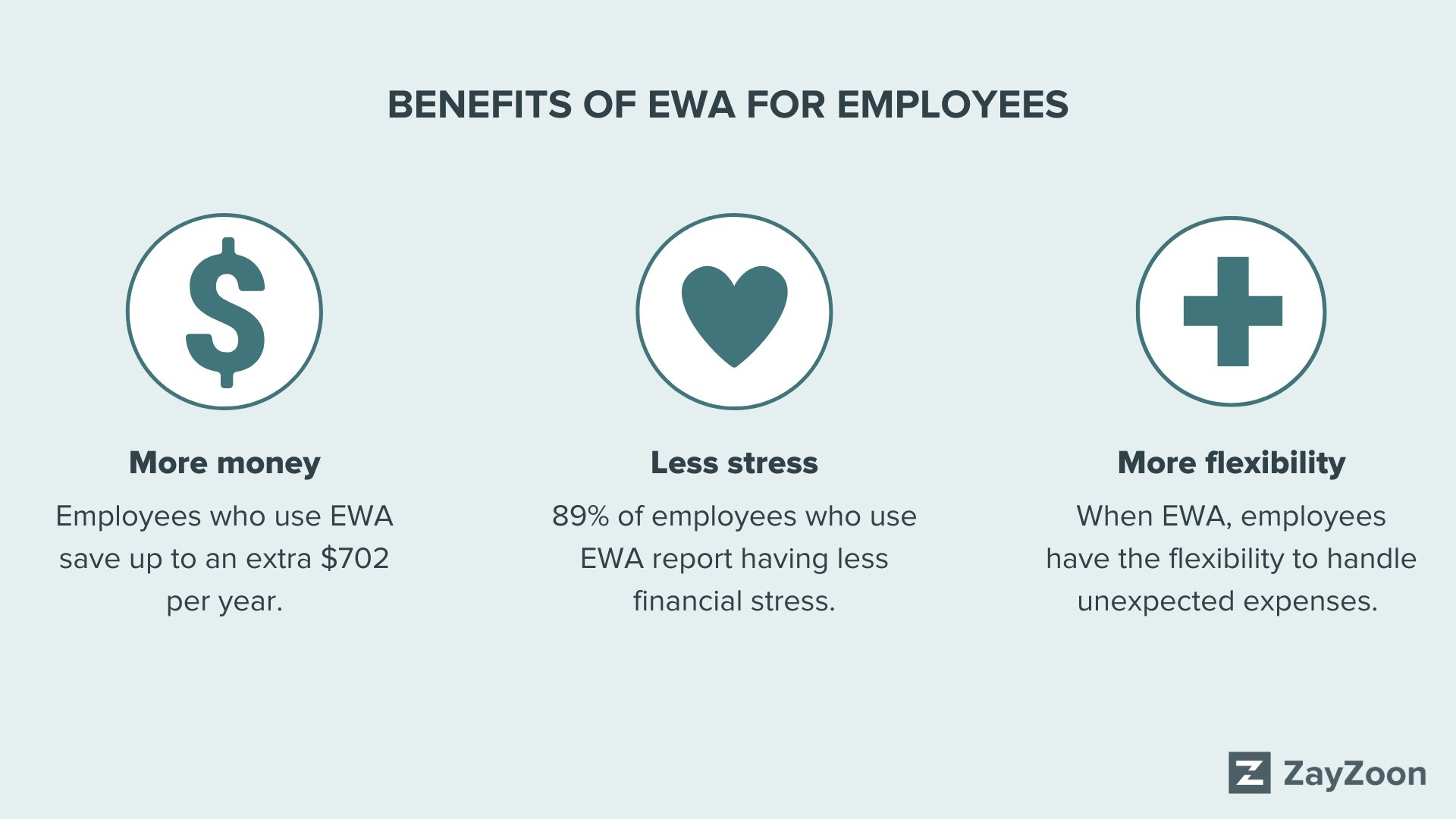 Source: The State of Employee Financial Health, ZayZoon
So, there you have it. EWA programs work.
And workers aren't the only ones who profit from them.
Employers, i.e. you, can too.
Benefits of Earned Wage Access for employers
If some of the perks above sounded good, wait until you see how an EWA provider can benefit you and your business.
Employers who provide on-demand access to earned wages experience up to

29% reduction in turnover

They also receive

2x more job applicants

Through research conducted by ZayZoon, employers who offer access to earned wages, see a 5% reduction in hiring costs, representing savings of about $19,000/year for a business of 200 FTE on average
ZayZoon businesses offering loan programs to employees have saved up to $8,000/year by providing access to earned wages instead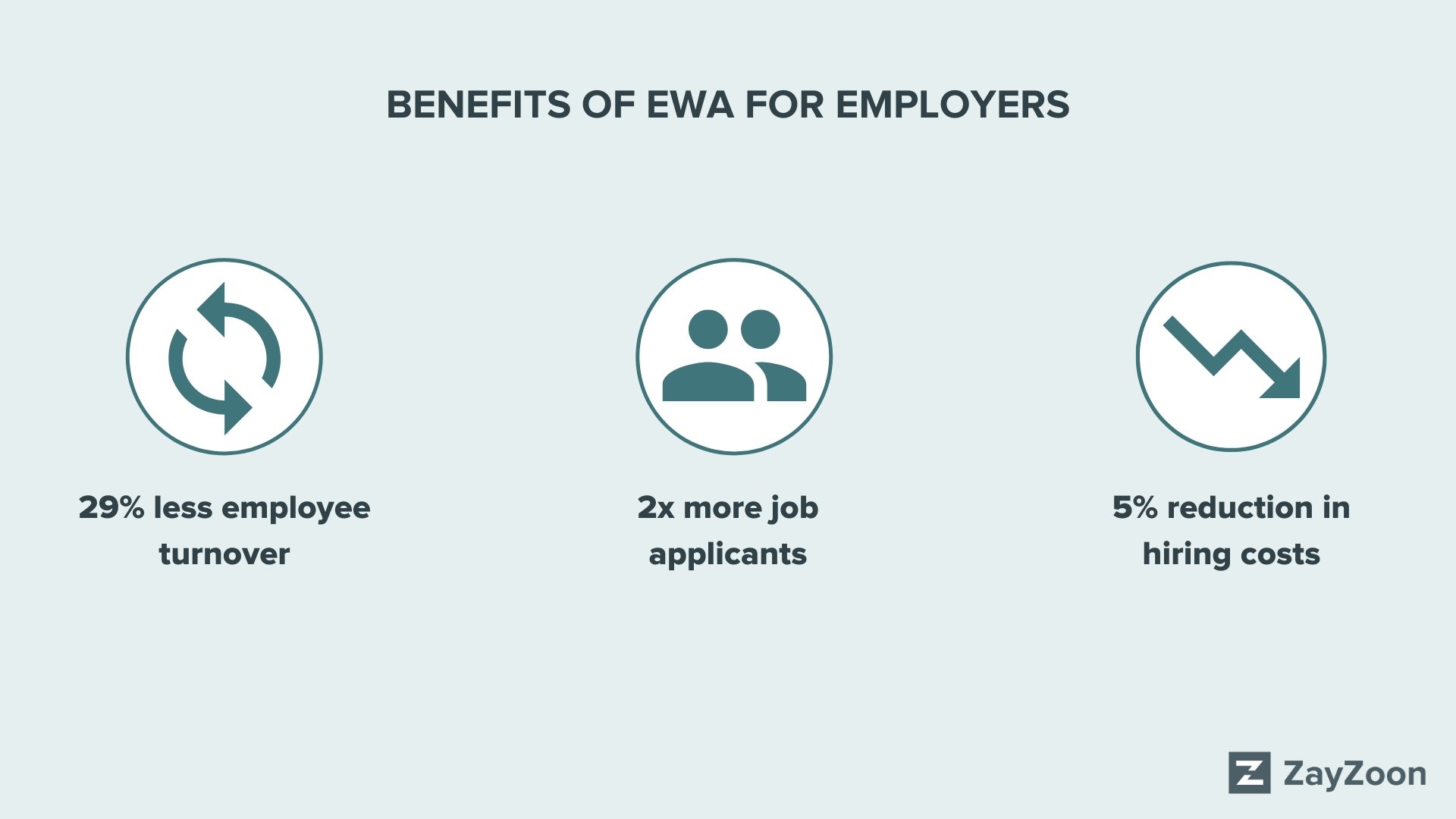 Source: Obtain and Retain Talent: Run a Successful Business and Focus on Employee Financial Wellness, SPARK
How does Earned Wage Access work?
Okay, so by now you're probably wondering how this whole EWA thing works.
In the interest of full transparency, we'll walk you through exactly how ZayZoon works with a caveat that all providers handle things a bit differently.
To begin, let's tell you a story about one of your employees.
Let's call them Mary.
Implementing Earned Wage Access
There are two ways an employer can implement ZayZoon:
ZayZoon already has a partnership with the employer's payroll provider, in which case it's as easy as flicking on a switch (by the way,

here's

a list of payroll providers we're partnered with).
ZayZoon has established a partnership directly with the employer.
For the purposes of our story, let's assume we have a preexisting relationship with your payroll partner, and that you've flipped on the ZayZoon switch, offering early pay to your team.
The payout process
Okay, back to Mary.
She's downloaded ZayZoon app for mobile and is setting up a disbursal method, in other words, a destination for Mary's earned wages. There are four disbursal methods available: debit card, bank account, instant gift card and the ZayZoon VISA® Prepaid Card.
Mary decides she wants to deposit her earned income directly into a bank account. She'll input her bank details, so that ZayZoon knows exactly where to send her money.
Next, the app nudges Mary to the payout screen, where she can advance up to $200 of her earned wages. She requests all $200, then hits the "Transfer Now" button.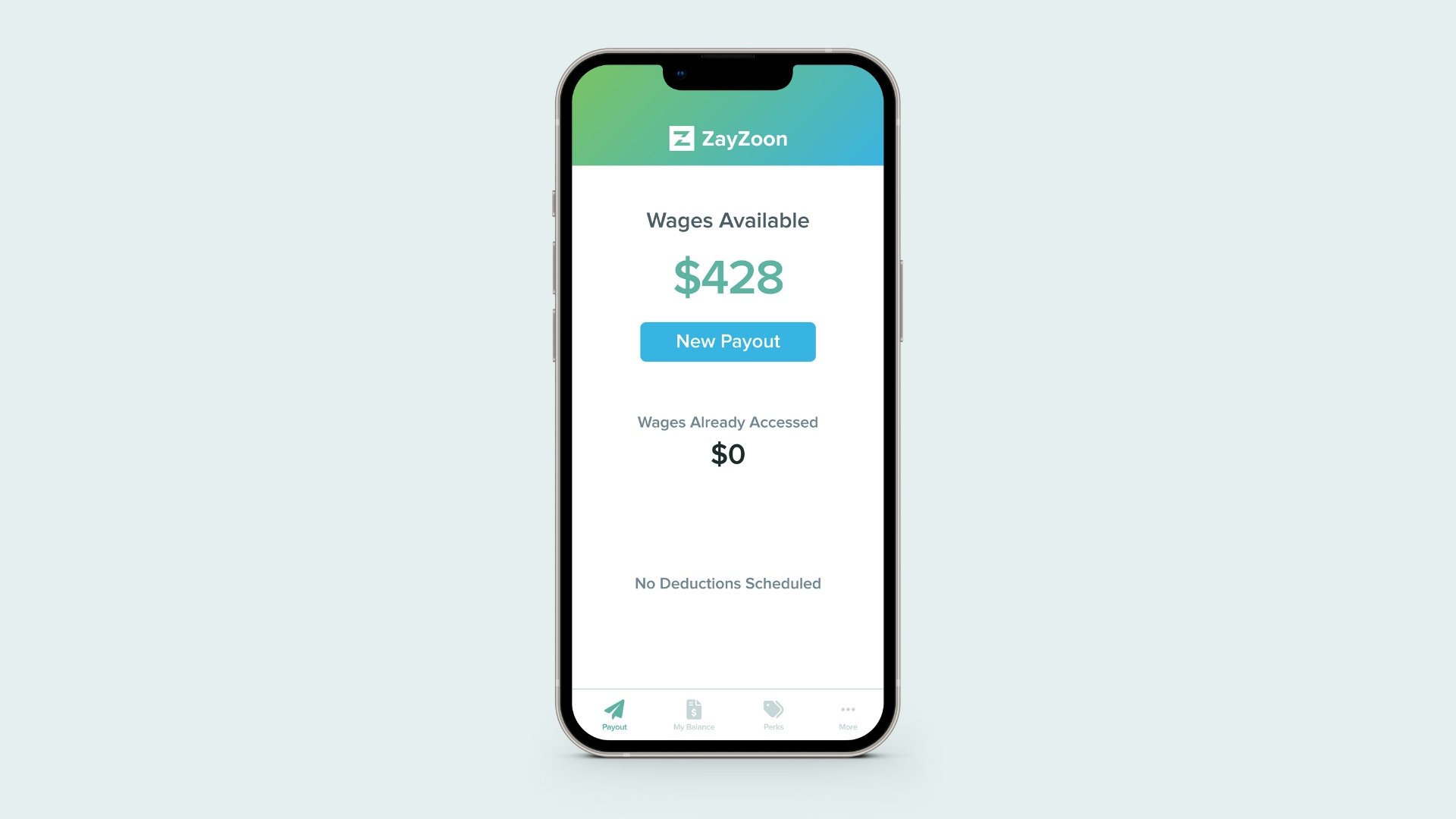 As soon as Mary hits the "Transfer Now" button, ZayZoon sends instructions to its payment processor to send $200 to Mary's bank account. The payment processor acknowledges receipt of these instructions, and the payout goes into a pending state, meaning the payment processor is working on transferring Mary's funds to her account. Within minutes, the status of Mary's request is updated and her payout is marked as disbursed. Mary then checks her bank account and sees that she has received her $200.
Important note: ZayZoon funds all transactions, which brings us to the final step in Mary's journey...
The repayment process
Mary is understandably relieved to have gotten her $200. Now, she can make rent, narrowly avoiding getting charged late fees she really can't afford.
In the ZayZoon app, Mary's balance owing will now be $205. That additional $5 is the fee ZayZoon charges for the payout. There are fee-free options available, which we'll get into in a little bit more depth below.
Finally, ZayZoon will make a request to Mary's employer's payroll partner for $205. It will be automatically deducted from her next paycheck and result in ZayZoon's repayment, which will be reflected in the app. Then, ZayZoon will notify the payroll partner that Mary no longer owes anything to ZayZoon.
There you have it.
The big takeaway is that employers take on none of the risk. Finally, a word to the wise: As you explore different EWA providers, you'll want to be mindful of any tools that take money directly from your workers' bank accounts. That's because there's a risk they'll be overdrawn and get charged fees.
How much does Earned Wage Access cost?
We covered this in the previous section, but just in case the folks in the back missed it: EWA costs employers nothing.
You heard that right. Zilch.
However, there are fees for employees—$5 at most, to be exact, or about what it costs to use an ATM machine.
That said, ZayZoon does provide a couple free options for employees who want to get paid early.
ZayZoon Instant Gift Cards
When employees withdraw some or all their earned wages into our Instant Gift Cards, they get a bonus of up to 20%. There are hundreds of brands to choose from, like Walmart, DoorDash and Amazon. Instant Gift Cards are redeemed instantly via email. They are free and they never expire.
The ZayZoon Visa® Prepaid Card
This card has no fees and requires no maintenance. Employees can use it for free, without the $5 payout fee. Plus, no offboarding is required. Employees can use it to get paid long after they leave your business.
How Earned Wage Access is transforming payroll
In many cases payroll isn't set up to meet the demands of the modern worker.
Payment runs happen at pre-defined times and customizing a run can take hours. Today's employee is looking for flexibility. To meet this demand, many employers offer loan programs or allow workers to take out an advance on their wages before a scheduled payday.
Obviously, these aren't long-term solutions.
That's where EWA comes in.
Like I've already said, EWA offers employees the flexibility they need without the added lift.
And in case you were wondering, some of the world's biggest payroll processors are already offering this service, either through a marketplace or with their own line of products.
They are:
ADP
Paycom
Paylocity
Paychex
UKG
Gusto
Ceridian
And many more...
These companies recognize that EWA isn't just a nice-to-have. It's a must-have, which is why they make it available to their clients.
ZayZoon: Earned Wage Access for small-to-midsize businesses
Giving employees Earned Wage Access doesn't just promote better financial health—it can also make your business a better place to work. While EWA is still a relatively new benefit, market awareness is growing and employees are coming to expect it. In fact, 80% of employees would prefer to work at a business that provides EWA.
Curious to learn more about EWA or find out how ZayZoon can help you? Get in touch with one of our experts to learn more today.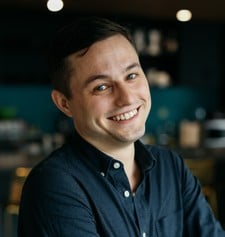 Tyler Munro
Tyler Munro is the director of brand and content at ZayZoon. He has previously led content marketing teams at OneTrust, Flybits and integrate.ai. In his spare time, Tyler writes literary fiction. His work has appeared in Yemassee Review and decomP, among others. He's also been nominated for the Pushcart Prize.