It's been a bit over a year since I started working at ZayZoon and just over six months since the ZayZoon Payday Are We There Yet?! RV Tour ended. So, I decided to sit down and write a reflection of my experience on the road and learnings along the way.
For context, if you don't know what the so-called RV Roadshow is, Tate, co-founder and president of ZayZoon, and I drove a ZayZoon-branded RV across America, from LA to New York over a span of 75 days.
But why did we drive across the U.S. in an RV?
There are three reasons why we went on this journey👇
To show appreciation to our customers, businesses and payroll partners that support us each and every day.


To have a better understanding of the problems our customers experience and learn how to better support them on their financial journeys.


Lastly, when you're growing fast like ZayZoon is, it's important not to lose sight of what got you here today. For us, it's been our intense curiosity, tenacity and personable approach to absolutely everything we do.


Without further ado, here's my experience driving over 10,000 miles across America and how getting out from behind your desk and talking to your customers is more valuable than you could ever imagine.


Stopped on the side of the road, grabbing directions
How it started...
The idea to go on a cross-country RV tour had been floating around for a few months before I started my job at ZayZoon. I remember talking to Tate after he had returned from a work trip in Houston, visiting businesses that offer ZayZoon, speaking with managers and customers, and slapping QR code stickers on storefront windows. There was a lot of excitement in his voice as he talked about this big idea of visiting dozens of our clients and hundreds of our customers across the country.
Fast forward a couple months. I started my new job at ZayZoon. One of my first tasks was to find an RV rental company that was willing to rent us a large RV for a couple months and return it across the country fully wrapped in ZayZoon branding.
We set the tour start date for September 7, 2022. We had about 12 weeks to start planning. I know that sounds like a lot of time to plan a trip, but on top of all the day-to-day work that was going on, eight weeks passed in a flash and we were still searching for the RV that would take us to the promised land.
I think I must have spoken to 15-plus rental companies throughout the US and Canada. There was trouble finding a company that could accommodate us. I would always get a different answer each time I'd call. Some days a representative from a company would say they allow their rentals to be wrapped in branding and other days that same company would say they had have never heard of such a thing.
To be honest, navigating the confusing world of RV rentals taught me a thing or two about patience—and an appreciation for the fine print. At one point, we were going to rent an RV from Vancouver, BC. This would require a lot more paperwork, turning a domestic trip into an international trip that would add another 3200 miles on our already 10,000-mile journey…
Thank god we didn't.
After what felt like an eternity, Cruise America agreed to rent us an RV and fully wrap it. The plan was to pick it up in LA, but due to the Burning Man festival that weekend, there wasn't a single RV available in California. The closest location was Las Vegas. This did require us to drive from Vegas to LA, then back to Vegas before heading to Phoenix, but at that point, what was an extra couple hundred miles?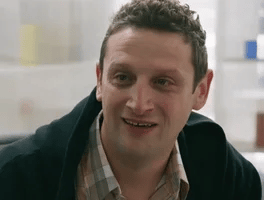 An overview of the plan


In case you're wondering exactly what our plan looked like, here it is. My chicken scratch handwriting transcribed, just for your benefit.
Pick up the RV in Las Vegas and drop it off in New York 75 days later
Coordinate stops across 21 states
Visit as many payroll partners along the way as possible and throw them appreciation events with food trucks, games and presentations
Visit businesses that offer ZayZoon and speak with their employees about their experience with the service
Handle logistics and manage bookings and itineraries for 40+ people across two countries, three provinces and 21 states
Yeah, no biggie.
LA, sunny California, the first leg of the trip☀️🌊
Tate and I had been in Los Angeles for a couple days getting situated before team members flew in from Canada to join the band.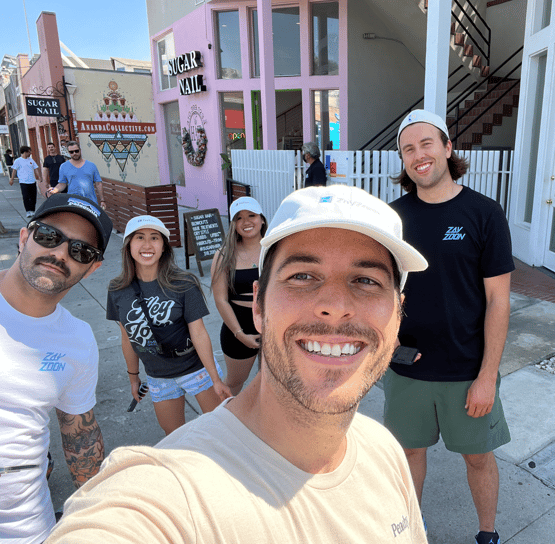 Jordan, software developer | Susanna, customer marketing | Victoria, customer care
On top of that, we had a couple team members join us from California.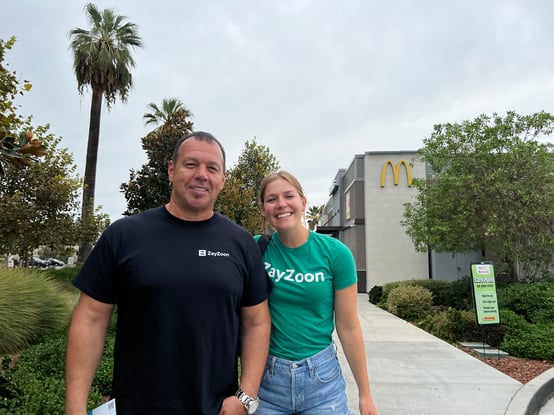 Gary, AKA Big G, channel sales | Emmi, product marketing
Our first event was actually at the first payroll partner ZayZoon signed, SDP (Southland Data Processing).
The event was great. We had multiple training sessions for the SDP sales reps. Brought in a food truck and had a bunch of games set up. SDP had their clients come out and enjoy the food and we got to show our appreciation for them and the amazing partnership we've been able to build together.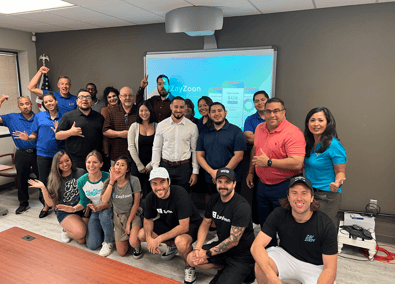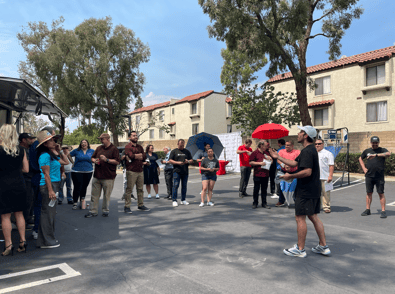 The turnout was amazing, food was great, SDP had a ton of their clients come out, played basketball (Renita, the president of SDP was undefeated 🙄).
Side note: Shoutout to Renita for flexing our Custom ZayZoon Nike shoes at the TPG, Orlando conference in May.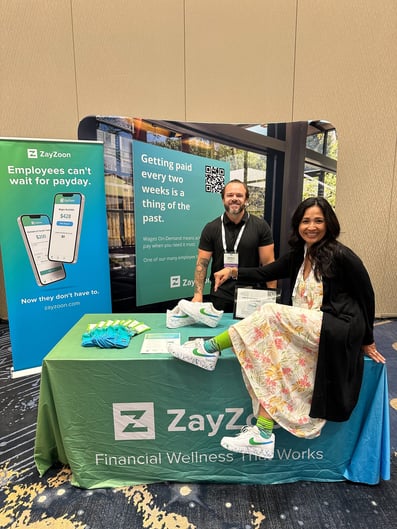 McDonalds, Riverside, CA 🍔
We got the opportunity to sit down and learn about our customers, from their experiences with our app, to their financial challenges and goals. Ultimately, these insights have provided us with greater contextual awareness and enabled us to continue building products that directly address customer pain points.
The reason why this experience was so impactful is because a developer who has helped build the app was able to sit and watch a customer complete the sign-up journey for the first time. A marketer, who might have never actually seen the app, was able to dig deep into the app experience for the first time. Being able to have this first hand experience really opened things up for us. We were able to get a different view of our product and customers, which would ultimately help us create a better experience.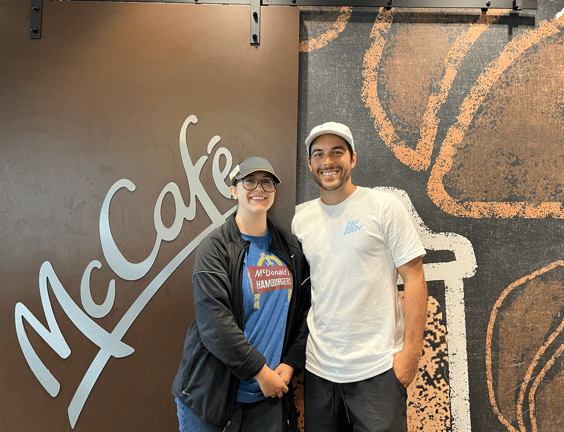 Tate learning from a McDonald's employee
As well, to show our appreciation for McDonald's, ZayZoon gave out free large french fries 🍟 to every customer who placed an order in the restaurant or drive-thru. We must have given out over 200 large fries that day. The whole event was a super cool experience and it really gave us a vision for what the rest of the trip could be like.
So, this is where we started an important tradition that we'd stick to for the rest of our trip. After each partner or business visit, we would ask each other:
"What was a key learning, curiosity or surprise that you had from this visit?"
This became such a big part of the trip. Here we were, a diverse group of team members who didn't usually collaborate together with an opportunity to share ideas with each other.
This was an aha! moment for us, the realization that it was important to get as many team members as we could to join us at some point in the trip for a few days and experience talking to partners, visiting businesses and sitting down with our customers to see the app in real life.
This is how we went from originally planning to bring eight team members to a total of 41.
Throughout the next week, we traveled through Palm Springs, CA stopping by the NAPEO conference and visiting ZayZoon team members that attended the event 👋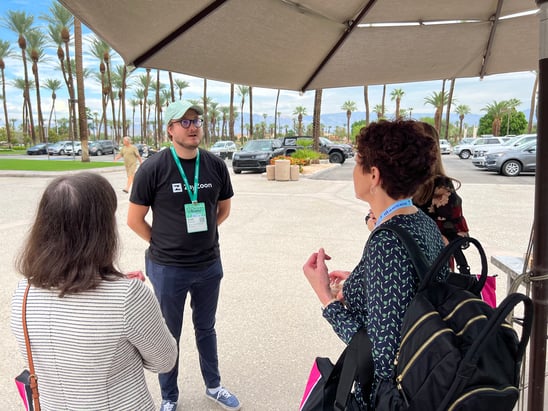 Sean "John" mixing it up with NAPEO attendees during the mixer
After Palm Springs, we shipped out to Vegas to attend The HR Tech Conference, where we visited with more employers that offer ZayZoon and threw a community event at our payroll partner Advanstaff 💥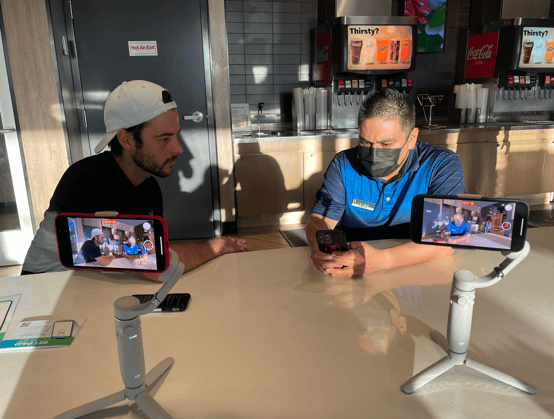 Tate and a customer doing an app walkthrough
PHOENIX, AZ🌵
Looking back on it all, from a personal but also business and learning standpoint, this had to be the best week of the trip.
An amazing crew of guys from the team flew out for this leg of the trip, who I hadn't ever met IRL before. We rented an Airbnb that week for us to all be under the same roof and get some bonding time in.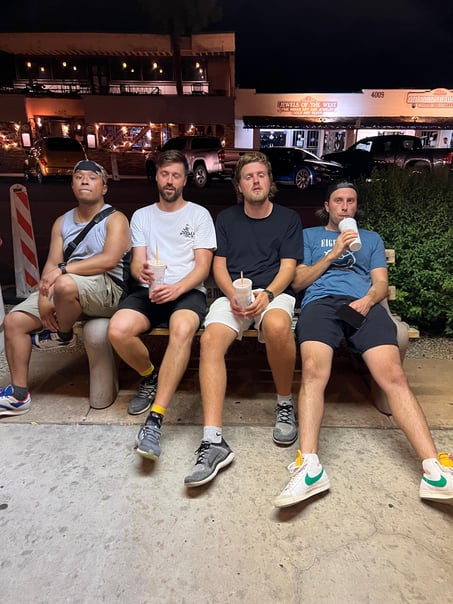 The gang after a long game of 3 V 3 basketball 🏀
Everything went better than we could have imagined. The whole week was jam-packed with employer visits. Some were planned with worksite managers and others were spontaneous drop ins. Regardless, everyone at the businesses we visited were super welcoming and happy to talk to us. During the evenings we would do drop by restaurants, sit down for dinner and eventually start talking to the staff, asking if they had ever heard of ZayZoon, which would lead to some great conversations. This energy continued throughout the week.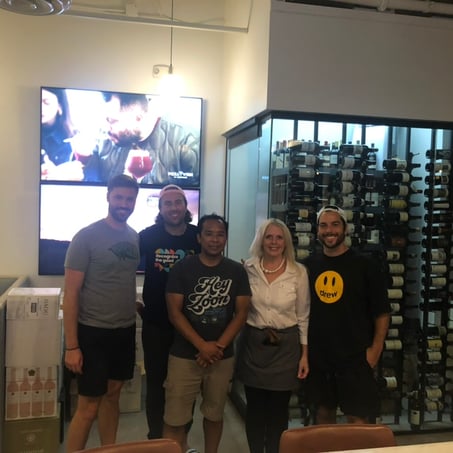 The team and Janet, one of the waitresses we met at the Mick Restaurant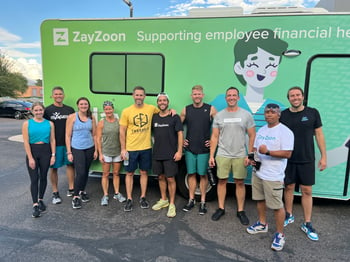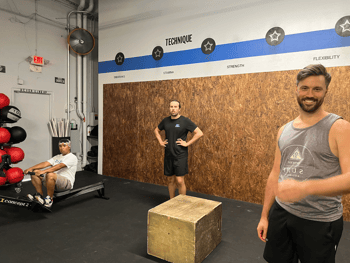 The team stopped by Shane's cross fit gym for mid-week whooping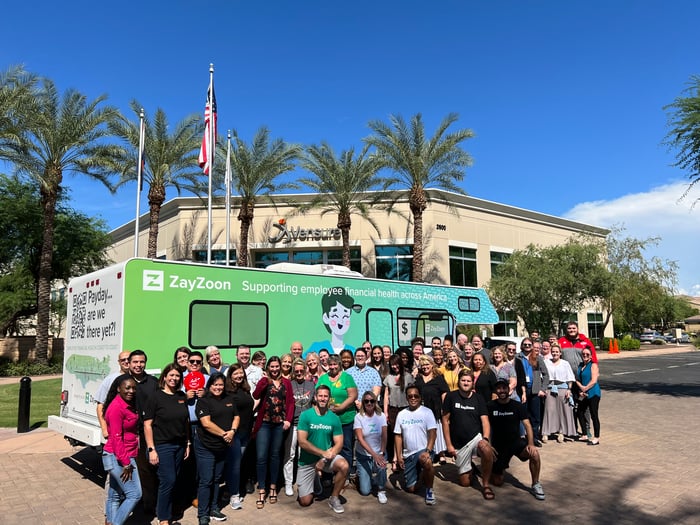 On top of all that, we had a massive event at Vensure, our PEO Partner
Then, it was back on the road...
My 5 trip takeaways
1. Experience your product firsthand
People talk about "user testing". No doubt, it's important. But there's no replacement for actually sitting next to your customer as they navigate through your app. Watching a customer sign up right beside you and understanding their thought process throughout the experience is a game-changer. It's fascinating how what may seem like straightforward steps or questions can actually reveal nuances and shades of grey when viewed from the customer's perspective.
2. Focus on the fundamentals
Focusing on one product and making it frictionless for your customers was a learning that really stuck with me throughout the entire trip. If you have a product that people not only want, but need, focus on giving them the best experience and commit to that. Don't get distracted by other ideas or products until you've perfected your flagship product and fully streamlined the customer experience.
3. Be direct
Simplify your messaging and make it relatable to your target market. There should be no reason why your customer doesn't understand the service you're offering.
And here's a little anecdote...
The HR TECH conference Las Vegas was my first tech conference... ever. In between scavenging as much free swag as humanly possible, I was reading banners, tag lines and talking to reps to learn more about their offerings. I could barely understand what they were selling. I know I'm not necessarily their target audience, but I didn't understand why their messaging had to be so confusing.
When you're driving a 30-foot branded RV, people look twice. So, we started asking if they could guess what service we offer. The majority would guess something to do with health care, stocks or some sort of banking service like a cash app. A lot of the guesses were heading in the right direction but never hit the nail on the head.
It makes you wonder: what could we have written on that RV that would have explained clearly, to anyone, exactly what we do?
4. The importance of perspective and team involvement
Allowing your team members to have a voice and share their perspectives is critical. Having team members from different departments sharing the same experience but having different ideas and learnings helps build a stronger viewpoint.
When sitting in the RV with the team after each visit and asking individuals what their key learnings, curiosities or surprises were, there was always the obvious learnings that we all noticed. But, throughout the trip, almost everyone would mention a very small detailed learning that others hadn't thought about before.
5. Don't assume that everyone knows who you are.
We would enter a business that offers ZayZoon and know that a couple of their employees had used the service in the past day or two. It was always a bit shocking to realize that some of the team hadn't heard about ZayZoon.
As an employee, I take it for granted that everybody knows who we are and what we do, but that isn't always the case. For us, there's a huge opportunity to inform, educate and build stronger relationships across our network.
Final thoughts
Staying curious about our customers and the challenges they face and continuing to advance our mission, which is to enhance the financial wellbeing of employees, are crucial to us. This mission drives everything we do and unifies our partners, employers, and team members as we embark on this journey together. The RV Tour was a truly great opportunity as a company to grow in the right direction.
From a personal and career standpoint for myself, it was a blessing being a part of such an amazing journey and being able to connect with so many of my team members, getting a deeper understanding of the business and clear vision of what our mission here at ZayZoon is.
I would gladly hop in that RV tomorrow and do it all over again 🚍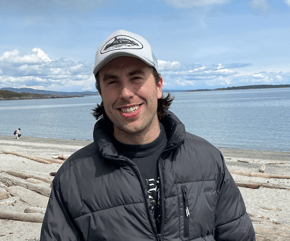 Tanner Hiltz
Tanner joined ZayZoon just in time for the now-famous "Payday Are We There Yet?! RV Tour," where he traveled across 21 U.S. states in 75 days, meeting up with partners, clients and customers, and evangelizing Earned Wage Access. He started out as an executive assistant, managing logistics for the entire trip, and has since taken on a new position as ZayZoon's communications specialist. Tanner isn't afraid to get his hands dirty and is a proficient scooter driver, as anyone will confirm.