PayDay Are We There Yet?!
The Third Leg: Texas
What up, Texas?!
Hold up, I'm getting ahead of myself. Before dropping in to say howdy to our good friends in the Lone Star State, we decided to make an impromptu stop in Albuquerque, New Mexico.
What's in Albuquerque, New Mexico? you might be asking.
Breaking Bad filming locations, obviously.
As diehard Breaking Bad fans, we had to check out Walter White's old stomping grounds.
And here's some of the proof….
The Wage Wagon parked in front of Walter White's first side hustle
Before I get into the Texas leg of our journey, I want to share something I learned in New Mexico. Turns out the state has 42 payday loan businesses for every 100,000 people. That's the most of any other state in the U.S.
And why does this matter?
Because payday loans are predatory, with an annual percentage rate of up to 400%, and can be even more with certain fees. Sometimes costing a customer $60 in fees for a $200 loan 😱
That's why I started ZayZoon. Our goal is to put payday lenders out of business by teaming up with SMBs to give employees access to their earned wages.
No hidden fees or steep rates, just your money when you need it.
With all that said, on to Texas!
October 3rd | Trippin' to Lubbock
After about three and a half hours on the road, we arrived in Lubbock. It was half past midnight. Thanks to Google Maps, we must have taken the back route, because we only saw two cars on the road.
En route to Lubbock
Since we got into Lubbock so late, we decided to park the RV at a truck stop and pass out for the night.
October 4th | Lubbock's Landmarks
Today we had a jam-packed agenda. Besides an eight-hour drive to Dallas, we wanted to connect with four of our employer partners: BurgerFi, Dunkin' Donuts, Tide Cleaners, and Beef Jerky Experience.
ZayZoon meets Lubbock's burger Mecca
Wage Wagon selfie in front of Dunkin' Donuts
Jakeb, manager of Tide Cleaners, posing for the cam
Me and a member of the Beef Jerky Experience crew
"Our customers know ZayZoon's always got their back. Even if something goes wrong, they implicitly trust that we're going to do right by them. We've built that trust over years by carefully building relationships with our partners, employers and customers. In Texas, I got to see and feel that trust firsthand."
- Dan Sabourin, Software Developer, Team Lead | ZayZoon
While making the rounds, we got the opportunity to help a handful of employees sign up for the ZayZoon app. We rolled into Dallas at 8:30pm, picked up Sam Wong from the airport, our product and growth analyst, and high-tailed it to In-N-Out Burger for some much-needed grub.
Waiting for our burger banquet
October 5th | Taking in Texas BBQ in Dallas
We swung by Tasty Restaurant Group, one of our customers, to host a ZayZoon signup event and free lunch from a Nacho Loco food truck. In between bites, we had some friendly games of cornhole and talked shop.
The team grabbing tacos
A group pic in front of the Wage Wagon
"We met with Tasty Restaurant Group, specifically the stakeholders responsible for rolling out ZayZoon companywide, and it was enlightening to hear what they had to say about our solution. To them, ZayZoon is an added benefit that elevates their employee experience. They use it as an acquisition tool to bring in talent and to drive retention internally."
- Alexandra Youkhana, Account Manager | ZayZoon
To round out a day of good food and good company, we checked out local hotspot the Pecan Lodge for some mean Texas BBQ. It did not disappoint.
Look at that those spare ribs 🤤
October 6th | ADP Dallas
We kicked off the day by syncing up with ADP, one of our partners, to conduct a training session with their reps. Me and Lexi led the session. As always, we capped it off with a free bite to eat from a food truck.
From left to right: me, Sara, Lexi, Sam, and Tanner "Fist of Fury" Hiltz
Dropping by to say hey to one of our customers
All in all, a pretty outstanding day—with one exception. A garbage truck ran into the Wage Wagon. Yes, I know. Tragic. Thankfully, nobody was hurt and the Wage Wagon is as good as new.
EOD state fair shenanigans
October 10th | Making the rounds in Houston part 1
We made a quick trip to Austin to drop Sara and Sam off at the airport before beelining it to Houston.
For our first day, we played a game of pickup, got swol in an absolutely beautiful gym in the Woodlands, then hopped over to Blue Door Coffee for a cup of java. This quickly became our go-to spot during our time in Houston.
On the tenth, it was back to business.
We began the day early with another training session with our good friends from ADP Houston. After that, it was a quick trip to the airport to pick up ZayZooners Shy, Daniel, and Dayton and an afternoon chock full of employer partner visits, including: Clutch, Carpet Giant, Tide Cleaners, and Pet Supplies Surplus.
The ZayZoon and Pet Supplies Surplus crews
October 11th | Making the rounds in Houston part 2
Freshly rested after a good night's sleep, the crew headed to First Watch for breakfast. They partner with us to provide their employees with Earned Wage Access. Beyond grabbing a delicious meal, we wanted to catch up with employees to hear more about their experience with ZayZoon and beyond.
The Wage Wagon parked in front of First Watch
We were lucky enough to chat with Steven, who works at First Watch. He even signed up for ZayZoon on the spot with us! In the past, he used check cashing services and predatory products to access his pay early. No more!
Next, we hosted a training session with one of our partners, AllianceHCM, in The Woodlands. While the training sessions are always a blast, nothing beats free food and good face-to-face conversation with people who truly care about employee financial health.
Group shot in front of AllianceHCM signage
We had a busy day, but the team wasn't ready to pack it in for the night. They wanted to drop by one more employer partner before calling it quits. So, we did some digging. Turns out, one was just around the corner.
Starbucks.
Yes, the Starbucks—as in one of the biggest brands in the world.
The Wage Wagon and Starbucks: two old friends
We had wonderful conversations with Ashby and Ruby, the baristas. Ashby was already a ZayZoon customer, so we walked her through how to refer Ruby. We hooked them each up with some big promo dollars and ZayZoon swag.
"Talking face-to-face with our customers validated a lot of what we're doing here. People appreciate having a service like ZayZoon. We give them peace of mind. They know that if they're ever between paychecks and in a bind, we're there to help, from putting food on the table to covering an unexpected medical bill. And that's another thing I learned: people primarily use ZayZoon for the essentials."
- Shayan Rahnama, SVP Product | ZayZoon
Chilling with the Starbucks crew
Of course, after a long day, there is no better way to cap it off than drinks with new friends! The AllianceHCM team took us to Kirby Ice House, a bar in Houston that boasts the longest bar in Texas!
Grabbing sodas with the AllianceHCM team at Kirby Ice House
Phew! That was a long one.
Let me just say, everything you've heard about Texas hospitality is absolutely true. It was a pleasure getting to hang out with ZayZoon partners, employers and the employees that rely on us every day. Can't wait to visit again!
Now, it's back to the road. Next stop: Louisiana, Alabama, and Georgia!
Tanner getting his mane trimmed for Louisiana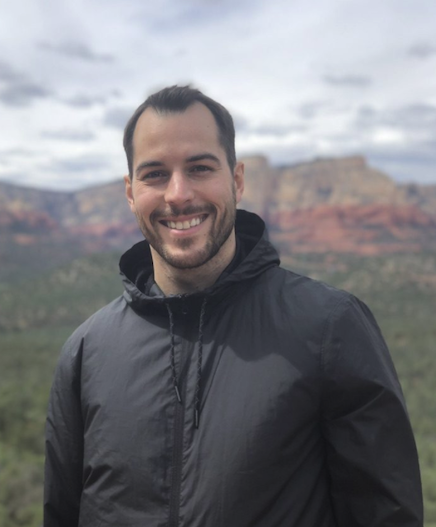 Tate Hackert
Tate is the brain behind ZayZoon, developing the idea of providing access to funds before payday, in 2013. He feels gratified knowing "we get to improve the financial health of people each and every day." One of his favourite ZayZoon experiences involves a business trip to Selinsgrove, Pennsylvania where he helped film a Holiday Inn Express testimonial video. Wearing a ZayZoon shirt at the local Walmart, someone saw Tate and exclaimed, "Hey, ZayZoon! I use that!"