Payday Are We There Yet?!
The Sixth Leg: Tennessee
Before rolling into Tennessee for the sixth leg of the Payday Are We There Yet?! tour, we dropped by Charlotte, North Carolina to pick up my girlfriend Valerie. I hadn't seen her since I started the tour over a month ago, so it was nice to link up and share our experience on the road with her.
While in Charlotte, we decided to take in the sites. We were walking around the downtown core when Tanner 'Fist of Fury' Hiltz stopped in the middle of the sidewalk. I tapped his shoulder and asked him what was up. He didn't respond. His eyes were fixed on something. I followed his gaze. Three scooters. I wanted to tell him no, but it was too late. He ran to one, clutched it by the handle and turned to me. I've never seen Tanner so determined before.
If you've been following us on the RV tour, then you know Tanner has a troubling history with scooters. That is to say, he can't drive a scooter to save his life. In fact, when we were in California, we witnessed first hand, Tanner's scooter skills, or lack thereof.
He is, in the most simplest terms, a liability. And he knows it.
California flashback: Tanner consigned to walking his scooter (for the public's good)
But there he was. Hand on scooter handle. Brazen as I've ever seen him. It was clear to me at that moment that Tanner wanted to scoot and there was nothing I could say to stop him. So, against my better judgment, I let him commandeer the scooter.
Yes, it's true, he wobbled. He weaved dangerously through a crowd of pedestrians, hair blowing in the wind, a wide smile on his face. But then he righted himself and cut a straight line. And he filled the streets with laughter. Such cherubic laughter.
So the three of us—me, Valerie and Tanner—spent the day scooting around Charlotte and I am pleased to say that Tanner is reformed. He can now be trusted to safely drive a scooter.
If you missed the highlights from our time in Georgia, be sure to check them out right here, first.
Otherwise, keep reading to learn more about our time in Tennessee.
October 23 | Johnson City, Tennessee
Our first stop in Tennessee was beautiful Johnson City.
I mean, just look at this place 👇
Johnson City, Tennessee: The birthplace of Mountain Dew
It doesn't get more picturesque than that, does it?
We got into town at 4:30pm and went straight to Walmart, where we interviewed people for our upcoming Money Talks series. The concept is simple: to talk to people across America and gain a deeper understanding of their relationship with money. Keep your eyes peeled for it in the new year.
After gathering all the footage we'd need, we decided to turn in for the night. The next day would be a big one, as we had an important event with Time & Pay.
October 24 | Johnson City, Tennessee
We kicked off the day fully energized and engaged after a good night's rest.
Our first order of business: our event with Time & Pay.
Turns out, they were celebrating their 30-year anniversary—a remarkable achievement for any business. We were extremely lucky to celebrate this milestone with them and brought in a food truck as a small way of saying thanks for being such a fantastic partner.
The Whiskey Kitchen… the best burger I have ever had (Sorry, In-N-Out 🤷)
A little context… Time & Pay have been a partner since 2018. It was nice to finally put faces to names and really connect with the team on a face-to-face basis.
Time & Pay and ZayZoon in front of the Wage Wagon
Once we said our goodbyes, we headed to Wendy's for a ZayZoon signup event. We also made sure that all customers visiting Wendy's got a free Frosty, courtesy of ZayZoon.
One conversation really stuck out to us on this stop. A Wendy's team member shared her experience with title loans and payday loans—two financial products with prohibitively high interest rates. Thankfully, she doesn't rely on these products anymore. Instead, she uses ZayZoon to access money she's already earned, when she needs it, without having to take on any debt. According to her, ZayZoon has been a lifesaver.
This feedback reaffirms so much of what we're trying to do at ZayZoon, and while there's always room for improvement it's nice to know we're having a positive impact on peoples' lives. And, ideally, doing our part to put predatory lenders out of business.
After Wendy's, we headed to Knoxville. We enjoyed scooting downtown, had some sushi, then turned in for the night at the Hampton Downton, a business that uses ZayZoon.
October 25 | Knoxville, Tennessee
Today was a day of short-and-sweet visits.
We caught up with:
Another Hampton Inn location
Which Wich (a sandwich shop)
Pride Truck Wash
Tanner got Which Wich on his mind
Then, we hightailed it to Nashville. We hit up Jack's BBQ, did a bridge walk and I even tried my best Neil Peart impression on a busker's drums. Later that night, we picked up Christian, our senior support engineer, from the airport and we crashed.
Me jammin'
October 26 | Nashville, Tennessee
We started the day off at (you guessed it) First Watch—another ZayZoon client. After a hearty breakfast, it was time to say goodbye to Valerie. That left me, Tanner and Christian remaining, and we had a date with Inova Payroll, one of our partners, for a big training event.
Inova in front of the Wage Wagon
We debriefed at Winner's Bar. They offer ZayZoon to employees and have locations across Nashville and Las Vegas. It just so happened that the owner of Winner's was sitting at the table next to us. We had a great conversation about ZayZoon's benefits and how he thinks we could make the service even better for his staff.
Since the night before was such a hit, we decided to relive it—this time, with Christian. So, we took in the sights and sounds downtown, ate at Jack's BBQ, and did another bridge walk.
October 27 | Nashville, Tennessee
We capped off our time in Tennessee with a special visit to one of our new partners, Adams Keegan, who are just about to launch ZayZoon. We had lunch with the Adams Keegan team and a cherished client who will be the first to go live with ZayZoon. Hint: they are a well respected, artisan pizza chain in Nashville, with ten locations.
On our way out of town, we stopped by a Charter Senior Living location just outside of Nashville to interview staff members and learn about their experience using ZayZoon.
Cece, a caregiver at Charter Senior Living
Then, it was off to Cape Girardeau, Missouri for the next leg of our trip. Fun fact: because of how the drive is, we traveled through Tennessee, Kentucky, Illinois and Missouri. All in the span of one afternoon!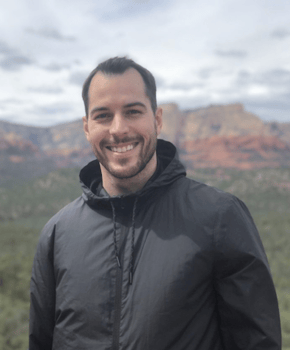 Tate Hackert
Tate is the brain behind ZayZoon, developing the idea of providing access to funds before payday, in 2013. He feels gratified knowing "we get to improve the financial health of people each and every day." One of his favourite ZayZoon experiences involves a business trip to Selinsgrove, Pennsylvania where he helped film a Holiday Inn Express testimonial video. Wearing a ZayZoon shirt at the local Walmart, someone saw Tate and exclaimed, "Hey, ZayZoon! I use that!"