Payday Are We There Yet?!
The Ninth Leg: The Midwest, Part Two
This week, we continued our trek across the midwest with a five-day visit to the Buckeye State. If you missed the first part of our midwestern leg, check it out here. You don't want to miss it.
There's lots to love about Ohio: Cleveland, Columbus, Cincinnati and…
Yes, corn. Lots of corn.
Plus, all those businesses that use ZayZoon to hook employees up with their earned wages. Read on to find out how we made the most out of Ohio and what we learned from the partners, businesses and employees in our ecosystem.
November 6 | Columbus, Ohio
If you remember from last week, we synced up with Emmi, a senior product marketing manager at ZayZoon. As luck would have it, she's from Ohio. We were able to spend the night at her family's. Then, on the sixth, Emmi's dad gave us a primer in apiculture, AKA beekeeping.
Look, I'd be lying if I told you that being in close proximity to a hive swarming with bees didn't have me shook. Who wouldn't be? Thankfully, I was in good hands and managed not to get stung. I was also able to enjoy some fresh honey.
We departed from Emmi's parent's and made a beeline (see what I did there?) to Columbus, where we met up with some fresh RV tour recruits at the AirBnB we had booked, specifically:
Ralph, a software developer
Adlai, another software developer
Mihnea (AKA M), a senior revenue ops manager
Ralph signing away his life to the burrito challenge, pictured left to right: Ralph, Adlai, Emmi, me, M
Sadly, the AirBnB was not in good shape. It smelled like cigarette smoke. Crayon was scrawled all over the walls. It was dirty. In short, like something out of a horror movie. We called up Tanner, who was on vacation with his partner, and he promptly canceled the booking and got us a refund. Instead, we ended up crashing at a hotel for the night, but not before Ralph attempted a burrito challenge.
The spice got to Ralph
Based on the photo above, I think you can guess who won the challenge (yes, the spice did).
November 7 | Columbus, Ohio
We kicked off the day with breakfast at North Star Diner. Although they aren't one of our clients, Emmi used to work there while in university and wanted to take a walk down memory lane.
After a bite, we hit up Staybridge Suites for a random visit. Employees immediately recognized us in our ZayZoon swag. We ended up having great conversations with two employees and even helped one sign up for the app.
Chatting with the Staybridge team
Next on the agenda, we headed to The Ohio State University (go Buckeyes!), where me and Emmi were slated to talk to Dr. Taner Pirim's class. He'd hand-selected students from a long list based on their interest in fintech. It was a joy getting to share ZayZoon's story with them.
ZayZoon 101
To close out a really rewarding day, we decided to explore the sights and sounds of Columbus, including dinner at Carfagnas, a famous local Italian market (and ZayZoon client). Sophie, one of our interns, also dropped by for a surprise celebrity visit.
We also picked up Kristen, our COO, Shubh, our SVP of Growth and last, but certainly not least, Tanner.
November 8 | Columbus, Ohio
The day began with a visit to Ohio Mulch, one of our clients.
Then, the team split up.
Some joined me and Emmi for another chat at Ohio State, this time with Professor Pennyman's class, part of the university's Business Scholars Program.
Class is in session
Others hit up a Human Resources Association of Central Ohio (HRACO) event, where we'd set up a booth with Strategic payroll, one of our partners.
Holding down the fort at HRACO
The team converged at the end of the conference, just in time to hand out cookies as attendees were leaving. We had scheduled a random visit at the Ohio Furniture Bank, a huge volunteer organization and one of our clients. It ended up being amazing. Their CEO, Phil Washburn, greeted us and gave us a full tour.
Team ZayZoon and Phil Washburn, CEO of the Furniture Bank
The mission of the Furniture Bank of Central Ohio is to reduce the impact of poverty by providing furniture to central Ohio families and individuals struggling with severe life challenges. To date, they've helped over 70,000 families 🤯
It didn't stop there though. Not only do they capture furniture from around the state and give to those in need, they also produce their own furniture—more than 50,000 pieces, in fact. 🪑🛏
November 9 | Dayton, Ohio
Our first order of business was a visit to Gray America, a client with about 170 employees. They're famous for manufacturing steel rods, bolts and other steel products. We did a presentation, walking the team through how ZayZoon works, then arranged a Chick-fil-A lunch for everyone.
Chatting with customers at Gray
It was nice seeing the whole team sitting and chatting with customers. As I've said before, the Payday Are We There Yet?! tour has always been about connecting with the people who offer and use our tools. Too often, businesses forget about who they're serving. The tour has been a welcome reminder. It's also been inspiring.
By the end of the day, it was just me, Shubh and Tanner left.
Next stop: Pittsburgh.
So long, Ohio. It's been a slice.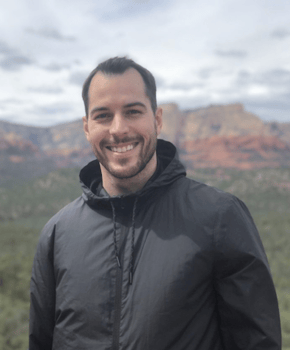 Tate Hackert
Tate is the brain behind ZayZoon, developing the idea of providing access to funds before payday, in 2013. He feels gratified knowing "we get to improve the financial health of people each and every day." One of his favourite ZayZoon experiences involves a business trip to Selinsgrove, Pennsylvania where he helped film a Holiday Inn Express testimonial video. Wearing a ZayZoon shirt at the local Walmart, someone saw Tate and exclaimed, "Hey, ZayZoon! I use that!"