Payday Are We There Yet?!
The Eighth Leg: The Midwest, Part One
Our midwestern leg of the Payday Are We There Yet?! tour kicked off in the "Show-Me" state, otherwise known as Missouri.
Missouri is famous for many things: Jon Hamm, toasted ravioli, tornadoes, and now, multiple sightings of the infamous Wage Wagon, from Kansas City all the way to St. Louis.
Posing with the CPU crew in front of the Wage Wagon in Cape Girardeau, MO
After leaving Tennessee, and concluding the southern leg of our tour, we'd built up quite an appetite. Tanner was actually getting a little hangry, so we pulled off the road at a place called Lambert's Cafe, just outside of Cape Girardeau. The place bills itself the only home of throwed rolls.
You're probably asking yourself: What exactly does "throwed rolls" mean?
Good question.
Instead of handing out buns like you'd expect, they throw them at you. Like footballs. Lambert's was our first restaurant in Missouri and I was already a big fan of the state's service and hospitality. Tanner too. As soon as he stepped foot inside the restaurant, and saw bread rolls soaring, he was in. Like a young Randy Moss, he plucked them out of the air—intercepting mine and Christian's. It was a sight to behold. You should have been there.
But since you weren't, we'll fill you in on all the things you missed, from catching up with our amazing partners and clients, to helping our customers gain access to their earned wages.
As we travel to more locations across the country, it becomes clearer than ever that most businesses share our vision: that is, a world where employers can support their people with tools that verifiably improve their financial health.
October 28 | Cape Girardeau, Missouri
Today was a biggie.
We got the opportunity to hang out with our friends from CPU, who handle everything from payroll to IT services. And when I say hang out, what I really mean is that we hosted an appreciation and community event at their office. We catered Mexican food for roughly forty guests, including CPU employees, community members and current ZayZoon clients.
Enjoying banter and delicious food with CPU
Frank and Mike (the CEO and VP of payroll, respectively) and ZayZoon go way back. We've gotten to know them through the payroll industry and seeing them at conferences. It was nice to catch up with them on home turf and talk about our ongoing and shared commitment to their clients.
After the event, we headed to the Codefi building downtown to get caught up on work before my fireside chat scheduled there later that afternoon. For context, Codefi is a coworking space, incubator and community supporter. The work they do is essential. You should check them out. I got to sync up with the Codefi team. As always, it was humbling and energizing getting to engage with this impressive group of entrepreneurs.
Getting our game faces on for an engrossing fireside
Whitney, an entrepreneur in attendance at the fireside chat, took me, Christian, and Tanner to the upstairs patio, where we enjoyed a nice spread of appetizers. Later, Whitney's fiance joined us. We ended up going out for dinner and scoring dessert at Andy's, before sightseeing and enjoying a few bevies by the river.
October 29 | St. Louis, Missouri
We decided we wanted to test our chile-eating mettle at one of Missouri's top cook-offs with our friends from CPU. Stalls were lined up and down the streets of Cape Girardeau, the heady aroma of chili filling the air.
Chili name puns abound
We sampled many local delights, including Moosebumps, Edward Sausage Hands, and Here's Spicy! Tanner, of course, opted for Here's Spicy! after boasting to locals that he was Canada's original "Spicy Boy". When they warned him about the Carolina reapers, he scoffed at them like it was nothing.
But the chili broke him. The chili broke Tanner. And I have the receipts to prove it 👇
Mr. "I-can-handle-the-heat"
When our bellies were nice and full, we carted Christian to the St. Louis airport before hitting up a coffee shop to get some work done. Then, it was a late drive to Columbia.
October 30 | Columbia, Missouri
At daybreak, we went to the gym to burn off some of those chili calories from the day before. Then, we rolled up to First Watch. If you don't already know, First Watch is a breakfast favorite for us—and one of our clients. During the tour it's been a blast getting acquainted with their menu and friendly wait staff. The rest of the day, we retired to a coffee shop to get some work done before hightailing it to Kansas City, where we picked up Marty, our channel sales rep, at the airport. Angela, Missourian and sales executive, joined us too from St. Louis.
October 31 | Topeka, Kansas
We spent our first day in Kansas with the Mize CPA team on one of our favorite days of the year… Halloween! And yes, we came prepared, donning ZayZoon capes upon arrival which got some laughs. While there, we hosted an appreciation event, calling in a food truck and enjoying some time with everyone.
Trick or treat?
Once we'd said our goodbyes, we dropped by a McDonalds that also happened to be a Mize client. It was nice to catch up with staff there who use the ZayZoon app and help onboard those who don't. We also enjoyed some icy cold fountain pops before hitting the road again.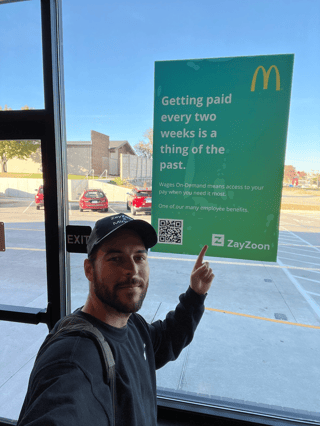 "Getting paid every two weeks is a thing of the past." Damn right, it is.
November 2 | Topeka, Kansas
Our day began with an appreciation event at The Payroll Company, AKA TPC, one of our partners. They had a client visiting—a call center. As it turns out, they weren't using ZayZoon yet, so we decided to pitch them… and we won them over! Next, we got Marty and Tanner to the airport. Marty headed home while Tanner hopped to Columbus early to set up for our arrival there.
TPC and ZZ showing off those pearly whites
Me and Angela hit the road for a two-and-a-half-hour drive to Springfield, Missouri. The following day would be a big one, as we planned on hosting two employer events.
November 3 | Springfield, Missouri
Fun fact: Springfield is the second most common U.S. place name after Washington.
Thursday began with a visit to Red Monkey Foods, the guys responsible for your favorite organic spices and seasonings. They have the distinction of being our first clients to switch payroll providers and keep us activated. Getting to walk the manufacturing floor and see the production line was absolutely fascinating. Unfortunately, pictures weren't allowed, so you'll have to take my word for it.
Red Monkey Foods: Spice, Spice Baby
Next stop was the Nova Centre of the Ozarks, a not-for-profit organization committed to supporting individuals with developmental disabilities. After catching up with the team there, I had a long solo drive ahead of me. Nine hours, to be exact. So, I decided to flick on the RV There Yet, ZayZoon curated playlist, then devoured a Stephen King audiobook.
The Wage Wage and Nova Center
November 4 | Louisville, Kentucky
I woke up just outside Louisville and made my way to a coffee shop to get some work done. The locals kindly reminded me that, despite my best efforts, I was saying "Louisville" incorrectly. If you're ever in Kentucky's capital, it's pronounced "Lou-a-ville" or "Lou-a-vul", just in case you don't want to stick out like a sore thumb.
After a day of work, I decided to rent a scooter and take in the sights. I even did my best Jack Harlow impression with a scoot through Cherokee park. I capped off the day with some delicious Thai food, then it was off to Cincinnati.
November 5 | Cincinnati, Ohio
I was very excited to make it to Ohio. As luck would have it, Emmi, our senior product marketing manager, is a local. She and her family gave me the most warm midwestern welcome, with a hearty meal at Skyline Chili, a Cincinnati staple. It was wonderful. Then, we linked up with a couple of Emmi's friends and hit up a local microbrewery.
All in all, this first leg of our journey in the midwest has been a big success. Looking forward to our next stop in Columbus. Stay tuned. We've got big things planned.
The Wage Wagon spotted somewhere in Ohio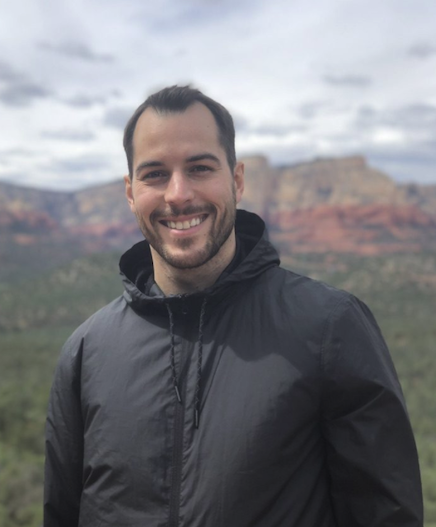 Tate Hackert
Tate is the brain behind ZayZoon, developing the idea of providing access to funds before payday, in 2013. He feels gratified knowing "we get to improve the financial health of people each and every day." One of his favourite ZayZoon experiences involves a business trip to Selinsgrove, Pennsylvania where he helped film a Holiday Inn Express testimonial video. Wearing a ZayZoon shirt at the local Walmart, someone saw Tate and exclaimed, "Hey, ZayZoon! I use that!"