Voluntary employee benefits don't get enough love.
According to a recent study, 51% of employees don't take advantage of voluntary benefits offered by their employers, including everything from paid disability to tuition assistance.
Yes, I know, disappointing. And not just because you spend plenty of time researching these benefits and making them widely available—but also because they have the potential to greatly improve your employees' wellbeing.
So, what gives? Why is utilization so low?
Communication. The same study cited above finds that 31% of employees don't understand the benefits on offer during open enrollment.
Which is exactly why we built Employer Connect.
You already know Earned Wage Access is an invaluable resource. Now, you can make sure your employees know too, and boost program adoption with the click of a button.
What is Employer Connect?
To put it simply, Employer Connect is a one-stop shop for managing your Earned Wage Access program across your worksite.
With Connect, you can:
Unlock new insights
View adoption and utilization metrics across your worksite (i.e. advance and disbursal statistics), which unlock insights into workplace financial stress.
Drive awareness
Access and order branded print materials (lunchroom posters and one-pagers), as well as other onboarding and marketing materials to increase awareness for your program.
Increase program adoption
Invite employees to ZayZoon from Connect to make sure your workforce is making the most of your Earned Wage Access program.
Launch a successful Earned Wage Access program—with Connect
In most cases, employees don't use the voluntary benefits you offer because either they don't understand them or they don't even know they exist.
Connect fixes that.
By arming you with a full complement of promotional materials and the power to add/remove employees to your program, you can finally close the knowledge gap and ensure your workforce is being properly supported.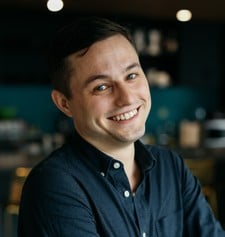 Tyler Munro
Tyler Munro is the director of brand and content at ZayZoon. He has previously led content marketing teams at OneTrust, Flybits and integrate.ai. In his spare time, Tyler writes literary fiction. His work has appeared in Yemassee Review and decomP, among others. He's also been nominated for the Pushcart Prize.