Last week the PrismHR LIVE conference brought the heat to an already scorching Austin summer. I was excited to attend the largest technology conference for HR service providers joined by over 400 professionals in the industry.
As PrismHR Partner of the Year, we not only exhibited but made a splash as sponsors of the evening entertainment at Banger's Sausage House and Beer Garden where we went big. After all, everything's bigger in Texas, right?!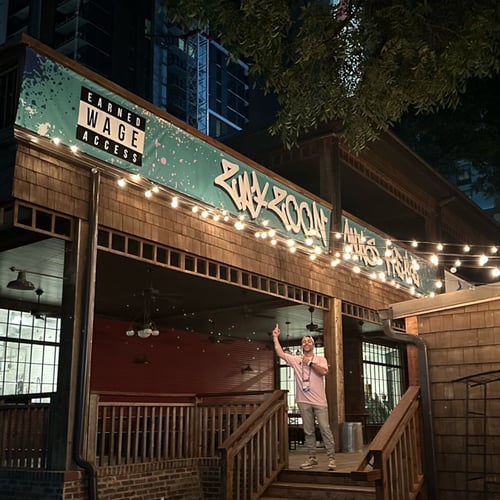 While this article is intended as a post-event recap, I also want to share key findings I discovered as a newbie in the PEO space. Having previously worked in the financial software and risk and compliance industries, I thought I would share tips I discovered and factors to consider for those seeking to understand the advantages of partnering with a PEO or HR industry leader like PrismHR.
Here are my five findings from the PrismHR LIVE conference:
The power of a PEO for your business
First, let's cover some basics. This conference is put on annually by PrismHR which is an HR software company specifically built for PEOs and ASOs. So what's a PEO or ASO exactly, you ask?
Good question.
A PEO or professional employer organization provides outsourced human resource services that help employers reduce their risk. An ASO or administrative services organization provides outsourced administrative functions like employee benefits, payroll, and safety programs. What's the main difference between a PEO and ASO? A PEO establishes and maintains a co-employer relationship with employees whereas an ASO does not.
Both are immensely beneficial to your business. Small to mid-sized businesses lean on a PEO or ASO to manage the risks and responsibilities associated with their employee programs and HR. This can include managing your benefit programs, payroll processes, HR, and compliance. Clients gain a number of benefits including freeing up valuable resources from no longer being responsible for maintaining the complex and always-evolving issues of compliance. PEO's can also greatly help with attracting and retaining talent by improving hiring practices and empowering clients with comprehensive benefits at an affordable cost. Enter PrismHR. The PrismHR platform allows you to manage payroll, benefits, compliance, and HR for your clients in a single unified solution.
Content is still king (or queen)
It can be hard for a conference to deliver an agenda that speaks to the different skill levels and roles of the attendees but the theme of PrismHR was "Raising the Bar", which is exactly what they did! Since HR and payroll can be vastly different depending on the organization, LIVE did a fantastic job of curating content for their sessions that delivered insight on new trends in the market, product updates, hands-on workshops, and educational thought leaders.
A section of the conference was devoted to experiencing first-hand the new features being implemented and allowing attendees to vote on the product updates they value. As a software platform that has many facets and layers to the types of services offered, this was a great way to get direct feedback and provide hands-on support. PrismHR continues to be an industry leader with the innovation of their product and the value they deliver to clients. So it should have been no surprise that they invested the resources to showcase what's coming this year and that transparency builds trust.
A few of the product enhancements or features showcased were:
PrismHR talent management
All new united employee experience (UEX)
Tracking client service KPIs with a case activity report
Enable data-driven decisions with report center
And more!
Whether you were an HR expert in your field or just starting your career, the conference tracks at PrismHR LIVE had something for everyone. They know their audience and continually ask their attendees what they want to see in future conferences and sessions. The level of dedication to ongoing support and education with webinars, best practice articles, and blogs, keeps PrismHR clients engaged throughout the year until the next conference rolls around.
Rules for Life - A Story About Being Human was a session that attendees found moving and impactful. Not counting product-focused sessions, this was arguably the session that captured attendees most.
"PrismHR LIVE is a gathering about Human Resources, so let's talk about Humans and step away from technology, payroll and benefits for a moment. This session is different from everything else here, as it's a story about life and how to be more compassionate and connected with our family, friends and colleagues. Jonathan Wall's son battled and lost his life to cancer in 2021. He'll share insight into what his family learned during their difficult journey and present his updated and expanded Rules For Life. We'll see how a tragedy can turn grief into action, and help inspire positive change in ourselves and those around us."
Don't just network, build relationships
Don't get me wrong. Networking is perfectly fine and an expectation when attending conferences…or just in your career in general. But what I noticed at PrismHR LIVE, and in working with PrismHR and their partner network overall, is that they want to foster deeper relationships.
The companies that support HR and payroll have built a community. The marketplace partners of PrismHR all share common company beliefs and traits in wanting to provide the best support and service possible to our clients and their employees. We all seek that same goal—how can we take what we all do and collectively do it better?
Listen and adapt
Businesses need to remain competitive, especially when they're delivering employee benefits as part of their client support. Listening to industry trends and what clients need is only half the battle. You need to deliver resources or solutions for the problems your client businesses or their employees are facing.
When I walked the conference floor, it was exciting to see that PrismHR and their partners, all listen to the needs of their clients and have the foresight to help prepare them for what's next. There are many newer employer perks that aren't the primary health and dental benefits people are used to, including pet insurance, Earned Wage Access, and mental health support providers. With the generational shift in the workforce, increasing costs of living, and the importance of taking care of your employee's wellbeing, it's amazing to see how industry-leading institutions are bringing these solutions to the forefront.
As an Earned Wage Access and financial education platform, ZayZoon is driving awareness for Earned Wage Access and ensuring workplaces everywhere can benefit from it. Having a partner like PrismHR understand the importance and help drive that message to businesses is invaluable. Businesses that don't have their ear to the ground or gain feedback from employees or clients, will be left behind in the war for talent.
"ZayZoon has been a fantastic partner in the PrismHR Marketplace. And at LIVE this year, they showed up! ZayZoon's exhibit space was continuously buzzing with conversations with PrismHR customers. Their team hosted a spectacular event on Monday night for LIVE attendees as well," said Tim Pratte, PrismHR's president of the HRO Business Unit. "ZayZoon's Earned Wage Access solution provides a tremendous amount of value for our customers, their clients and worksite employees. We are thrilled with our partnership and what's to come with ZayZoon in the future."
Don't be afraid to get creative
Driving traffic to your exhibitor booth during a jam-packed conference can be difficult. People are often rushing to their next session or squeezing in a business call, so trying to have meaningful conversations with so much going on can be a challenge. We tried to think outside the box this year and had a digital caricature artist doing live drawings that visitors could take home. This created a memorable experience. And, unlike swag, it didn't come at the expense of the environment.
How many water bottles or pens does one person need, amirite?!
Our booth experience inspired tons of conversations and kept us top of mind at Prism HR LIVE.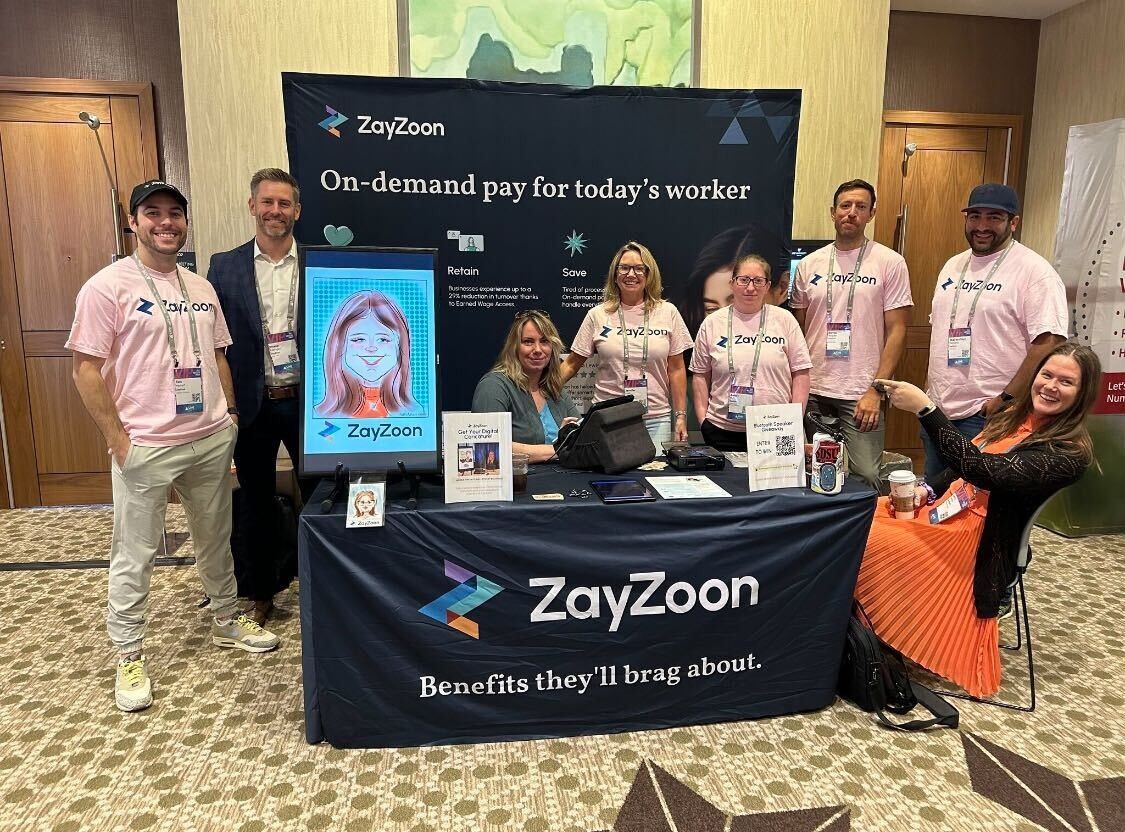 While the conference was definitely full of great food, great content, and great people; to me, the best part (selfishly) was our ZayZoon Speakeasy in the basement of the party at Banger's. Since we were in the live music capital of Austin, TX, we decided to hand out guitar picks at our exhibitor booth to act as a key to get into our secret Speakeasy. Those who were hip to the secret and got in were treated to a jazz trio and cocktails to help wind down after a long conference day. And did I forget to mention cool air?!? When you're in the hot Austin weather, that was the winning ticket right there.
Conferences are a lot of work and make for very long days—but the fun times and smiling partners always make them worthwhile.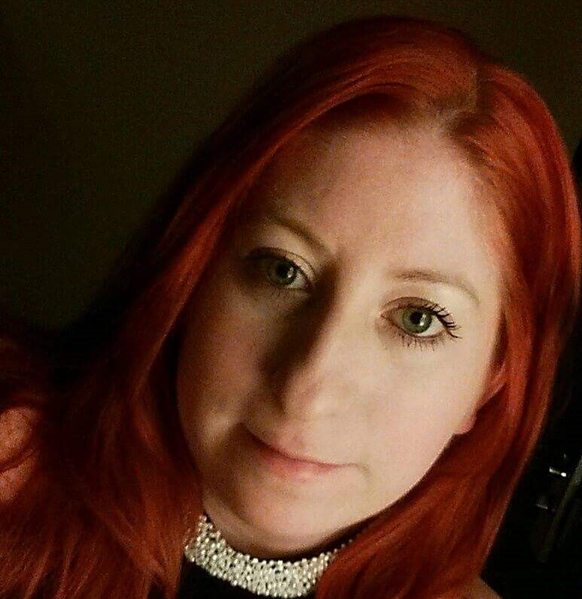 Ashley Pratt
Ashley Pratt heads up ZayZoon's growth marketing team. She has over 10 years of experience in demand generation and partner marketing, with roles at OneTrust and Prophix. She built Prophix's first referral program and launched its first vertical-specific demand generation programs. She's a big lover of animals and has a cat and dog (Bash and Archer, respectively).