Partnerships play an extremely important role in assisting ZayZoon with the task of helping people achieve financial wellness. Without our payroll providing partners, we wouldn't be able to reach the hundreds of thousands of employees that we do today. These partnerships provide us with a tremendous sense of pride and ZayZoon recognizes the importance of every party involved.
This past week, we did something a little different. We partnered up with Kane's Donuts. Not for Wages On-Demand, but for Donuts On-Demand.
Kane's helped us send out 400 Boston Cream donuts to guests attending PrismHR Live in Boston this week. Kanes has been serving New England donuts since 1955 and their commitment to offering the freshest product made from local ingredients has never changed.
Considering our common passions for offering the freshest and sweetest products, Kanes seemed like a no brainer. Their commitment to mastering their craft while still continuing to innovate and push their product further is a trait ZayZoon aspires to uphold as well as Kanes has over the years.
Marketing like this isn't just fun, it's impactful to your customers and your bottom line.
Here's how we did it.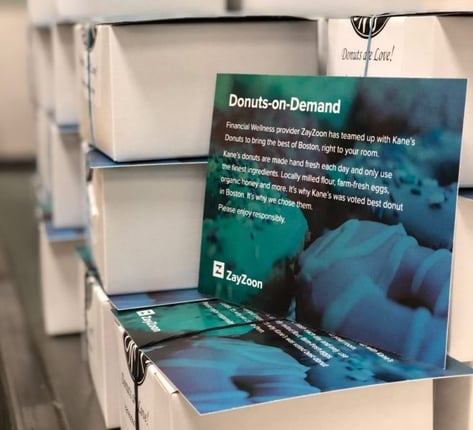 The objective
What objective are you trying to achieve with this campaign?
For ZayZoon, it was simple. We had two.
1. Brand awareness
This was a conference of 400 individuals representative of about 100 different companies. We didn't have very much brand exposure in this channel before and we knew we needed it.
2. 10 quality leads
We define a quality lead as someone who books a demo of our software after the initial reach-out.
Ideation 1.0
We knew we needed something that could reach all 400 business owners and executives. We also knew we wanted to do something fun and playful. ZayZoon prides itself on being a playful brand that focuses on quality and transparency, so any marketing we do needs to embody this.
For this specific marketing campaign, this was a conference and the conference itself was themed around the location (Boston) and ZayZoon wanted to pick something local.
The conference took place in the Westin Waterfront and all attendees stayed in the venue hotel. This meant we had an incredibly captive audience.
Some ideas that came to mind:
Event sponsorship booth
Signage purchase at the venue
Welcome packages at registration
Hotel room drop
The room drop is what we landed on. It was something that was guaranteed to reach attendees in a more intimate way than a welcome package, it was less expensive than throwing a party and it would be more memorable than signage.
The importance of cost of acquisition
When doing a campaign it is important to think about your cost of acquisition (CAC).
CAC is how much it costs to acquire a customer. You want to make sure the Life Time Value (LTV) of that customer is more than the cost of acquisition – typically by a multiple of 3 or more.
As an example, If it costs you $10 to acquire a customer, your LTV of that customer should be $30 or more. To get more information on this, check out this blog post.
Still, experimentation is key. Do small experiments to figure out where the greatest conversion occurs. For example, there's no sense spending $10,000 on a conference or trade show if that $10,000 would garner better conversion were it Facebook ads.
ZayZoon had the benefit of previous trade show events and knowing what 10 quality leads translate to. If this is your first go at it, maybe hold-off on any expensive marketing tactics and spend $1000 on a few different experiments to see which one turns out the best. This is a tactic presented in the book Traction which we've come to love at ZayZoon. More on that here.
Ideation 2.0
Ideation 1.0 and 2.0 as i'll call it, tend to overlap. As we evaluated each potential sponsorship or marketing tactic we could do, we thought about what each of those could look like.
With the hotel drop, we asked ourselves 2 key questions:
What is under $10
What can everyone use
What can we relate to ZayZoon and our brand
If you're like me, you probably find most of the swag at conferences nothing more than glorified garbage. The only things I've actually observed being enjoyed ($10 range) are: T-Shirts (great for working out), sunglasses and food (more often than not, drinks).
Well, T-Shirt's aren't very easy to do a room drop as there are varying sizes. Sunglasses (and t-shirts for that matter) are more of a hand-out-at-the-booth type swag, and so all we were left with was food and drinks.
Food was it. Food was something we knew people would like. When have you ever gotten to a hotel room and not wanted food? Those overpriced snack bars exist for a reason!
The donut
Once we knew it was food or drinks, we had to make a choice on which to pick. Ultimately, a lot of this came down to pricing, but it also came down to an item that could sit well for hours while still being fresh, it had to be an item that was easily transportable and it had to be something we could get behind.
Being in Boston, we wanted to relate our item to the city. Boston Cream just made sense. It was themed, it was tasty, it was small and it could be easily room-dropped.
From there, it became easy choosing our provider. As mentioned, we wanted to pick an item and a provider that embodied the ZayZoon brand. We needed to draw parallels to the quality of our service and the transparency and integrity we hold dear as a financial technology company.
Kane's is a company that started in 1955. It's always put the utmost effort into its product and it never skimps on the quality of ingredients used.
See why we thought they would be perfect for ZayZoon?
Open up the conversation
This is the easy part. Just reach out to who you want to partner with.
We emailed Kane's and they instantly loved the idea. We made it a collaborative effort. We communicated the entirety of the plan to them and our wish list of boxing materials and donut types.
Pro Tip: Include the brand name in your marketing materials like we did and do some follow-up social media posts together and you will likely get your event co-sponsored. Don't treat them like a vendor. Treat them like the partner they are and make an actual campaign out of it. It will benefit both parties!
Design
When we started design we didn't really even know what the final product was going to look like. We had considered simple stickers on the boxes but we knew we needed something a prospective customer could hold in their hands and displayed relevant information in a concise manner, with an easy call-to-action.
We had done a direct mail postcard campaign before so we already had some of the design elements and printing logistics figured out so we decided to write some content for this format and include them with the donut! It was established that each donut would be individually packaged into a small white cake box, so we knew we could include the postcard somehow.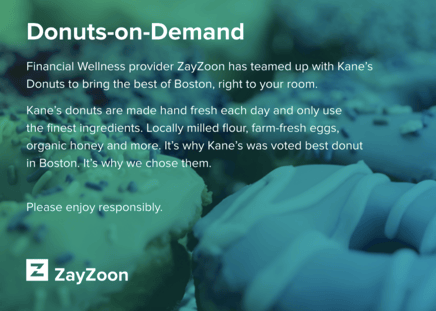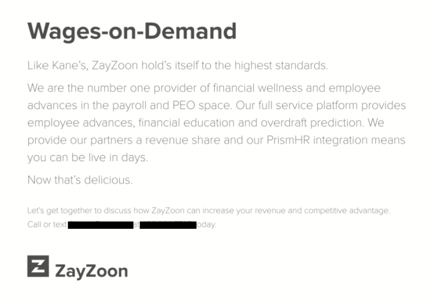 The execution
The morning started at 3:30am.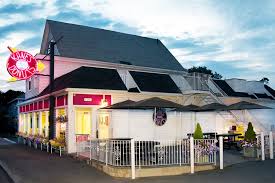 Kane's Donuts are made hours before you eat them with locally milled flour, farm-fresh eggs, organic honey from a local beekeeper, fresh fruit, real bacon, high-quality chocolate, fresh spices, and more.
Once baked and fresh out of the oven, Kane's packaged up each individual donut into small white cake boxes and attached the postcard to the top.
We chose to attach the postcard with an elastic band because we thought it would be a more involved process for the recipient than if there was just a postcard attached by tape. In short, we thought the recipient was more likely to look at the postcard if they had to actively disassemble it from the package in order to get what was inside.
After delivering to the hotel, our fate was in the hands of the hotel staff. They would hand deliver each donut and ZayZoon's job was to wait patiently for a call.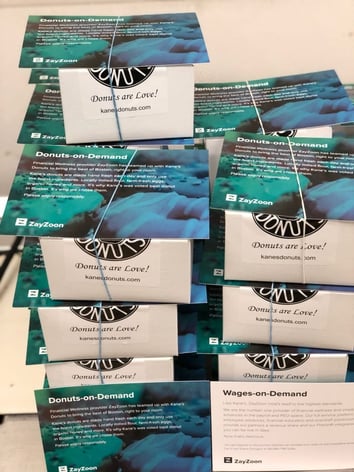 Sales
Out of the 350 donuts, 296 were able to be delivered (more on this later).
From these 296 deliveries, we received 8 quality leads. It hasn't even been 2 weeks since the event and 1 of the 8 leads has already delivered a contract.
Furthermore, we have an item we can speak about and follow-up on for weeks to come. A cold email now becomes a semi-warm email with reference to the delicious donut.
What we didn't consider
Room drops don't work with Do Not Disturb's. 54 attendees were unable to receive their package because they had a Do Not Disturb sign up on their hotel room door.
Delivery happened between 2pm and 5pm. 100% of the attendees we spoke with said that they would have preferred it as a breakfast or mid morning item.
Donuts go bad. The 54 extra donuts we had for the most part went to waste. This is the unfortunate reality of using perishable items as swag. Fortunately, we were able to give a number of the remaining donuts to the homeless.
Consensus
Our objective of 10 leads was just shy of getting hit but brand awareness was definitely in full-force! We became known as the Donut guys (for better or for worse). We managed to pull the entire campaign off for less than $3000 and we achieved what we wanted with respect to our brand and brand recognition.
Have any questions? marketing@zayzoon.com is happy to help!
Want to reach out to some of the key players involved with this campaign? Visit their LinkedIn profile's here:
Chaz Somers – Marketing Associate
Shane Edrington – Business Development
Shubh Sidhu – Partner Engagement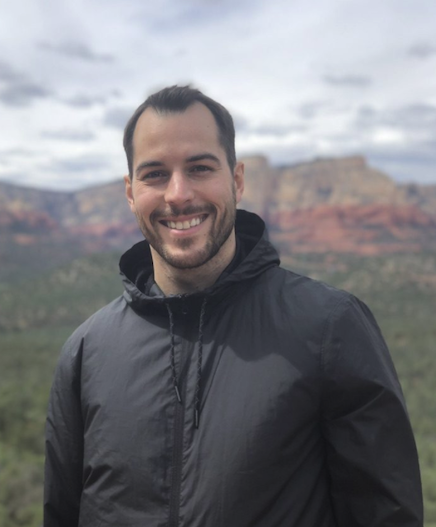 Tate Hackert
Tate is the brain behind ZayZoon, developing the idea of providing access to funds before payday, in 2013. He feels gratified knowing "we get to improve the financial health of people each and every day." One of his favourite ZayZoon experiences involves a business trip to Selinsgrove, Pennsylvania where he helped film a Holiday Inn Express testimonial video. Wearing a ZayZoon shirt at the local Walmart, someone saw Tate and exclaimed, "Hey, ZayZoon! I use that!"