On average, shoppers spend approximately 11% of their income on food annually. This includes eating out and buying groceries. Cooking at home instead of ordering take-out or going to a restaurant is not only the cheaper way to go but healthier too as we know the ingredients in our meal. However, with so many enticing goodies that promise food bliss, it can be easy to overspend at the supermarket. The trick to saving money while grocery shopping is to plan ahead.
Here are some easy, tried and true ways to trim your grocery bill while keeping you on track to financial wellness.
Take Stock What You Already Have
It happens to the best of us. You pick up the required items for a favorite recipe, only to get home and realize you already have most of the things needed in your fridge and pantry. In fact, you may have noticed you have multiples of some items. It's great to stock up but not if the food will likely expire before we actually use it. Next time, take stock, literally, of the items you already have. The easiest way to do this is by taking pictures with your smartphone.
Use Coupons to Plan Your Meals
Take a look at weekly flyers for sale items; this will help you plan your meals in advance. For example, if you know tomatoes are on sale then tomato soup, pico de gallo and pasta sauce may be on the menu that week. As an added bonus, you won't need to be at the store longer than you need to be as you will be on a mission and know exactly what you need.
Leave Impulse Shoppers At Home
You may appreciate the company but if your significant other or child loves to add unnecessary items in the shopping cart, leave them at home. Otherwise, expect to try the latest sugary cereal or splurge on expensive deli items. By going solo, not only will you finish up faster but you may find you stay on track and within budget.
Do Your Research
Do your due diligence before heading to the store. Compare prices and see and go where-ever you'll find the best deals, whether it be for produce or staple items you buy a lot of. Once you know where to find sale items, these places will become your go-to and future grocery-related errands will be done in a snap.
Watch Out for Misleading "Sales"
Just because the sign claims an item is on sale, does not necessarily mean it is. Grocery stores are notorious for using faux sales techniques where they claim certain items are priced to move where in reality, they may be priced at roughly the same a regular price. For example, you might find a can of soup "on sale" for a buck when its regular price is actually 99 cents. Another trick used is claiming to provide better pricing on multiple items when in reality the cost ends up being the same or more as you may find yourself buying more than you need.
Download Coupons to Your phone
While it still pays to snip store coupons, you don't have to wait for flyers to be delivered to your home. Most supermarkets have an app where you can download their coupons. Sometimes you may even find an online promo. On other occasions, you can simply take a screen capture of a coupon barcode that can be easily scanned by the cashier at the till.
Try Cash-Back App
Apps should do all the work when it comes to saving money. Ibotta, SnipSnap or ShopKick will help you accumulate points that can then be redeemed for groceries. You can also get instant discounts by scanning your receipts or simply walking into the store. Many apps automatically connect to stores' loyalty programs to further simplify the process.
Use a Loyalty Program
Sign up to the grocery store's loyalty program so you can literally pay yourself. Shoppers can earn points every time they shop, redeeming them for free groceries or sweet discounts at checkout. Most of these programs are free to sign up and half the fun is seeing your points accumulate.
Don't Shop Hungry
Hungry while shopping can be hazardous. An empty stomach wants to devour everything in sight. And walking through the bakery is a sure-lose way to rack up extra costs with the aroma of freshly baked breads and pastries. Not only will you make unhealthy decisions but you will be bring home extra stuff you'll later regret and possibly toss out when you realize it will do nothing for your waistline. Make sure you eat before heading to the store, have a coffee or suck on mints to kill the craving.
Start a Garden
If you have the space in your yard, balcony or window sill, consider growing your own herb garden. You don't need to have a green thumb to make something half decent. Chives, rosemary, thyme, parsley and mint are among the easiest herbs to grow.
Buy in Bulk…When the Price is Right
Buying in bulk may seem like a good idea at first but it's easy to get carried away and spend way more than you need. Getting a large quantity item for a discounted rate makes sense when you are purchasing things like diapers, detergent, toilet paper or soap. Products with a limited shelf or a "best before" date will end up costing you more money if not used on time.
Skip Pre-Sliced Items
Grocery stores are banking on our busy lives by making things easy and simple like cutting up our fruit and vegetables, packaging our salads and slicing our cheese and meats into bite size portions. However, these luxuries come at a premium cost. Don't be tempted to take the easy route; instead, just cut up all of your necessary products into portion sizes including deli meat and cheese. The extra few minutes to DIY can save you big bucks.
Order Online
Skip the line by buying your groceries online. Add items to your virtual shopping cart, choose a time that works best for you to pick up your order and voila, no temptation to buy extras. Some stores offer free delivery but require a minimum spend. Besides, who really wants to spend more time than absolutely necessary at the grocery store.
Buy No Name
Buying a no-name brand pasta or canned good doesn't mean you are skimping on quality and flavor. In fact, a lot of the big brands make the same food for a grocery store's generic brand but sell it for a lot less. You're basically paying for the big brand's pretty packaging and marketing fluff when you skip the house labels.
Put Your Math Hat On
Use your phone's calculator or run a tally on your note-pad as you add items to your cart. This way, you'll know exactly how much you are spending. When you know you are going over budget, just put some things back and you'll emerge as a grocery story guru in no time.
To read more, go to our blog here.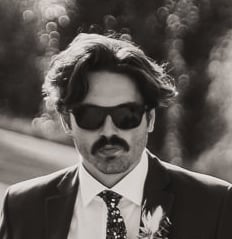 Chaz Somers
Chaz Somers started his professional career as a part-time social media contractor at ZayZoon and since then, has evolved into a full-time content marketing associate. Chaz's love for branding and storytelling has led him to blog writing, clothing design and video production all within ZayZoon.