You're invited!
Get instant access to your wages. No more late bill payments, bank overdraft fees, and payday loans.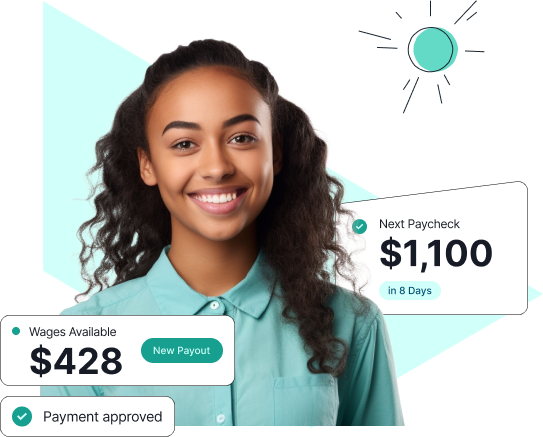 89% of employees report ZayZoon reduces their financial stress
Say goodbye to debt & interest
No more payday loans or overdraft fees to access funds when you need them. For a $5 flat fee at most, we give you access to a portion of your wages, so you're not taking on debt to smooth your cashflow.
Financial wellness & support
With our overdraft predictor, low balance notifications and spend insights, you can sleep easy, knowing exactly where your finances stand.
How we help
Flexible
You can choose how much of your wages you'd like to receive & where you'd like to send your funds. Available to you 24 / 7 / 365.
Human Support
ZayZoon has a dedicated team to ensure that you have all the support you need throughout the process.
Checking Account / Debit Card
You can access your money by quickly transferring to you checking account OR an existing debit card. Bank connections are read-only and use 256-bit encryption. ZayZoon's payment partners are PCI certified for handling your credit card and bank account information.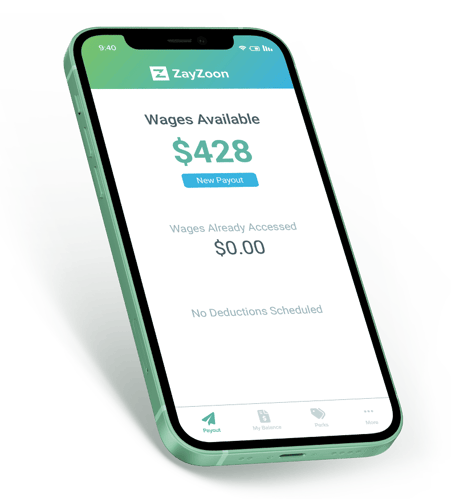 ZayZoon Visa® Prepaid Card
The new ZayZoon Visa Prepaid Card gives you access to your earned wages without the $5 payout fee. The ZayZoon Visa Prepaid Card acts like a debit card; you can use the card in store or online anywhere Visa debit cards are accepted.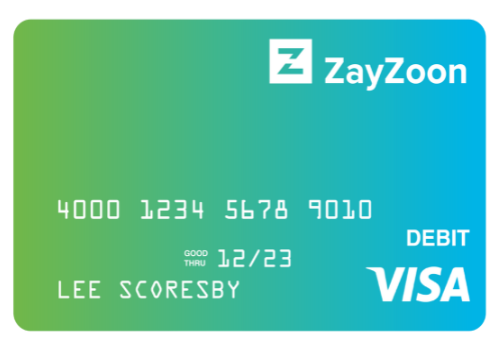 ZayZoon Boost Instant Gift Cards
ZayZoon Boost is an instant gift card, where you can get up to 20% extra at retailers where you're already shopping, like Walmart, Amazon, Target, CVS & more. Also, all ZayZoon customers get 5% extra on gas!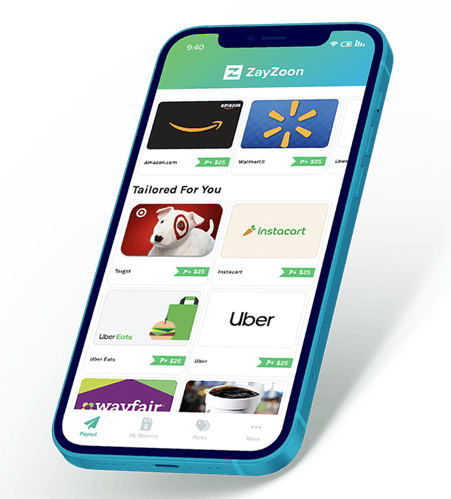 Get paid today!
Signing up for ZayZoon is quick and easy. And if you have any problems, our friendly staff always available to help.
"I told my sisters, brothers, and friends (about ZayZoon's Wages On-Demand). Most wish they had a job that would offer ZayZoon to them. The excitement on my face when I tell them is priceless."
Lasheika had to start over; with few possessions in hand and leaving an abusive relationship, she began an arduous new chapter in her life towards financial and personal independence.

Lasheika was thrilled to land a job as a Customer Service Representative because it meant a steady income and a new future. As she navigated this new phase, unexpected expenses started to come up; expenses that did not seem to line up with the 14-day pay period. Lasheika isn't alone. Many are in similar situations: needing cash right away but having to wait until payday or having to resort to borrowing money to get those funds when needs arise.