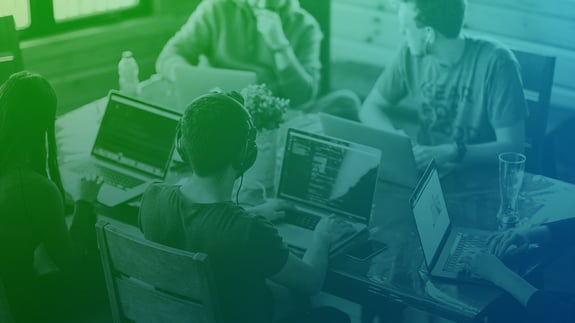 LEAD OUR PRODUCT DISCOVERY FOR EMPLOYERS & CHANNELS
Imagine having the opportunity to join a well-organized, well-funded and fast-growing FinTech company that does right by employees across the US by not only giving them access to their own wages, on-demand, but a variety of other financial wellness tools to help improve their financial outcomes. ZayZoon is quickly becoming the employee financial wellness app that employees can't live without, and employers are clamouring to get their hands on.
As the Senior Product Manager for Employer & Partners solutions, you will lead ZayZoon's product discovery and development for Partners and SMB Employers, uncovering opportunities to provide direct value to these stakeholders. These, in turn, will drive digital engagement by employers and ultimately increased adoption of Wages On-Demand and other Financial products that improve employee financial wellness.
To do this effectively, you will know our buyer and decision-makers inside and out, and you will use both qualitative and quantitative data to make informed bets on the products and features that will make channel partners excited to sell ZayZoon to their clients, clients excited to activate ZayZoon. You will live in the world of acquisition, activation and retention, and will live and die by these metrics.
Over the next 12 months, you will thrive in the world of low-cost, high-impact experimentation, employing lean methodologies with a small pod of technical and marketing experts to accelerate the "0 to 1" product-market alignment through data-informed iteration, with a singular focus on delivering value to users. Over time, this will transition to a mature product management role, and will become a rare opportunity to establish a product roadmap, and help drive the product vision and strategy.
You and your team will play a mission-critical role in ZayZoon's scale-up strategy. With your expertise, ZayZoon will set itself apart from other options. This will help us excel at attracting new SMB Employers, engaging them, and guiding them to get the message out to employees to maximize the impact on employees' financial lives.
YOUR RESPONSIBILITIES
Product Discovery and Experimentation: Uncover the opportunities that are most likely to drive engagement with buyer personas and lead to both regular interaction, and willingness to pay - in alignment with our core mission. Speaking directly with buyer personas to discover needs while limiting any biases in input. Using a lean approach to build and iterate on extremely low cost experiments to determine the most impactful value propositions, the best paths to market, and on some occasions - pricing.
Product Design & Development: Work closely Product Marketing, Product Designers and Developers to ensure products meet user needs and Go-To-Market is not an after-thought. You will be the product owner for a large segment of our work, so while a big part of your work will be on 0->1 product discovery, another part will be on more mature in-market products including major channel integrations. Your primary goal will be on the delivery of value, and you will work to make sure that products built get off the shelf and achieve the intended value, or at a minimum, drive learnings.
Agile Product Lifecycle Management: Given the mix of new and existing products, you will be comfortable running the end-to-end product lifecycle and fluent with the tools of the product management trade (JIRA, Confluence, FullStory, Analytics). You will own the short term roadmap and should be able to comfortably navigate discussions with both internal and external stakeholders to build feedback loops, raise opportunities, ruthlessly prioritize, drive focus and alignment.
Product Analytics and Measurement: You will use both qualitative and quantitative measures of product performance to uncover areas of friction and ensure that you are working in an 80/20 fashion -- and will help others do the same.
Evangelism & Advocacy: You will be at the forefront of product work as it relates to both Employers and Channels partners (e.g. platforms, integrations) and will regularly interact with stakeholders outside of our walls. You will use these opportunities to represent ZayZoon as the easiest financial benefits provider to work with, with the most tangible benefit.
Leadership and Mentorship: While we are a relatively small product team today, you will be a senior member of the team and, as such, will help mentor more junior members to help them develop professionally and become more focused Product professionals.
Some exciting projects we have on-deck:
Wages-On-Demand for SMBs: Bringing wages on-demand and other financial wellness features to employees of small and medium-sized businesses.
Shift Pickup: Helps employers post and fill shifts that are open, and tie the link to Employee side to raise opportunities for additional income.
Employer Payroll Insights: Giving SMB employers access to information about how they pay their employees, how it compares to industry, and what employees are at risk of leaving.
WHAT YOU CAN EXPECT FROM US
Competitive salary and compensation, along with a comprehensive benefits package commensurate with your experience and skills.
Leaders and teammates across our organization that will support you and ensure you are positioned for personal growth and success
A tight-knit team of adults that care about and thrive on moving the needle for our customers, our products, and each other.
People who know how to wear multiple hats, and that every team member makes a difference in moving the business forward.
A constant strive to improve; always growing ourselves, each other, and our business.
A flexible environment, with emphasis placed on getting the job done, not on hours worked -- this means being available for collaboration when needed, taking the time and space you need for yourself and your family, and being ready to get down to business in crunch times.
Engaged colleagues who like what they do. ZayZoon has a tech-industry leading employee NPS score of 71.
A strong belief in our four core values

Hustle

– Own it, take it to the next level
Trust

– Do the right thing
People Driven

– Make a positive impact
Mastery – Thirst for knowledge and improvement
SKILLS YOU SHOULD BRING TO THE TABLE
Our ideal candidate should be an entrepreneur at heart and thrive in the world of product discovery and developing product market fit. Their singular focus should be on the discovery and deliver of value to employers and partners -- and as such, they should be highly motivated and highly analytical. They should feel in their element getting "out of the office" and connecting with employers and partners in order to establish and maintain a strong user voice.
5+ years experience in B2B product management OR entreneurial experience in a technology startup (familiarity with B2C and SMB markets a major plus)
You have successfully built and launched multiple products to market and can speak to what worked and what didn't
Excellent written, verbal and visual communication skills - you can effectively synthesize complex product ideas into simple, easy to digest snippets driving straight to the "so what?" behind it, using empathy as your foundational guardrail
Prefer working in a collaborative, cross-team capacity. This role requires you to work across functions and departments to bring products to life. You are at the center of our organization, constantly interacting with teammates and prospects in Customer Success, Sales, Marketing, and Design
A lean mindset -- with emphasis on low-lift experiments to uncover learnings as quickly as possible. Ability to get answers to your own questions and structure experiments in logical ways to generate knowledge
Proficiency in Product Tools and Processes - Alignment, roadmap development, backlog management, JIRA, Confluence, FullStory, Intercom
You are highly driven and highly accountable. You operate best in supported autonomy and can work well with others
You are a data driven decision maker with an analytical mindset, who measures and adjusts based on explicit outcomes. You use experimentation to learn quickly and converge on effective techniques
You can work in chaotic environments, often with multiple projects and initiatives at various levels of ambiguity on the go and are effective at reducing chaos and ambiguity
You stay up to date on the latest product thinking and best practices
FinTech experience is a bonus!
ANYTHING ELSE YOU MIGHT NEED TO KNOW
We are currently organized as a remote team, as such we are looking for candidates who can work effectively remotely. While we will wait to see how the situation with COVID-19 progresses, we will remain flexible with respect to remote work for the foreseeable future.
Please note that a final step in our hiring process is for candidates to arrange personal reference calls with former managers and/or colleagues. We wish to thank all qualified applicants for their interest in joining our team!
SOUND LIKE THE JOB FOR YOU?
Got what it takes to work with us?
Great! Send us a link to your resumé or portfolio to become part of our talent pool.