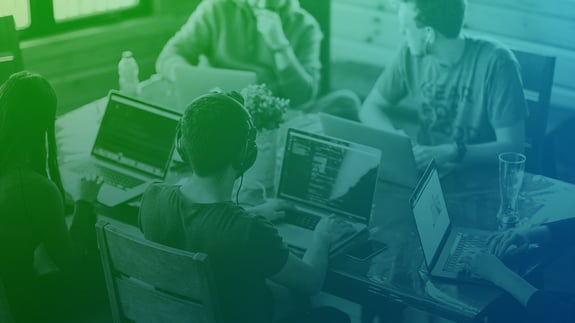 COME HELP US ITERATE AND LEARN QUICKLY
Imagine having the opportunity to join a well-organized, well-funded and fast-growing FinTech company that does right by employees across the US by not only giving them access to their own wages, on-demand, but a variety of other financial wellness tools to help improve their financial outcomes.
ZayZoon is quickly becoming the employee financial wellness app that employees can't live without, and employers are clamouring to get their hands on.
As our Senior Data Engineer, you will:
create the next generation of data foundations & pipelines to centralize data used by the team to focus our energy and drive insights
partner closely with product, development, and growth teams to develop a deep understanding of business context and use that to establish a source of truth
create meaningful extracts and transformations of data that can be leveraged by the team to make faster, smarter decisions
apply basic data science & clustering techniques to uncover attributes that matter most for different business and success outcomes
While your primary function will be in designing and owning data applications at ZayZoon, your purview will extend into experimentation, product and service design. You will bring your technical expertise together with a strong capacity for understanding business context and use both to focus your energy where it's most likely to achieve a positive impact.
OUR ATTITUDE TOWARD DATA
Data is the heart and soul of our business and we base as many decisions as possible on data -- the the point where we often have results from experiments within hours of launching them.
We strive to empower all roles with the ability to both understand and navigate data - and firmly believe that:
Everyone, in every role should have the ability to run basic queries on all data
All data should be accessible to all staff in a structure that is self-navigable and self-explanatory
The best insights come from combining different "domains" of data (finance + transactional + email + crm) with different perspectives on the business (developer, sales, marketing)
Data tooling should not get in the way of insights (questions that require real-time answers are answerable real-time)
As such, our first iteration of ETL and Data Warehouse is more advanced than most companies'. We have end-to-end visibility on the entire customer lifecycle, all pages visited, all behaviours undertaken, all emails or support messages sent/opened/received, every transaction, discount etc.
Some areas we'd like to continue to develop are:
Incorporating CRM and Finance data into our data warehouse
Migrating from simple ETL tools (embulk) to more advanced and reliable data pipeline tools
Applying data science to specific areas of our business (fraud, risk, churn) to better predict outcomes and design appropriate interventions
For more insights on our approach to data, read our VP Product's blog post on Product Ops.
YOUR RESPONSIBILITIES
Own and drive data pipeline - designing and building efficient and reliable pipelines for moving data across platforms (source systems, data warehouses, etc.)
Design accessible, self-navigable source of truth - by laying data out in an intuitive way and ensuring that schemas, tables are documented for layperson use
Enable others in the use of data - building a beautiful analytics environment for both laypeople and technical analytics users, while mentoring colleagues across all departments on how to generate insights
Participate in strategic planning and product development - to ensure that data needs are identified early in new builds
Collaborate cross-functionally as a data subject matter expert - to ensure the best available information is in the hands of those who need it
Educate your partners - Use your data and analytics experience to 'see what's missing', identifying and addressing gaps in their existing logging and processes
Own data quality & governance - ensuring data is reliable, consistent and available
Identify opportunities for business optimization and impact - by uncovering hidden insights using traditional BI and data science
WHAT YOU CAN EXPECT FROM US
Competitive salary and compensation, along with a comprehensive benefits package commensurate with your experience and skills.
Leaders and teammates across our organization that will support you and ensure you are positioned for personal growth and success
A tight-knit team of adults that care about and thrive on moving the needle for our customers, our products, and each other.
People who know how to wear multiple hats, and that every team member makes a difference in moving the business forward.
A constant strive to improve; always growing ourselves, each other, and our business.
A flexible environment, with emphasis placed on getting the job done, not on hours worked -- this means being available for collaboration when needed, taking the time and space you need for yourself and your family, and being ready to get down to business in crunch times.
Engaged colleagues who like what they do. ZayZoon has a tech-industry leading employee NPS score of 71.
A strong belief in our four core values

Hustle

– Own it, take it to the next level
Trust

– Do the right thing
People Driven

– Make a positive impact
Mastery – Thirst for knowledge and improvement
SKILLS YOU SHOULD BRING TO THE TABLE
BEHAVIOURAL SKILLS
You want to make a difference through meaningful work and are driven by purpose
You get fired up in a start-up culture where everyone owns the business, regardless of department or seniority
You are an innovative self-starter that constantly looks for a better way to do things
You constantly take in input, but can disagree confidently and be decisive and not compromise on your data process
You adapt your style to communicate your vision effectively to different audiences
You can manage your time effectively under pressure, without compromising on product quality
You are a data driven decision maker with an analytical mindset, who measures and adjusts based on explicit outcomes
You elevate the team around you by providing mentorship, business context and feedback
Are quality focused, but also understand the need to hustle when the fire alarm starts blaring
Are fiercely independent, and can take broad ideas and run with them
Get the bigger picture, can see the forest through the trees, and know how to leverage your technical expertise to move a business forward
TECHNICAL SKILLS
Bachelor's degree in Computer Science, Computer Engineering, relevant technical field, or equivalent practical experience

Advanced SQL / Relational DB / No SQL experience, with fluency in both structured and unstructured data (5+ years)

An understanding of reporting/analytics tools (Metabase, Looker, Tableau, QlikSense, SAP Business Objects, SAS, DataIku, etc.,)

5+ years of experience with data workflow management engines (i.e. Airflow

, Luigi, Prefect, Dagster, Digdag, AWS Step Functions)

5+ years experience with Schema Design and Data Modelling, create complex models to pull valuable insights from multiple sources, and drive predictions and innovation from data

Advanced knowledge of ETL best practices

Experience understanding requirements, analyzing data, discovering opportunities, addressing gaps and communicating them to multiple individuals and stakeholders.

It would be a bonus if you had:

Intermediate/Advanced Python development experience, with practical experience in numerical methods and statistic

An understanding of full-stack development, and ability to read procedural code including Ruby on Rails applications

5+ years experience in building data pipelines using big data and distributed computing technologies (i.e. Hive, Presto, Spark, Flink etc.) on large scale datasets from various sources (e.g. RDB, API)

Experience working with cloud Big Data/MPP analytics platform (i.e. AWS Redshift, Google BigQuery, or similar).

Experience with Modern Big-Data storage technologies (Iceberg, Hudi, Delta)
ANYTHING ELSE YOU MIGHT NEED TO KNOW
We are currently organized as a remote team, as such we are looking for candidates who can work effectively remotely. While we will wait to see how the situation with COVID-19 progresses, we will remain flexible with respect to remote work for the foreseeable future.
Please note that a final step in our hiring process is for candidates to arrange personal reference calls with former managers and/or colleagues. We wish to thank all qualified applicants for their interest in joining our team!
SOUND LIKE THE JOB FOR YOU?
Got what it takes to work with us?
Great! Send us a link to your resumé or portfolio to become part of our talent pool.