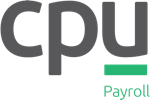 Need Help?
Chat with us - we would be happy to answer any questions and walk you through the process.
Sign-Up Instructions
As an employee of CPU, to access ZayZoon, we'll need to connect to your payroll provider, you can do that here:
Step 1: You'll be asked for your ClientID and EmployeeID, which you can find on your paystub:

Step 2: Enter these IDs, along with the last four digits of your SSN and your date of birth to connect your payroll to ZayZoon.